Published on April 27, 2019
Issues in urban logistics
In the past, urban logistics was mainly concerned with optimising delivery rounds. Now, with the explosion in e-commerce and its impacts on traffic in cities, it is under renewed consideration. La Poste is working with local authorities on this.
La Poste did not wait for the first regulatory provisions, whether restrictions or incentives, to start reducing the impact of its logistics activities. Well aware of its social responsibility, it first committed itself to responsible development in 2004.
La Poste currently owns the world's biggest fleet of electric vehicles. It has been offsetting 100% of its carbon emissions since 2012. And it is the only postal operator, on an international scale, whose environmental impact as measured by the CDP agency has earned it the highest grade, A (see article).
La Poste, the world's leading fleet of electric vehicles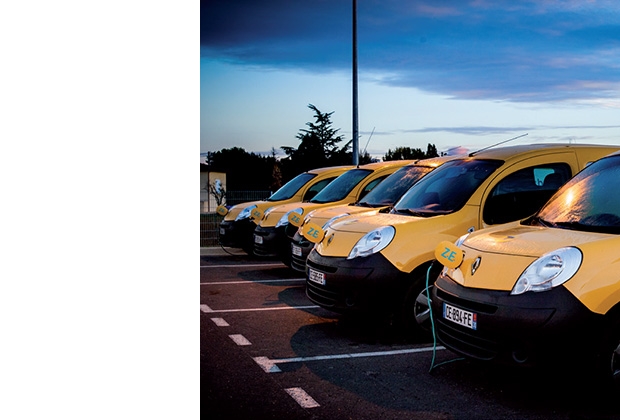 On a global level, this means that its mail and parcel distribution business is neutral for the planet. On a local level, this means that it produces far less CO2 and fine particles, precisely where their concentration is the most likely to cause health problems: in urban environments [01].
However, this exemplary environmental awareness is not the whole answer. The explosion of e-commerce means that, electric vehicles or not, urban traffic congestion is rising inexorably. And since combustion engines still have the freedom of the city, this means more air and noise pollution too. Some municipalities, aware of the risks, are already restricting vehicle access to their city centres, but at the same time they need to allow everyone, business people and private individuals alike, to receive their deliveries on time. A difficult balance, but one which must be achieved. Parcel volumes will have doubled by 2025 and, if nothing is done, twice as many delivery vehicles will be travelling the streets.
Of course we would like to see fewer delivery vehicles in cities - but how? Autonomous mobile lockers are still the stuff of science fiction (see article), and until they arrive La Poste is trying to reduce the number of delivery rounds by motorised four-wheeled vehicles. While continuing to optimise rounds as every logistics business should, it has three further actions in place to achieve this: pooling loads, increasing the proportion of deliveries in soft mode, and reducing the number of redeliveries.
(1): Atmospheric pollution, with road traffic as its primary source, is believed to shorten people's lives by 15 months in cities with over 100,000 inhabitants (2018 Air quality in Europe report published by the European Environment Agency).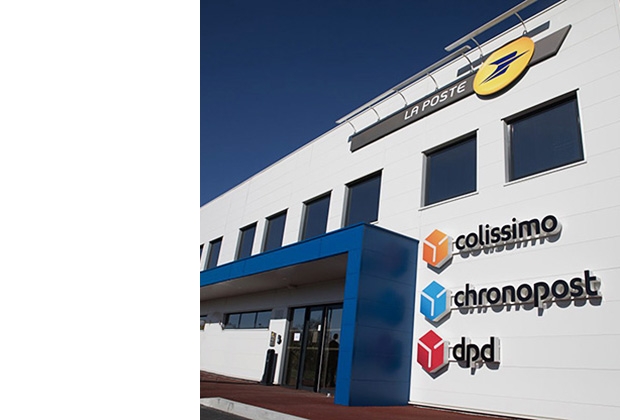 Load-pooling enables vehicles to be loaded to capacity, thus reducing their numbers on the streets. Postmen delivering La Poste's Colissimo parcels, as well as those of its Chronopost subsidiary, are now aided by the convergence of their information systems, and particularly of their parcel tracking data.
This mutualisation between Le Groupe La Poste's entities extends to sorting platforms, with the example of the Hôtel Logistique Urbain (HLU) in Bordeaux (see article). Located not far from the city centre, the HLU receives the semi-trailer trucks for Colissimo, Chronopost and DPDgroup, and their loads are sorted and divided into rounds before being delivered within Bordeaux on electric vehicles. This virtuous mutualisation is now being made available to other companies by La Poste and its partners via Urby (see below).
Increasing the proportion of deliveries in soft mode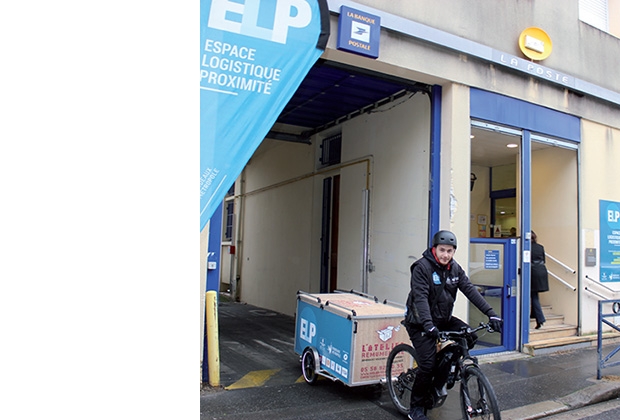 This pooled logistics system is all the more effective in reducing traffic congestion because it includes pick-up depots in city centres. The parcels are taken there in motorised four-wheeled vehicles, before being divided into a number of rounds which are delivered in soft mode: three-wheelers, two-wheelers, and on two feet too. This experiment is currently being conducted in inner Paris with micro-depots of 100 to 200 m2: the parcels are dropped off there by Colissimo, Chronopost and DPDgroup in electric or natural gas trucks, and are then sorted into rounds and distributed on delivery tricycles or on foot (see article).
These delivery methods also mean that a broader range of services can be offered to businesses, as is currently the case in Bordeaux with the local logistics space (ELP) in Rue Fondaudège. This small structure, located close to the historic centre of Bordeaux, offers a range of services to businesses adversely affected by the works on the line D tramline, thus enabling them to continue their activity: restocking, collecting their packaging, home deliveries to their customers, etc.
Maximum reduction in redeliveries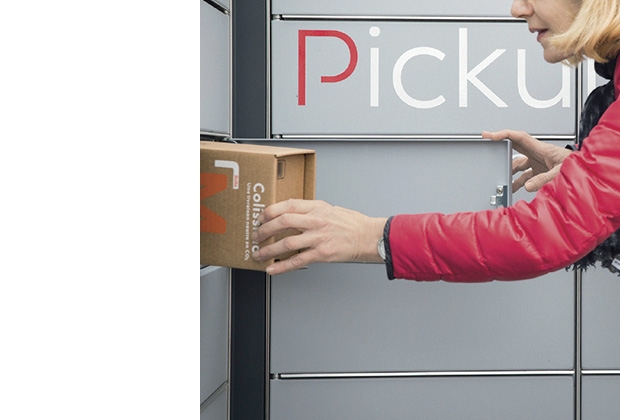 Ultimately, in terms of redeliveries, it is clear that attempting to deliver the same parcel several times to an absent recipient creates unnecessary pollution in cities. To avoid this situation, recipients now have the option to choose the day and even the time slot for delivery, to have the parcel delivered directly to a pick-up point (a post office or shop), or to collect their parcel from a Pickup locker which is open 24/7.
La Poste as a partner to local authorities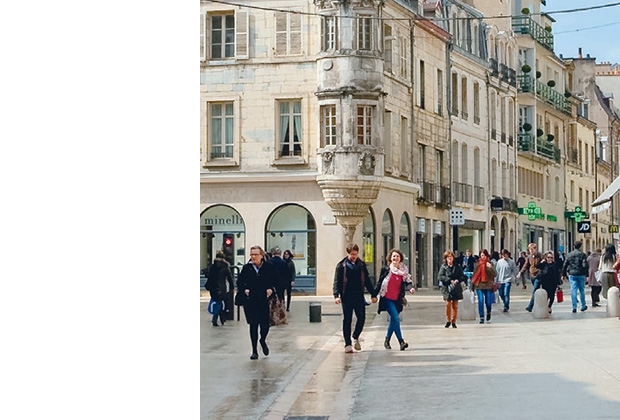 As all of these examples show, La Poste remains a partner to local authorities, in every circumstance. It supports the development of e-commerce, a lever for growth for La Poste itself, but remains alert to the threats that this development poses to cities, particularly in terms of their appeal: traffic congestion, air and sound pollution, businesses closing, and more. Some city centres are facing desertification. So when a municipality permits city-centre deliveries only in the mornings, or only by electric or natural gas vehicles, La Poste takes note and works with it to determine a new pattern of urban logistics which protects the interests of the municipality and of its citizens. To date, La Poste has concluded no fewer than 17 urban logistics agreements with cities, such as those with Lille and Saint-Étienne.
Urby, virtuous logistics for all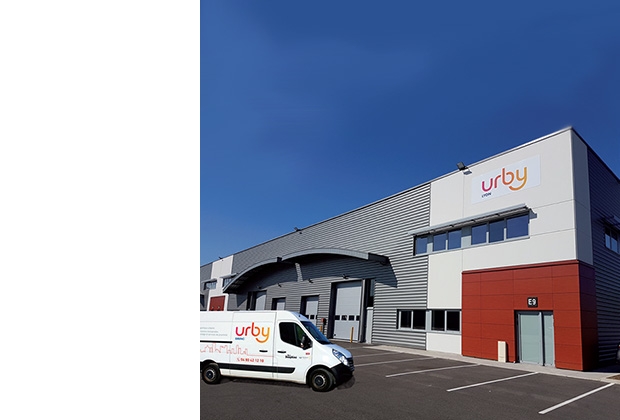 Nevertheless, this is a global problem, and while La Poste carries out 60% of the parcel deliveries in France, other carriers have vehicles travelling to and fro across city centres. Several cities have in fact launched calls for projects with a view to redefining the conditions for responsible urban logistics for all flows of parcels and merchandise within their conurbations. La Poste responds to these calls for projects by teaming up with national and local partners. Since February 2019, it has been doing so via Urby, a company which groups together a number of shareholders.
With Urby, all city-centre deliveries can potentially be pooled, and carried out in low-emission vehicles
In the same way that La Poste pools its subsidiaries' urban deliveries, Urby consists of pooling those of other carriers, with the same objective: to reduce the number of vehicles moving around in cities. Once the carriers have dropped off their loads in warehouses on the outskirts of the city, these are then distributed in clean vehicles to the city's retailers and businesses. This logistics solution has a number of advantages for traders, including storage of items, delivery to individual customers straight from the warehouse, recovery of recyclable materials, etc.
The Urby network currently has seven sites in France (Grenoble, Toulouse, Lyon, Montpellier, Clermont-Ferrand, Saint-Étienne and Bordeaux), and will have 22 by 2020 (see article).
La Poste publishes a booklet on urban logistics that provides an overview of the solutions implemented in France and elsewhere in the world, with foresight elements on the logistics of the future: How urban logistics can contribute to sustainable cities (PDF - 2,7 MB - version of April 18, 2019).