Published on July 17, 2018
Updated on April 19, 2021
In the law of 2 July 1990, the French government granted La Poste a key role in contributing to democratic pluralism and spreading ideas throughout our country. This is referred to as the « press transportation and delivery public service mission ».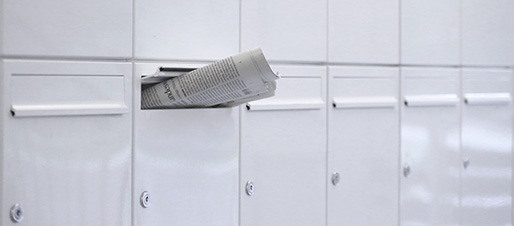 Due to the need to see ideas and opinions freely communicated, this mission aims to give all citizens equal access to information by " encouraging pluralism, including that of political and other information(1) "
This mission is about more than just delivering newspapers and magazines each day: it contributes to the freedom of the press and ensures printed information is distributed as widely as possible.
of press posted in France is sent through le groupe La Poste
Print media has had its day !
This couldn't be further from the truth. Although its demise is a common misconception, the print media has a bright future. Every year we deliver over a billion press copies, 90% of which as part of this public service mission. The everyday work done by postmen and women meets a real need. Today, 45% of those who read the press use the print media as their main source of information. La Poste's everyday work covers 30% of all print media distribution in France. This means that the postal service is the second biggest distribution channel after dedicated points of sale (kiosks, book shops, etc.), making La Poste a key press distributor.
press copies delivered; 916 million as part of the public service mission
In granting La Poste this mission, the French government is meeting a national need for information. This is why we endeavour to deliver a wide range of publications. For example, in 2017 almost 6,000 different press publications were delivered, covering nearly all those registered with the French Joint Commission for Publications and Press Agencies (CPPAP).
Le groupe La Poste pulls out all the stops to maintain an excellent quality of service when it comes to delivery times too.
Because every individual is free to critically form their own opinions and decide what they believe. Because everyone must be able to find out information as they please, by reading the daily, monthly, quarterly or annual press publication of their choice. Because the entire French population must benefit from the Group's services. For all these reasons, 15,000 employees hit the roads of France six days a week to ensure that all press subscribers are treated equally. The result ? 97% of publications arrive at their destination the next day.
Le groupe La Poste pulls out all the stops to maintain an excellent quality of service when it comes to delivery times too.
biggest press distribution channel in France (after single issue sales)
Because of our unique national coverage and deliveries six days a week by La Poste employees, the entire population is free to find out more information. Even in the remotest areas. Indeed, in some regions, the press transportation and delivery public service mission is the only way to ensure local people have equal access to the publications of their choice.
press copies delivered

916 million as part of the public service mission

publications delivered

by le groupe La Poste in 2017

biggest press distribution channel in France

(after single issue sales)
of all French press distribution

of publications delivered the next day

of press posted

in France is sent through le groupe La Poste
(1): Articles L.4 and R.1-1-17 of the French Postal and Electronic Communications Code