Territorial development
France
Published on August 30, 2021
Updated on September 1, 2021
Le groupe La Poste has over 17,000 contact spots throughout the whole of France, 65,000 mail carriers, available 6 days a week to provide at-home diversified services to all French citizens. Networks, proximity and trust are built up over the years and shape what is today: La Poste, the legitimate vector for social cohesion and regional development.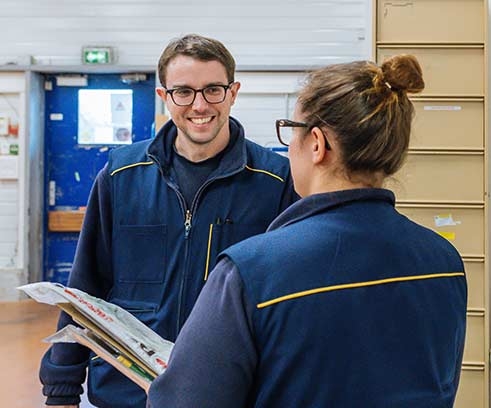 Services available throughout the country
The State entrusts La Poste Groupe with a regional development mission to help reduce disparities between regions through its day-to-day activities.
La Poste is present in various forms in order to adapt to customer needs and their situations :it has post offices, "Poste Relais", municipal and inter-municipal agencies. Due to the emergence of Ecommerce, delivering parcels represents a real challenge today.
96% of French people are less than 5 km or 20 minutes away by car from a contact spot.
Consequently, La Poste increases its solutions for delivery options and extends its opening hours. For example, 90% of Pickup "Relais" are open on saturdays and 50% of them are open on sundays, while Pickup lockers are in service seven days a week allowing for parcels to be delivered fast and efficiently.
Furthermore, La Poste has taken part in the opening of more than 500 of the 1,000 "Maisons de Service" au public (public service centres) requested on the French government's behalf. Since La Poste is present in each region of France and is partnered up with the local autorities, the MSAP enables each individual to carry out administrative procedures with partner operators while also benefiting from personalised support. Accessible to all, including those living in rural areas, they combine human presence with digital tools to provide access to a range of state services.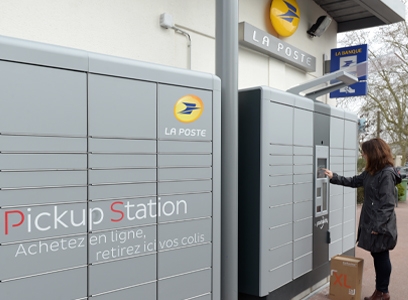 With the France Services label awarded to 83 new post offices in addition to the 48 existing ones, La Poste is contributing to the development of the regions. These post offices offer unique public services in one single location, bringing together several partners: the CAF, Pôle Emploi, the CNAM, etc. La Poste is thus contributing to the commitment made by the President of the Republic to cover every canton in France with at least one France Services by 2022.
Contributing to local development
La Poste Groupe supports 100,000 careers all over France
The local economy is the driving force behind the vitality of the territories and the field for innovations that enable an effective regional policy. To stimulate this movement, the group is working with social economy practitioners, among other players such the "Dynamic Alliance". The partnership charter, signed by La Poste and by some fifty national networks and numerous local associations, aims to obtain innovative responses in order to meet the needs of territories and populations. For example, the cooperation between La Poste and the Rejoué association has made it possible to refurbish 43 tonnes of toys to give them a chance at a second life, while contributing to the employment of people who are far from the labour market.
In 2020, La Poste group spent 11.6 million in goods for special facilities and support. The group takes advantage of these local purchases to encourage SME suppliers to integrate social responsibility into their model. This involves adding a CSR criteria. The aim? To help its service providers adopt a more socially-responsible attitude.
As a bank and a citizen, La Banque Postale naturally participates in the overall dynamic. It has become the leading financier of local public facilities (e.g. hospitals, gymnasiums, social housing, etc.). La Banque Postale Asset Management (LBP AM) was involved in responsible finance from an early stage and has kept its promise, made in 2018, to become the first generalist asset manager in France to offer a 100% SRI range by the end of 2020.