Published on July 11, 2018
La Poste acts on air quality in Greater Paris
Logistic
On Trend
Île-de-France
La Poste plans to install 80 micro-facilities in Paris entirely devoted to parcel deliveries in the local area. This represents an urban logistics solution that will help to deal with the explosion of e-commerce companies, whilst reducing delivery-related pollution at the same time.
Deeply concerned about the well-being of their constituents, towns and cities are increasingly looking for solutions to protect urban environments. From a wide range of possible measures, they're beginning to think about limiting motor vehicle traffic, often going as far as banning them from city centres entirely.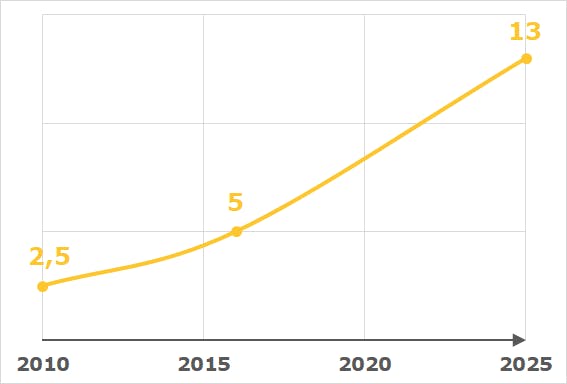 With e-commerce continuing to skyrocket, and parcel volumes expected to triple by the year 2025, this new landscape is forcing delivery companies, including La Poste, to rethink their last-mile logistical solutions so as to continue providing the service their customers need.
Opting for clean vehicles
La Poste has always shared the environmental concerns of our communities. It has a fleet of electric vehicles, one of the biggest in the world, in fact, which helps to maintain air quality and considerably limit sound pollution in urban areas.
However, dealing with growing parcel numbers by increasing the amount of traffic on the roads, even electric vehicles, will only lead to traffic becoming heavier and add new parking difficulties, which in itself cries out for more flexible delivery solutions, on foot with a trolley, or by scooter, given that bicycles don't offer sufficient storage capacity for carrying packages.
Pickup lockers and micro-warehouses
A trial carried out in Paris' 4th arrondissement, in collaboration with the mayor's office, subscribes to this outlook. The idea consists of opening up 'local' micro-facilities offering two different types of services, pickup lockers, allowing customers to collect their packages 24/7, and micro-warehouses (between 100 m2 and 200 m2 in size), from which mail carriers will set out to deliver parcels to homes within a 750-metre radius of the facility.
Parcels shipped by La Poste and its subsidiaries - Colissimo, Chronopost (express) and DPD (international) - are dropped off in the morning by an electric lorry or natural-gas-powered vehicle (NGV). They're then transferred to pickup lockers or sorted into rounds to be delivered throughout the day. On average, each site carries out up to 10 scooter delivery rounds and 2 on foot every day.
Innovation in urban logistics
Much more than just a concept, it's a whole new approach to urban logistics. The idea has been successfully trialled by SEUR, a Spanish subsidiary of La Poste Group, who have already opened 14 of these micro-facilities in Madrid, Barcelona and Valencia. If the test proves to be conclusive in Paris, it will be rolled out more widely across the capital, with 80 sites planned before 2024. Its deployment to all parts of the Greater Paris region remains under consideration.
Eco-friendly postal infrastructure
Today, urban logistics planning is about trying to find solutions that limit everyone's travel footprint and, if journeys can't be avoided, planning so that they don't involve CO2 emissions, or even energy consumption.
By offering customers the chance to collect their parcels as part of their daily commute at pickup lockers, without having to go far out of their way, this makes their life easier and reduces their energy consumption at the same time.
And to help mail carriers deliver growing volumes of parcels, as well as completing their own rounds, La Poste is looking at new electronic equipment capable of carrying large loads, such as robot trolleys, which follow mail carriers independently along their rounds and can transport up to 150 kg, as well as the K-Ryole, a motorised trailer for electric bikes with a payload of up to 250 kg. This equipment may soon be added to the 7,000 electric cars, 4,000 Staby scooters, 1,000 Quadeo buggies and 24,000 electric bicycles already used today by La Poste.