Published on July 18, 2018
Urban logistics : partnership with the city of Lille
Logistic
On Trend
Hauts-de-France
Together, Lille City Hall and Le Groupe La Poste are committing to developing innovative urban logistics solutions.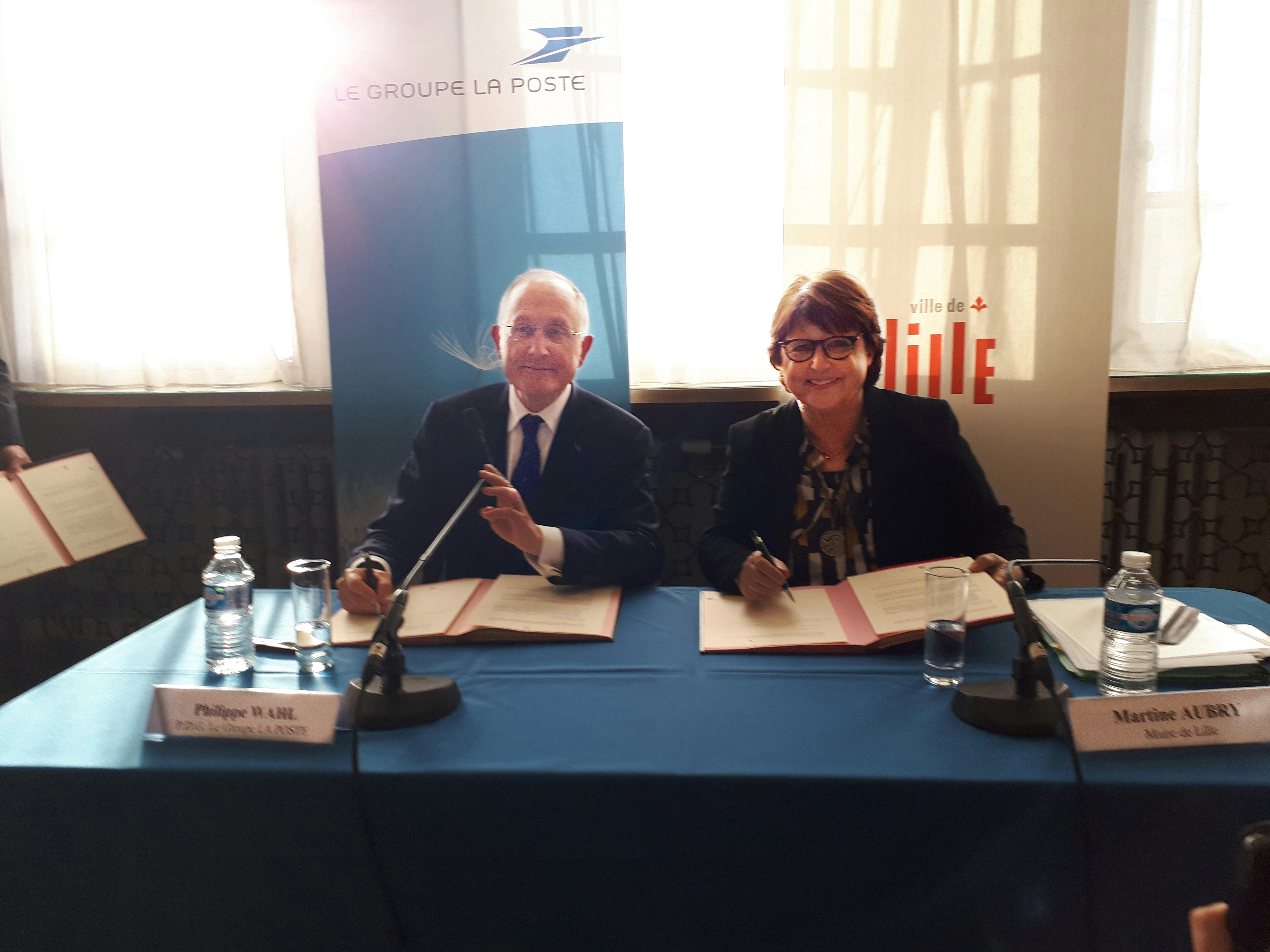 Martine Aubry, Mayor of Lille, and Philippe Wahl, CEO of Le Groupe La Poste, signed a three-year partnership agreement on 16 February aimed at developing a range of innovative urban logistics solutions. The goal? To reduce road congestion, improve air quality, strengthen the appeal of the city centre and support local businesses.
Delivering more and more parcels better than ever
This agreement will mean infrastructure and vehicle fleets can be organised in such a way as to deliver more and more parcels better than ever before. As explained by Philippe Wahl, "Over the next seven years, the number of parcels delivered across France will double. The future of our cities, and particularly Lille, is at stake here. Le Groupe La Poste therefore has a big role to play in optimising these deliveries by opting for non-polluting vehicles".
To mark the occasion, La Poste presented its new vehicles, which run on electricity and natural gas, in front of Lille City Hall (photo 1). Anne Ruythoorens, a postwoman from the Lille region, introduced her Quadeo vehicle to Martine Aubry and Philippe Wahl (photo 2), whilst Angélique Sbraire, Operations Manager, assured those present she "had delivered the sun" with her NGV, or natural gas vehicle, in Chronopost colours (photo 3).
With this partnership agreement, Le Groupe La Poste is committing to :
establishing an evening parcel delivery service in Lille, using low-noise and low-emission vehicles;

gradually converting the rest of its diesel rounds into low-emission alternatives, delivering letters and parcels using cleaner types of transport;

working collaboratively with other logistics partners to create one or more pooling centres, with the overall goal of reducing the number of kilometres travelled in the city;

encouraging parcel orders that reduce the total number of kilometres travelled;

strengthening its logistics infrastructure to develop stock management and supply chain services for every user;

contributing to regional cooperation in order to develop innovative urban logistics solutions that involve a digital component.