Banking and insurance
France
Published on November 23, 2020
Updated on February 24, 2022
"La Poste offers banking, finance and insurance products and services to as many people as possible, including the Livret A passbook savings account¹. With this mention in the French Monetary and Financial Code, the legislator has given La Poste a broad banking accessibility mission.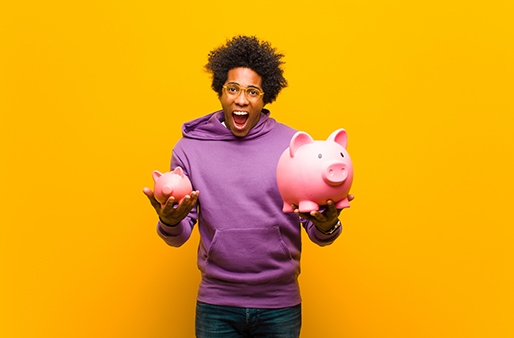 As a result, we ensure that an unrestricted "basic" savings product is available to everyone. This initiative complements existing measures such as the "right to an account" and aims to encourage the French people to use the banking system and savings products.
Eliminating banking customer refusal
To make banking accessible to as many people as possible, La Banque Postale (created 1 January 2006) works with the entire La Poste network. Tangible measures are in place to ensure banking products and services are accessible to all.
The banking accessibility mission enables anyone to open a Livret A passbook savings account. It is now possible to deposit and withdraw amounts over €1.50 free of charge.
Although some transactions are familiar to most of the French population, some people were still excluded until recently. However, now everyone can set up automated transfers and direct debits for some transactions (welfare payments; tax collection; payment of rent, gas and electricity bills).
To make this possible, we needed to provide information, offer support and make the process free of charge. So we did! We also issue chequebooks and every customer is given a money withdrawal card which can be used at any of our 7,800 counters and ATMs.
deposit accounts opened with La Banque Postale
Because of these measures, we can adapt to specific situations (excessive debt, microloans, etc.) and ensure that banking is accessible to as many people as possible. They also allow us to comply with the law, as well as with the long-standing values of our Group.
To ensure that this banking accessibility mission bears fruit, we need to maintain a local presence to suit how individuals use our services. Our 17,100 retail outlets include 8,414 post offices, meaning that every citizen can benefit from what we offer and enjoy tailored support.
The Group is civic-minded and works day in, day out to serve the French people. Its accessible services mean that private individuals can find the right banking service for their particular financial situation. It is committed, supporting customers whatever may be happening in their lives. These commitments make Le Groupe La Poste a major player in the fight against banking customer refusal.
customers in a vulnerable financial situation use La Banque Postale's banking services
(1): Art. L.518-25 of the French Monetary and Financial Code