GeoPost/DPDgroup :
parcel delivery in France and abroad
Published on July 8, 2020
Updated on April 19, 2021
GeoPost/DPDgroup is the branch dedicated to the delivery of express parcels under 30 kg. Operating out of 49 countries, le groupe La Poste is the number one parcel service in Europe.
With its brands DPD, Chronopost, SEUR in Spain and BRT in Italy, GeoPost/DPDgroup has conquered the international market and has become the leading parcel delivery network in Europe. This powerful organization allows GeoPost/DPDgroup to deliver 7.5 million parcels per day, equivalent to 1.9 billion parcels worldwide in 2020.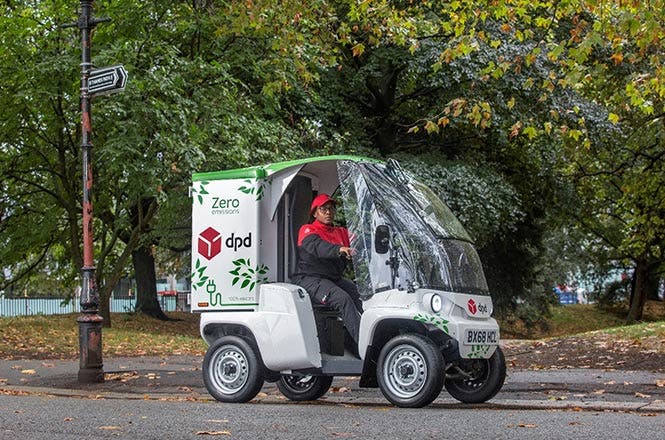 A global ambition
GeoPost/DPDgroup can rely on its network of more than 1,200 hubs and depots, more than 86,000 vehicles and more than 97,000 delivery experts around the world.
International parcel delivery markets outside Europe will grow faster than in Europe over the next decade. GeoPost/DPDgroup aims to build on its current international presence and strengthen its positions in South East Asia, the Middle East, Africa and South America. DPDgroup's network will evolve from a multi-domestic model to an internationally interconnected model. This will enable DPDgroup to offer solutions to the intercontinental e-commerce market.
In addition to transport and delivery, this type of service will also include solutions for e-commerce platforms, to support DPDgroup's customers and enable them to be part of the e-commerce boom.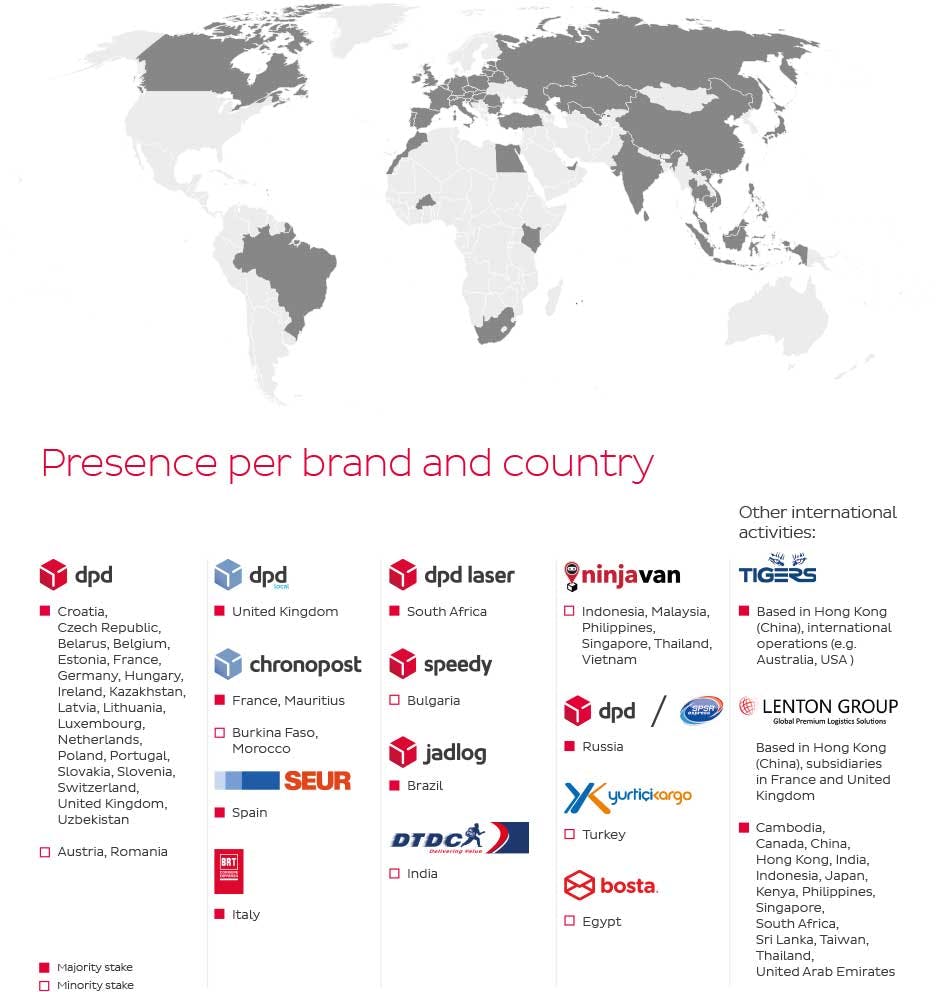 Conquering new horizons
Asendia, the joint venture between le groupe La Poste and Swiss Post, provides international e-commerce services and has developed additional capabilities through the acquisition of eShopWorld. By joining GeoPost/DPDgroup, Asendia and DPDgroup will benefit from significant cross-development opportunities and will strengthen their position.
By capitalizing on international synergies, GeoPost/DPDgroup intends to significantly increase the share of its intercontinental business to 20% of its total revenue by 2025.
Tailor-made deliveries
GeoPost/DPDgroup's offer is enhanced by a multitude of services adapted to the requirements of local consumers, such as being able to pick up a parcel at one of the 58,000 Pickup points (Relais outlets and lockers) around the world, choosing the time and place of delivery with the Predict solution, or tracking the progress of a parcel in real time using the myDPD portal.
A booming market
GeoPost/DPDgroup invests in sectors with high potential :
food, with Chronofresh in France for example;

healthcare, with BioLogistic, a major player in the transport of healthcare products in France;

and the urban courier service with Stuart.
A controlled carbon footprint
Sustainability is an integral part of GeoPost/DPDgroup's commitment and identity through its DrivingChangeTM CSR program. Since 2012, GeoPost/DPDgroup's deliveries have been carbon neutral by measuring the carbon footprint per parcel, reducing it to the greatest extent possible, and offsetting the remaining emissions, with a goal of reducing its CO₂ emissions per parcel by 30% by 2025 (vs. 2013).
DPDgroup acts proactively to make its contribution to improving air quality in cities. This is why, in late 2019, GeoPost/DPDgroup partnered with the cities of Lisbon, Paris and Madrid as part of a pilot project. Thanks to the latest generation of sensors, its fleet and urban depots measure air pollution levels using the PM2.5 scale in real time. The compiled data allows city officials to map out a low-emission zone in the heart of the city. Building on this success, GeoPost/DPDgroup plans to expand the initiative to 20 key cities in Europe by the end of 2021.
GeoPost/DPDgroup also aims to become the leading player in sustainable delivery. In October 2020, GeoPost/DPDgroup launched a plan to deliver low (or even zero) carbon last-mile delivery in Europe's 225 largest cities, representing 80 million Europeans, by 2025. The ambition is to reduce the carbon footprint by 89% and pollutants by 80% in the cities concerned.
General overview of DPDgroup
DPDgroup Milestones & Facts and Figures