Published on April 5, 2019
Updated on August 23, 2021
Under the Act of 2 July 1990, as amended by the Acts of 20 May 2005 and 9 February 2010, the French State entrusted Le Groupe La Poste with a public service mission concerning regional planning and local and regional development.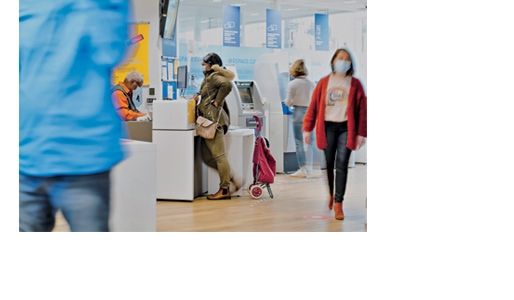 Local and regional development
By enabling 97% of the population to have access to a La Poste retail outlet within 5 kilometres or 20 minutes by car of their home, La Poste contributes to regional planning and makes its services accessible to all French people. 
A network with over 17,000 retail outlets
La Poste Network's 17,000 retail outlets make it the leading network of local, in-person services in France. In this context, Le Groupe La Poste is required to respect a local postal coverage agreement. This is a joint project between the State, the AMF (association of French mayors and presidents of inter-municipalities) and Le Groupe La Poste. Renewed every three years, it sets the rules for La Poste's regional planning and local and regional development mission and defines the conditions for its financing by the equalisation fund.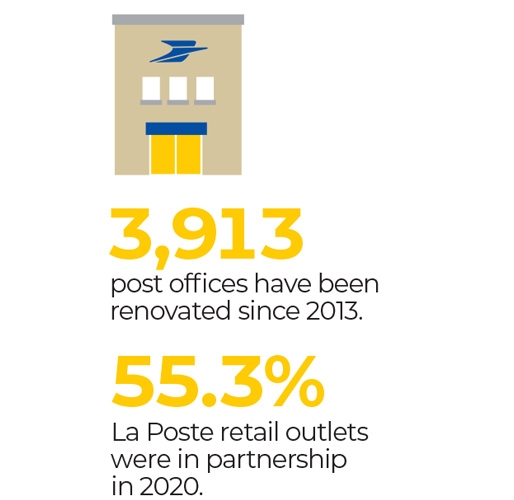 Under the 2020-2022 local postal coverage agreement, a budget of €531 million over three years has been allocated. Funding is available to the départements to ensure, in particular, the operation of existing contact points, their conversion or the training of staff. The equalisation fund is managed by the National Postal Presence Observatory (ONPP). It allows specific actions to be undertaken that contribute to the postal development of the local area.
Since 2008, €2 billion has been invested in three main priorities: partnerships with local authorities and retailers (€900 million), the operation of "priority" post offices (€600 million) and the renovation of post offices and depots (€400 million). The postal presence contributes to local and regional development.
Local and regional dialogue bodies
To optimise its local presence and ensure that its initiatives are consistent with local needs, La Poste maintains an ongoing dialogue with local authorities.
The Departmental Commissions on Local Postal Presence (CDPPT ) meet at least once a year and according to demand. La Poste guarantees an appropriate presence in hard-to-reach areas, new priority neighbourhoods, overseas departments and so-called rural revitalisation zones.
A unique local and regional network
With 7,566 post offices and 9,377 retail outlets managed in partnership with local shops, town halls or other inter-municipal partners, Le Groupe La Poste offers a wide range of retail outlets and a unique local and regional network.
In partnership with the State and local authorities, La Poste has helped set up 514 Maisons de Services Publics (public service areas) since 2015, 149 of which have been awarded the France Service label. Customers are accompanied by a postal worker to access various public services.
Since january 2022, a total of 370 post offices with the France Services label have brought together in one place a one-stop shop for public services bringing together eight partners. 
departmental commissions on local postal presence

to meet the needs of the population in each department local network in France

with more than 17,000 retail outlets

including 7,546 post offices and 9,377 partnerships

of the French population

within five kilometres and/or 20 minutes by car of a La Poste retail outlet