Published on March 28, 2021
Updated on September 13, 2021
Drawing on six centuries of history and the unifying public service missions it was founded upon, Le Groupe La Poste has defined its purpose and has become a mission-driven company

At everyone's service and of use to each individual, La Poste is a people-oriented company with a local presence that develops exchanges and builds essential links by contributing to the common wealth of society as a whole.
By giving itself a purpose, La Poste is formalising its commitment to conducting its business in a responsible manner by being useful to everyone. This purpose anchors its desire to accompany society in its major transitions - digital, territorial, demographic and ecological - by building a bridge between its history and the world of tomorrow.
An inspirational and philosophical course for 2030
Since the 15th century, La Poste has been connecting citizens throughout France, keeping pace with changes in society and serving the public in the missions entrusted to it. Faced with the current collapse in mail volumes and the boom in digital and e-commerce, La Poste is reinventing itself today with a new strategic plan that sets out the ambition, objectives and major priorities to be achieved by 2030. In the light of this strategic plan, "the purpose gives us the inspirational and philosophical direction of what we want to be in the years to come" explains Philippe Wahl, Chairman of La Poste.
A purpose created with input from postal workers and stakeholders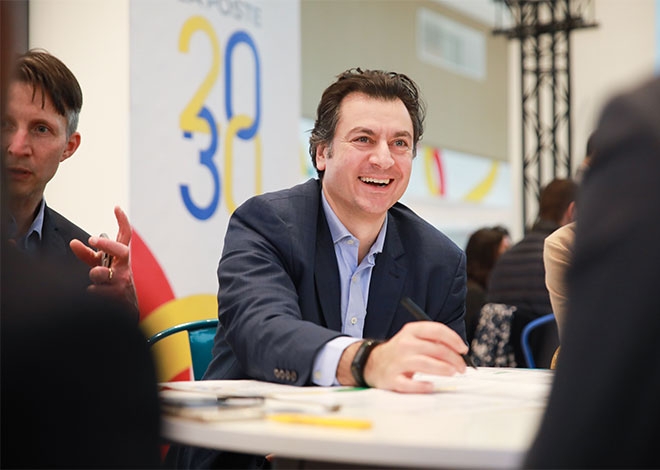 Before being formalized in one sentence, the purpose was the subject of an ambitious co-construction process. Stakeholders - corporate customers, small and medium-sized businesses and professionals, individuals, partners and suppliers, elected representatives and local authorities - and employees of the Group's various business units in the regions first met in nine workshops to identify the initial areas of focus.
The participatory approach then made it possible to verify that these initial results had not omitted anything. After a dialogue with the trade unions, the purpose was finally tested with 4,000 stakeholders before being adjusted and validated.
La Poste, now labelled as a "company with a mission"
The result of a voluntary approach, the purpose adopted by La Poste is in line with the 2019 Pact Act(1), which was passed in the wake of the report by Nicole Notat and Jean-Dominique Senard on responsible capitalism. This law created the legal status of a company with a mission, under which the company's social commitments, in line with its purpose, are verified annually by a mission committee. La Poste will adopt this status in the course of 2021 to become, in turn, a company with a mission, committed to the greater good.
The purpose gives us the inspirational and philosophical direction of what we want to be in the years to come.
(1): Pact: action plan for the growth and transformation of companies