Published on April 27, 2019
Urby brings sustainable and innovative urban logistics solutions to Grenoble
Logistic
Agenda
Auvergne-Rhône-Alpes
In Grenoble, on Friday 22 February, Philippe Wahl, Chairman and Chief Executive Officer of Le Groupe La Poste, officially launched the Urby national network: a comprehensive logistics system based on mutualised and optimised deliveries.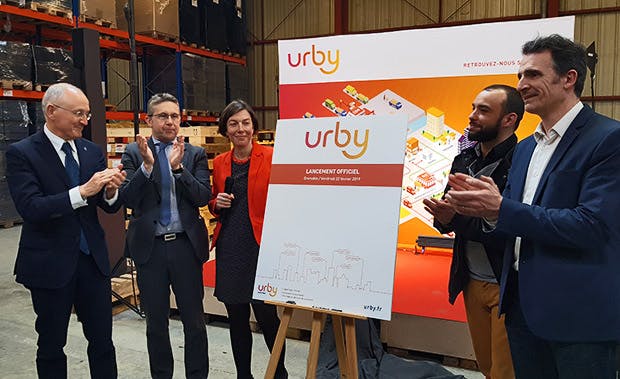 With the e-commerce boom, parcel deliveries in cities are constantly increasing (+10% per year). The question of access to goods in urban centres is crucial and the organisation of deliveries is central in the reflections of transport professionals and communities.
The EVOL (Logistics Development and Optimisation Spaces) consortium was launched in 2016, in response to the call for expressions of interest by Grenoble-Alpes Métropole and the Syndicat Mixte des Transports en Commun (public transport joint association). This consortium, managed by Le Groupe La Poste, brought together urban logistics actors in the local economy. In 2017, EVOL became a company. It opened up to shareholder investment (Le Groupe La Poste, the Caisse des Dépôts, the Les Mousquetaires group, Cet 'up, GNVert, GEG, FNTR and Vélocité Services) and became Urby.
On Friday 22 February 2019 in Grenoble, Anne-Sophie Louvat, President of Urby Grenoble, and all of the shareholder bodies launched Urby, in the presence of Philippe Wahl, Chairman and Chief Executive Officer of Le Groupe La Poste, Christophe Ferrari, President of Grenoble-Alpes Métropole, Yann Mongaburu, President of the SMTC and Eric Piolle, Mayor of Grenoble.
The commitment of La Poste, a perspective serving the territories and sustainable development
Philippe Wahl: "Grenoble was the first city to enter into an urban logistics project with Le Groupe La Poste. In 10 years, urban logistics will be one of La Poste's main business lines. Urby's business project will grow, because over 2/3 of parcel flows are concentrated in big cities. Through this collective work with various actors, we have discovered both the economic and ecological potential and all the business lines that could be developed."
Urby is a comprehensive urban logistics system based on the mutualisation and optimisation of deliveries. Operating from several in-city sites, Urby offers urban delivery, storage and reverse logistics services to carriers, messengers, traders, artisans, local authorities, companies and private individuals, using low emissions vehicles and bicycles.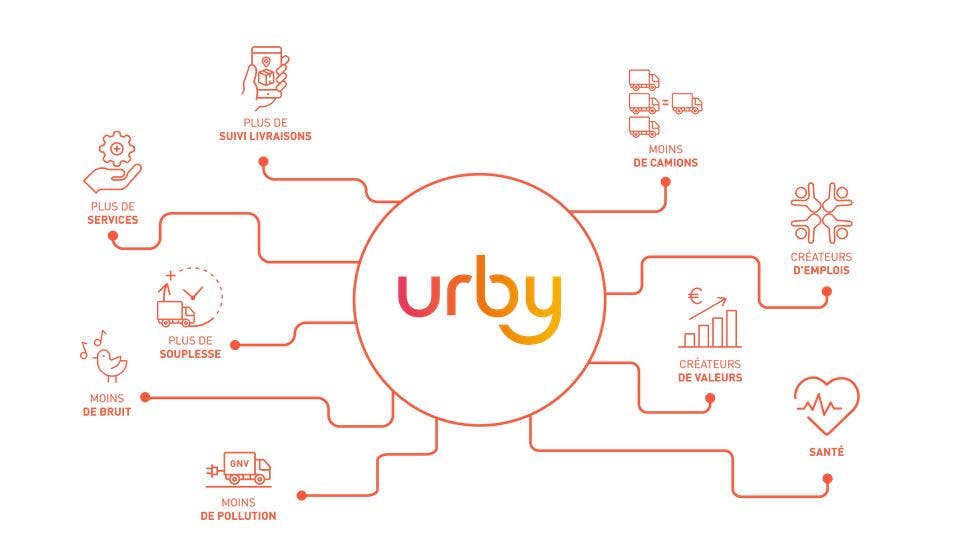 City centre storage, delivery and collection services designed for carriers and traders
"Urby addresses the key urban issues: decongesting transport corridors, improving air quality, boosting local attractiveness and stimulating economic activity", explains Anne-Sophie Louvat. Companies, artisans and traders need a service that simplifies their lives, via personalised solutions that combine delivery, receipt of goods, storage and reverse logistics for a sustainable city. We already offer post-purchase delivery to private individuals for bulky goods such as gardening items. After doing their shopping at various outlets, individuals will soon be able to benefit from a single home delivery at their chosen time, using an app."
By optimising access to goods in urban centres, Urby wants to boost quality of life for citizens while reducing the environmental impact of deliveries, and to help companies and local authorities improve their performance. To make its deliveries, Urby uses bicycles, Euro 6 or electric light vehicles, or HGVs that meet the Euro 6 anti-pollution standard or use natural gas for vehicles.
"Urby is a way of facilitating mobility, combating atmospheric pollution and stimulating business by helping economic players through a new service that makes their lives easier", emphasises Christophe Ferrari, President of Grenoble Alpes Métropole and Mayor of Pont de Claix.
22 Urby sites by 2020
Urby Grenoble currently has around 20 clients and offers three types of services: mutualisation of urban deliveries and collections, order storage and preparation, and reverse logistics (return flow of recyclable materials/products, or of products that are made in and transported out of the city).
According to Aurélie Laffond, commercial manager for Transports Laffond, Urby meets the company's needs by providing "redelivery" of pallets in the centre of Grenoble, where HGVs are not permitted: "Our business is road transport of goods in the national sector with a fleet of 80 vehicles. Urby takes care of the last mile phase of delivery for our goods. Their strengths: responsiveness, proximity and a personalised service."
Today, the Urby network has 7 logistics sites in cities: Grenoble, Toulouse, Lyon, Montpellier, Clermont-Ferrand, Saint-Étienne and Bordeaux. The Urby network will be extended to Nice, Rennes, Strasbourg, Nancy, Marseille, Nantes and Paris from 2019, to offer 22 sites in 2020.