Published on September 17, 2019
Le Groupe La Poste abroad
Le Groupe La Poste generated 27% of its revenue abroad, mainly in the express parcel sector: fast delivery of parcels weighing less than 30 kg. The European number two in the sector, it operates in 230 countries with 1.3 billion parcels delivered in 2018 via the DPDgroup brand.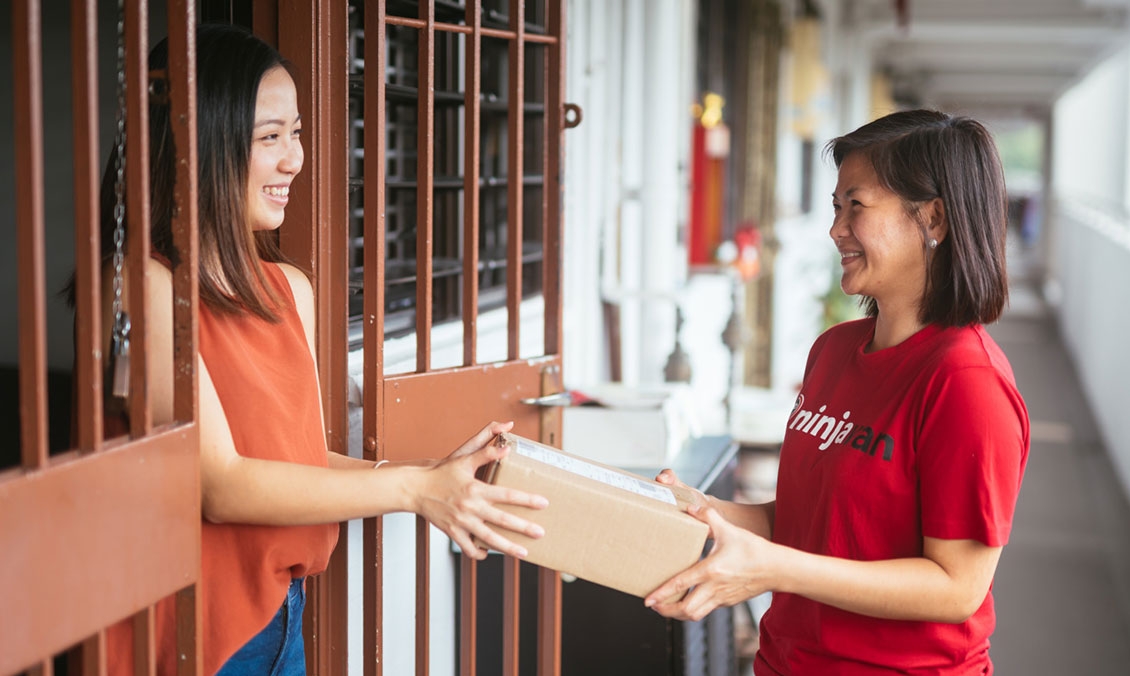 Le Groupe La Poste was Europe's first postal operator to enter the express parcel market, which was previously dominated by American delivery firms (UPS, Fedex, DHL, etc.). This was in 1985. It has since become the European number two in the sector and continues its international rise through partnerships and acquisitions: DPD in Germany (1), SEUR in Spain, Masterlink and Siodemka in Poland, BRT in Italy, JadLog in Brazil, DPD Laser in South Africa, Ninja Van in South-East Asia, etc.
(1): DPD, Germany's number two parcel operator, was the Group's first international acquisition in 2001. This led to the DPDgroup brand which covers all Groupe La Poste's national and international express parcel activities.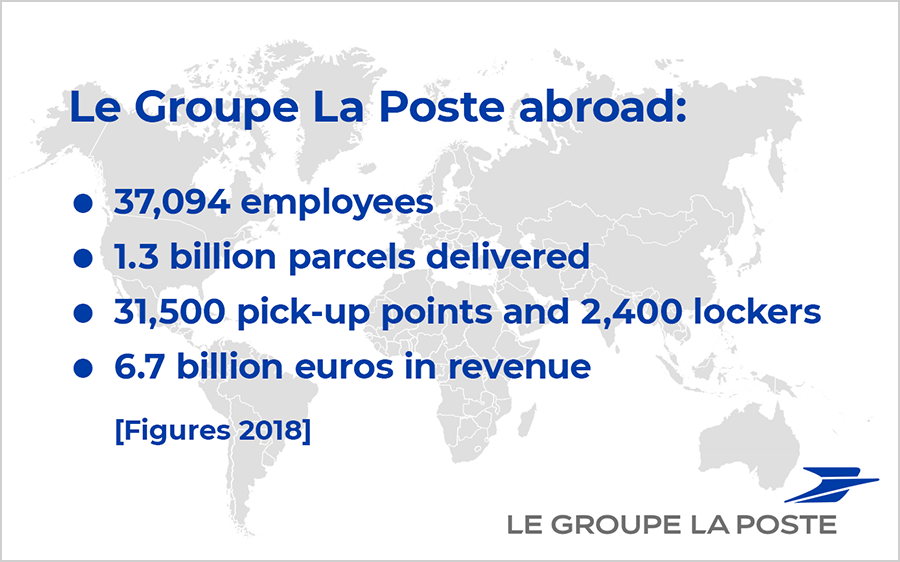 Europe's number two parcel delivery network
Every year, Le Groupe La Poste strengthens its position on the European market. In 2013 it became Europe's number two express parcel delivery network and now has a strong presence in a host of countries:
Number one in Spain, Poland and Lithuania.

Number two in Germany, Austria, Estonia, Ireland, Latvia, Portugal and the United Kingdom.

Number three in Slovenia and Switzerland.
The Group has also developed its presence outside of Europe on dynamic markets:
Via minority equity investments in India, Turkey, South-East Asia and French-speaking Africa (Morocco and Burkina Faso).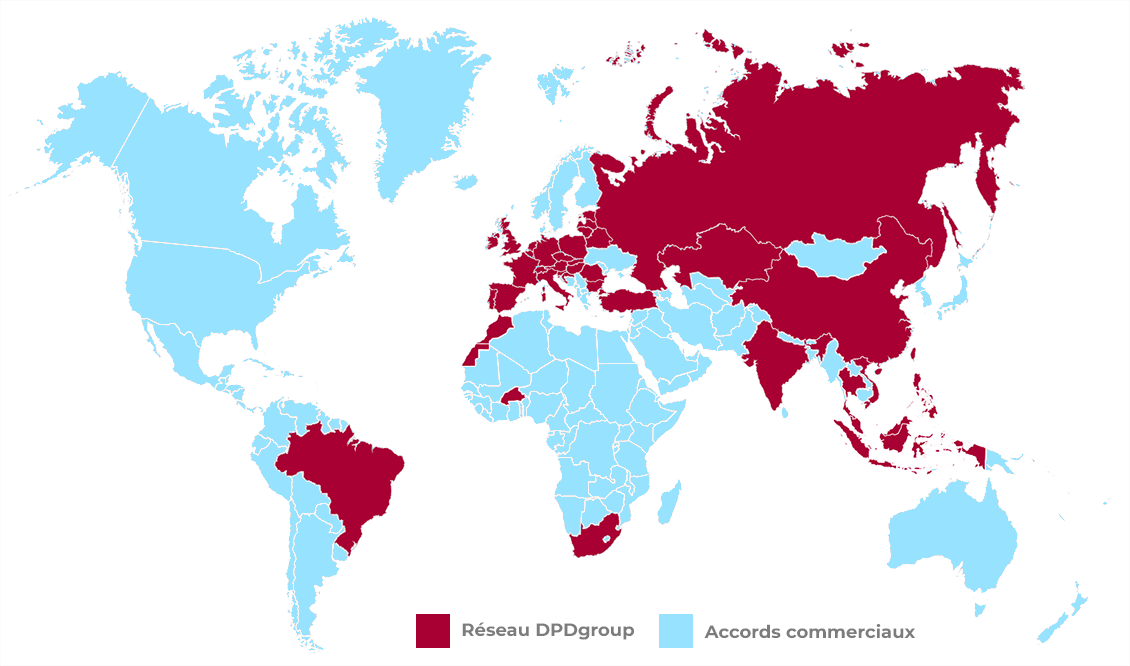 Abroad, mail is not restricted to letters and also covers low-value dispatches weighing less than 2 kg, known as "small international parcels". In 2012, La Poste and Swiss Post created the joint venture Asendia in a bid to become one of the global leaders on the international mail market. La Poste holds 60% of share capital in the company which operates in Europe, America and Asia. It is the British number two and the US number three in the international mail sector. Asendia generated 957 million euros in revenue in 2018.
A border-free carbon commitment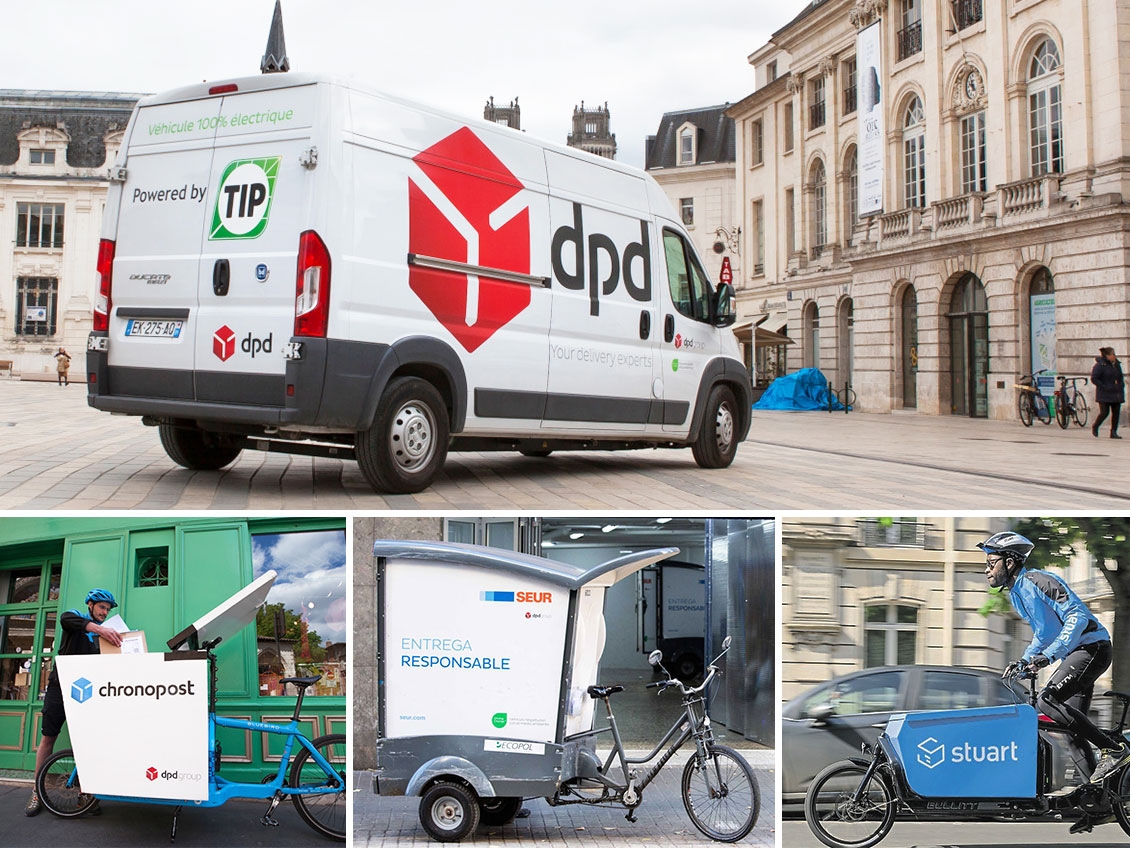 Le Groupe La Poste has its CO2 emissions under tight control in both France and abroad. From 2013 to 2018, CO2 emissions from its express parcel activities decreased by 10% and all remaining emissions have been offset since 2016 (read La Poste commits to carbon neutrality). DPDgroup is the world leader in the express parcel sector on the voluntary carbon offsetting market.
In France, Le Groupe La Poste, a major urban logistics player, has taken steps to reduce CO2 and fine particle emissions in city centres with: sorting infrastructure in surrounding areas shared by several operators, deliveries in electric vehicles, varied delivery options, etc. Some of these many initiatives have been implemented abroad. In terms of delivery options, Le Groupe La Poste has developed a global network of pick-up points and lockers, giving customers the chance to have their items delivered to a shop or locker open 24 hours a day.
Service innovation worldwide

Le Groupe La Poste pursues innovative action to better meet its customers' needs in both France and abroad. Through its DPDgroup network, it has good knowledge of markets in the various countries in which it operates as well as a panoramic overview of the local practices of online buyers, which it shares annually in its e-shopper barometer. It makes use of this watch to offer innovative services in line with targeted needs: Predict which informs recipients of their delivery time and alternative solutions to home delivery, including urban depots in city centres, Chronofresh to transport foodstuffs without breaking the cold chain, Stuart for urgent urban deliveries with real-time geolocation, BioLogistic to transport health products at a controlled temperature, drone delivery tests in difficult-to-access areas, etc. Wherever an express parcel is needed, Le Groupe La Poste is there.