Published on September 9, 2019
La Poste is Europe's number one voluntary carbon offsetting player and a member of the world's top five. Discover how in this video.
Carbon neutrality: how it works
For Le Groupe La Poste, the fight against climate change is one of the major concerns of its corporate social responsibility policy. Priority is given to managing CO2 emissions through a proactive carbon neutrality approach consisting of:
Measuring: the Group measures all CO2 emissions produced by its activities by implementing appropriate and effective monitoring and control strategies for its carbon performance;

Reducing: it rolls out reduction activities for its carbon impact linked to transport, buildings and the design of its solutions (paper and digital);

Offsetting: the Group has been offsetting its CO2 emissions linked to Mail, Parcel and Express activities since March 2012, via the purchase of carbon credits generated on the voluntary carbon market.
With this global approach, which makes the ecological and inclusive transition a priority, Le Groupe La Poste is the first major postal operator to ensure the total carbon neutrality of its solutions.
Backing carbon offsetting projects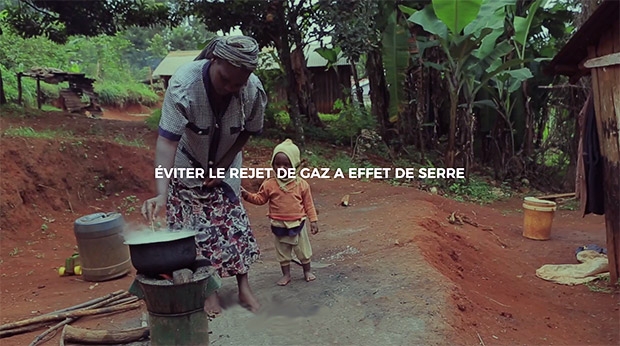 Le Groupe La Poste's carbon offsetting programme draws on various voluntary offsetting projects in developing countries. All the selected projects are certified according to the best internationally recognised standards on the carbon market (Gold Standard, VCS), thus guaranteeing high environmental, social and societal added value. The approach is participatory with employees and customers involved in selecting projects.
Initiatives backed by the Group include: the Livelihoods Funds which invests in Asia, Africa and Latin America in the restoration and preservation of national ecosystems, agroforestry and soil restoration through sustainable agricultural practices and rural energy access projects preventing deforestation. And the commitment can also be seen in Group Business Units which are backing many projects on four continents.
Projects backed by the Services-Mail-Parcels and Digital Business Units
Kenya Project Life Straw: installing filters to purify water, thus avoiding the use of firewood for boiling to the benefit of 464,000 people. This project has been certified by the Gold Standard Foundation. Kasigau Corridor Project: combating deforestation by avoiding the burning technique used to illegally produce charcoal and improve soil. The project has been awarded VCS and CCB certification.

Peru Madre de Dios Amazon project: fighting to protect biodiversity in the Amazon by avoiding deforestation and sustainably managing forests. This project has been certified by the Forest Stewardship Council and the Gold Standard Foundation.

Cambodia Distribution of improved stoves as a substitute for traditional wood-burning stones to prevent deforestation through the use of wood for cooking and heating. This project has been certified by the VCS and Social Carbon.

Vietnam Asian Biogas project: protecting the climate and access to clean and affordable energy with biogas. This project has been certified by the Gold Standard Foundation.
Projects backed by the GeoPost Business Unit
India Development of wind farms as an alternative to coal.

Brazil Transformation of landfill gas into clean energy. Methane, the main component of landfill gas, impacts the climate 21 to 25 times more in terms of CO2.
National projects that helped define the low carbon label
In partnership with the French national forest ownership centre (CNPF), the Services-Mail-Parcels Business Unit of Le Groupe La Poste, which had already achieved carbon neutrality in 2012, wished to invest in innovative carbon sequestration projects in France. By taking part in several pilot forest management projects, it has thus helped define a future national carbon certification framework: the low carbon label formalised in November 2018 by the French Ministry for Ecological and Inclusive Transition.
Lozère (2012) Afforestation, reforestation, improvement, enrichment

Ardèche (2013) Reforestation, enrichment, selecting the best shoots of the targeted varieties (thinning), clearing

Dordogne (2013) Reforestation with resinous trees, creating an arboretum, coppice thinning (staddling)

Haute-Vienne (2015) Staddling, improvements to leafy basal shoots, afforestation and resinous reforestation

Puy-de-Dôme (2015) Reforestation

Rhône (2018) Afforestation with American red oak, Koster poplar and black locust
A beneficial approach for customers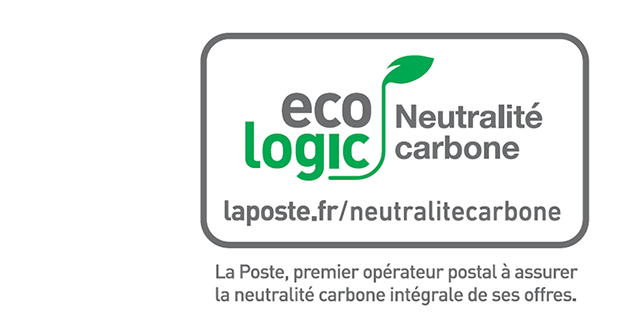 With this voluntary approach, Le Groupe La Poste guarantees the total carbon neutrality of its solutions with no extra charge for its customers.
The carbon neutrality approach is a real opportunity to enhance the CSR commitment of Mail corporate clients, in particular, by affixing an 'Ecologic' logo to their envelopes free of charge. They can thus make their customer relations more effective by using a 100% carbon neutral operator.