Published on June 26, 2023
Le Group La Poste is a trusted, ethical, responsible and sovereign partner, helping healthcare institutions and professionals to meet the current challenges of transforming the healthcare system. With its ability to leverage significant human, logistical, digital and financial resources, the Group is pursuing its expansion in the healthcare sector, with a focus on preserving the patient/carer relationship, including remotely.   Its actions are focused on four strategic areas.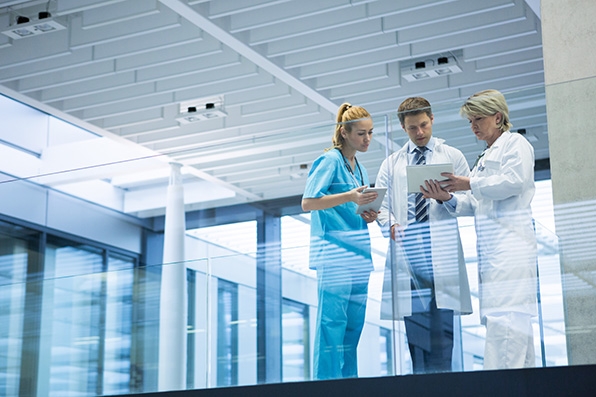 The healthcare sector is facing major challenges, such as the inherent health issues posed by an ageing population, the rise of chronic diseases, inequalities in access to medical care, and medical demographics. Faced with these issues, healthcare practices are evolving. There is a shift to outpatient care, a shift to home visits, an increase in the amount of care and treatment provided at home, digitisation, etc. The acceleration in the use of digital technology in healthcare is making it possible to streamline healthcare pathways, improve relations with patients and make care more secure. 
To help healthcare institutions and professionals meet the current challenges of transforming the healthcare system, Le Groupe La Poste is mobilising its resources in four strategic areas:
The patient pathway
To simplify and secure patient care, which is becoming increasingly fragmented, Le Groupe La Poste provides digital and human solutions and services throughout the healthcare process: in hospital and at home, in prevention and for all types of pathologies, throughout the country.

E-health
As a major player in e-health, Le Groupe La Poste provides solutions to enhance the value and security of healthcare data. Enhancing the value of medical data helps to optimise the efficiency of healthcare structures, improve the quality and safety of care and speed up clinical research and innovation.
Healthcare logistics
Le Groupe La Poste provides reliable, secure and traceable logistics solutions to meet the growing needs of healthcare professionals: storage and transport of molecules, delivery of medicines and healthcare equipment.

Insurance and financing in the healthcare sector
La Banque Postale, a leading banking player in the healthcare sector, supports the growth of almost 2,000 healthcare players, including public and private hospitals, associations and nursing homes, in order to meet the many health challenges and provide them with financing solutions for their major investment projects.

By developing these four strategic areas, Le  Groupe La Poste is helping to meet the major organisational challenges in the healthcare sector, while improving patient care and prevention.