Published on August 26, 2021
Updated on August 27, 2021
La Poste's social model is based primarily on internal mobility. We prepare postal workers for change in regards to their work positions or for new careers. We also implement support measures and carry out extensive training.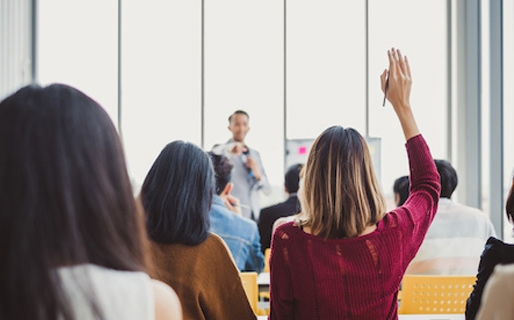 Internal mobility, a key challenge for professional development
La Poste offers career advancement opportunities in key areas of its future development, in particular customer relations, digital technology and logistics.  The regional job and skills planning process enables the company to anticipate career transformation and skills needs. Internal mobility may occur when a worker decides to change role by shifting from one organisational unit to a different one.
is the number of mail carriers,
on average, who benefit from career development each year
is the number of employees
who were promoted in 2020
An internal mobility system like no other
La Poste offers career paths which are close to recruiting professions, matching the postal workers' career wishes to company needs. La poste does this by enhancing the employability and the mobility of postal workers at every single level of the company, from parent company, to the group's subsidairies and branches. In addition to career paths, postal workers have many options, depending on their skills and wishes. A postman can become a maintenance technician or a web developer; a trainer can become a salesman and a communicator can join the purchasing function, etc.
I started as mail carrier, then i was interested in a field that has nothing to do with it, but everything is linked : as a developer, i have to build new working tools for mail carriers. It's extremely interesting and i would encourage anyone who has even remotely dabbled in this field and thinks they might enjoy it to give it a shot
An outstanding support program
A professional interview, which is conducted every year, helps meet the expectations of postal workers and company needs. La Poste encourages postal workers to develop their careers through the help and support of a network of agents : 400 HR professionals and 150 experts from 12 Group Mobility and Recruitment Centres (EMRG). At each stage of their project, postal workers receive personalised advice, an individual development plan and ad hoc tools, including m@rh - the HR portal dedicated to building their professional future.
2,400 postal workers individually assisted

17,000 collectively assisted at the group's mobility and recruitment centres
I had been thinking about changing jobs for several years, I needed something new. My career development advisor helped me see things more clearly and to better identify my goals. I was able to talk with colleagues who had already changed jobs and benefit from their feedback. I also took psycho-technical tests and had an interview. Then I joined a pool and went through weeks of training. I then spent some time immersed in the post office. That's when I was able to assess whether the job really suited me. With all these steps, I knew where I was going. The process is reassuring and I am very pleased with the change.
An immense training effort in order to increase skills
In the five year period of the "A future for every postal worker" agreement, La Poste has invested more than one billion euros in supporting postal workers' professional projects; 80% of postal workers have received training each year. Over the past five years, nearly 50,000 postal workers have benefited from a training program to support them as their jobs evolve. In addition, the health crisis has accelerated the development with an entire digital training, with more than 130,000 e-learning courses taken in 2020. These individual training offers are regularly enriched with new topics such as artificial intelligence, tutoring, collaborative work and barrier gestures.
Artificial intelligence and employee training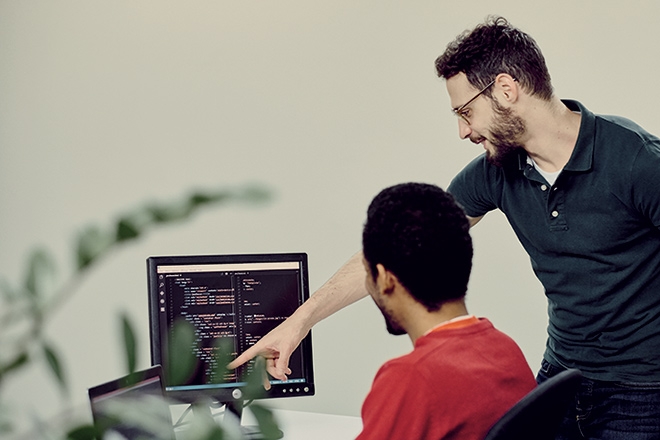 Thanks to the "IA objective" e-learning programme created by the Institut Montaigne and OpenClassrooms, and supported by La Poste, 25,000 postal workers will be trained in AI for a duration of two years. Objectives: to explore concrete projects, to better understand AI, to be made aware of the jobs of the future, to master new professional tools, in order to receive, at the end of the training, a certificate validating competencies.
Digital transformation is carried out with all postal workers, thus, the 4th « Simplon » promotion came out in 2019 with a designer-developer diploma in their pocket. 68 employees have benefited from this in the year of 2016 and a new cyber security analyst course was added to the training program in 2019.
A self-service platform offers more than 70 training courses which focuses on two main themes: corporate culture (teleworking, energy transition, ethics, etc.) and digital & data technologies (digital culture, collaborative work, etc.). In 2019, e-learning accounted for 17% of the training courses attended.