La Poste, a responsible employer
committed to the integration of young people and equal opportunities
Published on February 8, 2021
La Poste implements a responsible employment policy. It anticipates market changes and changes in jobs; it recruits the new profiles it needs, particularly among young people.
Promoting quality employment
A benchmark employer in France with 249,304 employees at the end of 2019, Le Groupe La Poste is pursuing a responsible employment policy guided by its commitments to diversity and equal opportunities. It favours permanent contracts (92.4% of the workforce) and gives preference to existing employees. In 2019, of the 7,799 employees hired on permanent contracts, 3,268 were already working on fixed-term contracts and 1,483 were on work-study contracts at La Poste.
of employees on permanent contracts
employees hired on permanent contracts
digital profiles recruited at Group level
job offers published
on the laposterecrute.fr website
Priority to employment and integration of young people
While facilitating the retention of employees over 50 years of age (46% of the workforce), La Poste has a dynamic employment policy for young people and is committed to recruiting 60% of its employees under 30 on permanent contracts. There were 4,583 of them in 2019. La Poste is the leading player in the field of youth integration. In 2019, it signed 4,739 new apprenticeship and professionalization contracts, and each year it welcomes nearly 5,000 trainees, from people with Professional Ability Certificate qualifications (CAPs) to those with 5 years' of higher education degrees.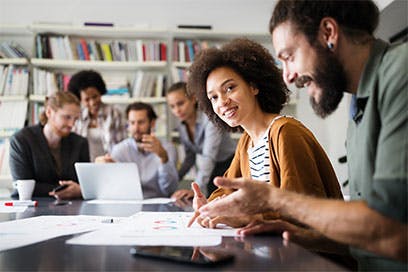 60% of employees recruited on permanent contracts are under 30 years old

4,739 new apprenticeship and professionalization contracts in 2019
A springboard for work-study students
As France's number one work-study employer (1), with more than 17,600 work-study students recruited between 2016 and 2019, La Poste is investing in dedicated training schemes. It is supported by CFA (Centres de Formation en Alternance), including three CFA for the Group's own trades, called "Formaposte". They support 40% of the work-study students (from vocational training to 5 years of higher education) in all of the Group's business sectors. Located in seven regions (Ile-de-France, PACA, Occitanie, Nouvelle Aquitaine and, since 2020, Auvergne-Rhône Alpes, Hauts-de-France and Pays de la Loire), these centres give young people access to the diverse professions of La Poste throughout France.
La Poste is also a partner of the Fondation Innovations pour les Apprentissages (Fipa), which promotes work-study apprenticeships in the new data and cyber security professions.
(1): Le Figaro ranking of "the companies that recruit the most work-study students in 2019"