Diversity and Disability:
La Poste is firmly committed
Published on February 8, 2021
Le Groupe La Poste is committed to taking action to promote employment for some and to change the way others are viewed.
Inclusion in numbers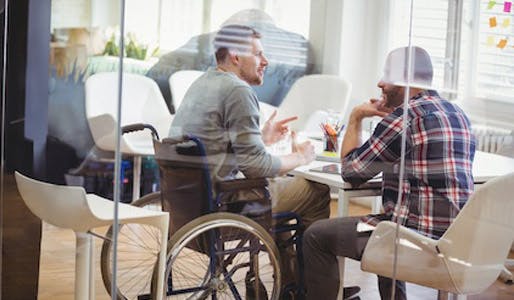 With over 14,000 employees with disabilities, La Poste is the main employer of people with disabilities in France. The 7th agreement for the employment of people with disabilities, signed in 2019, further strengthens the Group's commitment by providing for the recruitment of 650 people with disabilities over four years, including 260 on permanent contracts. At least half of the agreement's budget (€23 million) will be devoted to job retention measures.
Non-discrimination in action
The new agreement focuses on the quality of integration of postal workers with disabilities, from the moment they are welcomed to the moment they take up their duties, as well as on enhanced training for managers. The new awareness-raising e-learning programme "Diversity, what are we talking about?", which is available to all postal workers, helps them to better understand the challenges of diversity and the fight against all forms of discrimination. During the European Week for the Employment of People with Disabilities (EWPD) in November 2019, nearly 200 postal workers with "invisible disabilities" were put in the spotlight throughout France in partnership with the Makanak&vous association. The façades of the Group's headquarters and ten emblematic La Poste buildings displayed their portraits, underlining La Poste's commitment to non-discrimination for all to see.
postal workers with disabilities
million dedicated to maintaining employment for people with disabilities