Published on February 9, 2021
Updated on October 6, 2022
Whether it's a disability, an inability to work or a chronic disease, La Poste Groupe is taking action to promote the employment and careers of people and to change the way they are viewed by others, in the belief that differences go hand in hand with performance.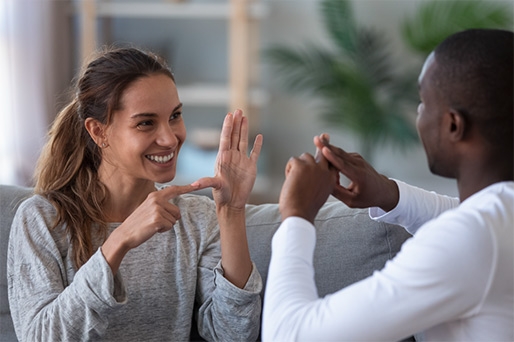 Maintaining disabled workers in employment
OF BENEFICIARIES OF THE OBLIGATION TO EMPLOY
in 2021
La Poste is the leading employer of disabled people in France, with more than 14,000 disabled postal workers, representing an employment rate of 8.66% in 2021.
Signed in 2019, the seventh agreement for the employment of people with disabilities further strengthens the group's commitment as La Poste Groupe has recruted around 650 people with disabilities in the past four years. This includes 260 of them being on permanent contracts; the report also highlights how postal workers have integrated people with disabilities. Indeed, in 2021, 3.7 million were said to be committed for the disabled, 60% of postal workers have said to being devoted to maintaining employment. 3.7 million have said to being committed to disability in 2021 and finally 60% have said to being devoted to job retention, with 850 positions being adapted in 2021.
At the Breteuil post office in Oise, the customer service representative works alone and restrictions on carrying loads prevent her from handling heavy packages. The installation of a scale and a parcel pass where the customer can drop off their parcel themselves allowed them to keep their job.
An autistic postal worker, in the process of losing their job, took a training course in computer development with the help of Hipip in (i.e. a structure specialized in supporting autistic people with Asperger's syndrome). He regained his self-confidence and joined the IT department where everyone praises his remarkable performance.
There is a lot of noise on the parcel platform in Le Rheu (Ille-et-Vilaine) and yet a deaf postal worker has found his place. Digital tablets have been configured and adapted to allow him to exchange with his colleagues and to work independently and safely. Now that he is comfortable in his position, he is considering becoming a team leader.
Offering an attractive career path
In 2020, the overall promotion rate at La Poste was 10.33%. It will reach 8.34% for postal workers who are eligible for mandatory employment, (i.e. 945 disabled postal workers promoted). Equality is in sight and everyone can move up a scale at La Poste.
Fighting against all forms of discrimination
Whether it is a motor, sensory or psychological disability or a chronic illness, La Poste has created specific training programs to support employees who are different and to promote balance within the team. In 2020, 206 managers took these courses. To move forward in the right direction, La Poste has created a mirror group of 40 postal workers with disabilities, who are called upon to evaluate its initiatives and their implementation.
Non-discrimination in action
The new agreement emphasises the quality of integration of postal workers with disabilities, from their induction to their assumption of their duties, as well as enhanced training for managers. The new awareness-raising e-learning program, "Diversity, what are we talking about?", is available to all postal workers, giving them a better understanding of the challenges of diversity and the fight against all forms of discrimination.
During the European Week for the Employment of People with Disabilities (SEPH) in November 2019, nearly 200 postal workers with "invisible disabilities" were honored throughout France in partnership with the Makanak&vous association. Their portraits were displayed on the facades of the group's headquarters and ten emblematic La Poste buildings, highlighting La Poste's commitment to non-discrimination in the eyes of all.
La Poste, present everywhere and for everyone
A network of 130 disability advisors assists postal workers in all business lines and throughout France. And because digitalisation is accelerating, 5 referents are working to improve the accessibility of digital tools for visually impaired postal workers.
Taking action beyond La Poste
Maintenance of letter carriers' electric bicycles, mailboxes and green spaces, repair of parcels or sorting of non-mechanizable parcels: La Poste has purchased 16.38 million euros worth of services from adapted and protected sectors in 2021.
Postal workers

with a disability

Euros

dedicated to the employment of people with disabilities in the 7th agreement (2019-2022)

people

disabled people recruited in the past 4 years
BPE, private and a corporate citizen
At BPE; the private bank of the La Poste Groupe, 1 out of 2 people hired is disabled. The number of beneficiaries of the employment obligation has tripled between 2019 and 2021, from 2% to 6% of the workforce. In 2020, BPE signed an agreement in favor of the employment of people with disabilities and family caregivers.