Published on July 13, 2018
Updated on April 20, 2021
The La Poste Network has the largest distribution network in France, with more than 17,000 public outlets. It currently allows 97% of the population to travel fewer than five kilometres, or 20 minutes by car, to access La Poste offerings.
In this ultra-connected world, where any process can be performed online and digital platforms are often the only place to interact with a brand, a physical, human network and the added value of customer and banking advisors are sources of strength.
Post offices are still places that provide advice and custom support. Because every region is unique and each community has very specific expectations, La Poste tailors its offerings to suit everyone's particular needs.
This can be seen in the group's custom network, comprised of post offices, partnerships with local authorities (namely La Poste community and inter-community La Poste service point outlets), and partnerships with businesses (namely La Poste pick-up service points). In terms of postal coverage, La Poste is innovative and now offers services at ESAT and at unique places like the community concierge in Bordeaux.
Changes in society, the digital revolution, the desertification of rural areas, and energy transition have given rise to new needs. The La Poste network business unit remains innovative and continues to extend its activities. It now offers new services, including travelling co-working spaces that are designed specifically for startups, freelancers, and the non-profit world. Projects and experiments have also been implemented in response to our customers' new usages, always with an eye to greater proximity. They have been set up in tourist areas (like train stations, airports, and ski and seaside resorts) and serve startups (with the Station F incubator in Paris) and young people in universities and residence halls.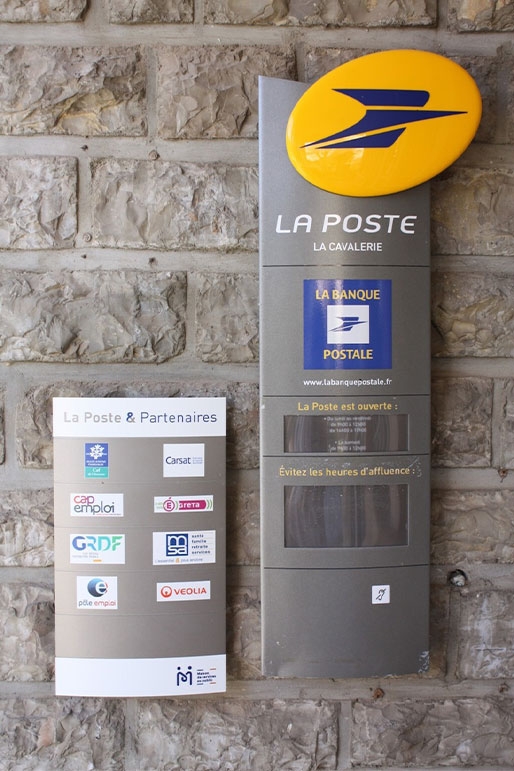 With the goals of offering up the full potential of its network and helping the government provide public services everywhere, for everyone, every day, La Poste hosts 504 out of the 1,000 existing public service centres. The idea is to offer La Poste services and facilitate access to our partners' (Pôle Emploi, Assurance Maladie, the CAF, Assurance Retraite, the MSA, and the GRDF) online services, all in one place.
In cities, the general traffic rules theory test is offered in Group facilities.
For professionals, there's the "Pro Side" offering, which provides an entire range of essential services for managing a company on a single platform. La Poste also works with non-profit organisations to help those in need. Using digital technology, such people can now access customised support to help them independently manage their online accounts and related services.  
The La Poste Mobile offering has also been adapted to suit various audiences. For example, it includes devices designed specifically for seniors, affordable plans, international plans for the new generation, and a specific range for professionals. The result? Ninety-seven [1] per cent of customers believe La Poste Mobile offers solutions suited to their needs.
Continuously more accessible
Our offices have been updated over the years, enabling us to improve our service and streamline the experience of our customers. Machines handle common transactions, and customer service representatives can use their Smartéo smartphones to assist their customers more quickly. Service points also offer free WiFi, which is particularly valuable in the most isolated areas. To serve all customers, the network has also reworked some of its offerings to make seniors' lives easier. Excellent examples include the Ardoiz tablet, with a lightweight touch screen specially designed for the elderly, and the "Watch Over My Parents" offering, which guarantees regular visits, 24/7 telephone assistance, and help resolving a large variety of small nuisances.
 The focus is on improving customer experience within what is now a multi-activity network, with an emphasis on banking. In 2017, 67% of consumer credit from La Banque Postale, 76% of home loans (aside from social home ownership) and 100% of inflows from private individuals were carried out in the offices. Our offices also accounted for 17.2% of mail revenue, 21.4% of parcel revenue, 5.7% of Chronopost revenue, and 84.7% of La Poste Mobile sales.
Satisfying our customers is our priority, and our objective remains the same: to make life easier for the French. Our network of postal employees, the ultimate local human network, commits to this every single day.
(1): Survey conducted by the MV2 company for La Poste Mobile (September 2016) / Reference document 2017, p. 63