Published on July 11, 2018
VivaTech 2018 – Digital innovation by La Poste
Digital
Lifespiration
France
What a crowd ! With more than 100,000 visitors, 48% more than in 2017, VivaTech stands out as one of the major events for digital innovation after CES Las Vegas. And this event recognised La Poste as one of the most influential French players in the sector.
Just look at the attention received from social media during the event, surpassing that devoted to the other companies – including Microsoft. La Poste was on smartphones everywhere: Twitter, of course, with 2,700 tweets and retweets for a total of 23 million impressions, not to mention Périscope, LinkedIn and Instagram.
Likewise at the trade fair itself, La Poste enjoyed terrific visibility, with a huge yellow stand perfectly positioned and visible from afar thanks to the majestic tree rising through the middle, extending its wide branches up above the visitors.
The people came out in their numbers for all three days of the fair. For the first two days, open exclusively to professionals, they rushed to attend the pitches and conferences held by La Poste and the 40 partner start-ups (download their profiles here). As for the last day, which welcomed the public, they flocked to take part in the activities offered and meet the two YouTubers VodK and Amixem. Everyone was greeted at the stand by postmen and women and customer service representatives, who demonstrated La Poste's innovative solutions and answered their questions.

eHealth takes centre stage
Fuelled by the announcement of signing a partnership with Elsan, France's leading operator of private clinics, and Docapost, a subsidiary of Le Groupe La Poste (read the press release here), eHealth solutions – already presented at CES Las Vegas (see our article) – were what sparked the interest of professionals the most, from mutual insurance companies to pharmaceutical laboratories and doctors.
Jaab, the connected wallet marketed towards children and teenagers, won over the banks and insurance companies… but they were not alone! It enthralled anyone who approached it, including Mounir Mahjoubi, French Secretary of State for Digital Affairs, and Bruno Le Maire, French Minister for the Economy and Finance, who pre-ordered three and four units respectively! Jaab will be on the market in September 2018.
At the stand, two solutions focusing specifically on e-commerce were also presented: La Boutique France, which helps businesses bring their products easily and quickly to the Chinese market, and Colissimo Pass, a subscription service that grants e-shoppers free shipping with all of the e-commerce merchants listed.
As for the rest, all the connected objects (and associated services) presented in Las Vegas were also on exhibition at the stand: Digiposte, Le Vélo (a connected electric bike), Monimalz (a fun digital piggy bank) and the AtHome and AtWork kits (home and work environmental control), etc.
Meanwhile, the chariot suiveur ('following trolley') obediently accompanied its postman through the aisles of the trade fair, arousing the public's curiosity everywhere it went (see our article).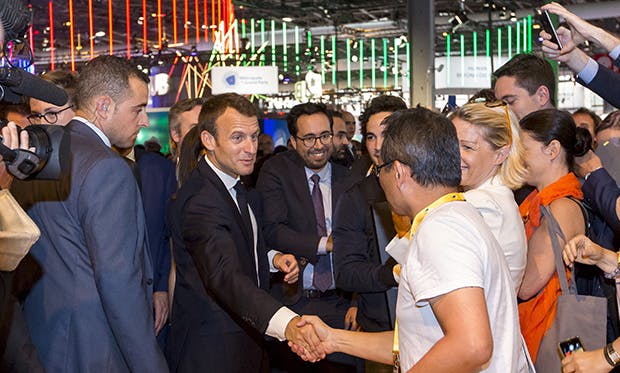 "The way La Poste is leading its transformation is remarkable!" 
"The way La Poste is leading its transformation is remarkable!" From time to time, we still hear that La Poste is 'converting' to digital. That may have been true back when postmen and women were swapping their notebooks and paper forms for smartphones. But that was four years ago.Today, La Poste offers a vast array of services related to websites and/or mobile apps. It unites countless start-ups under its French IoT programme. It is pursuing dozens of innovative projects, both alone and in partnership. It is attracting young developers intrigued by its agile working methods. And, each year, it offers employees the opportunity to enrol at Simplon for training in digital trades. Today, digital technology is literally part of La Poste's DNA and, since that DNA also includes values of service, integrity and proximity, the digital solutions it develops have those same values engrained in them. What it offers is a real service. It makes life easier. Thanks to its close human relationships, it is a perfect fit for people who are less at ease with digital technology. And, of course, it respects the security and confidentiality of personal data, just like the postman or woman does with mail. One VivaTech visitor was able to sum up these profound changes in one sentence: "The way La Poste is leading its transformation is remarkable!"