Published on November 9, 2018
Two start-ups in the Rhône-Alps region supported by Le Groupe La Poste
Digital
The talks
Auvergne-Rhône-Alpes
Le Groupe La Poste has put in place two programmes to support start-ups and foster their cooperation with leading groups: French IoT, an acceleration programme for the development of connected services, and Start'inPost, an acceleration programme to support the creation of business partnerships between innovative start-ups and the business areas of La Poste. Two start-ups in the Rhône-Alps region are each following one of the support programmes.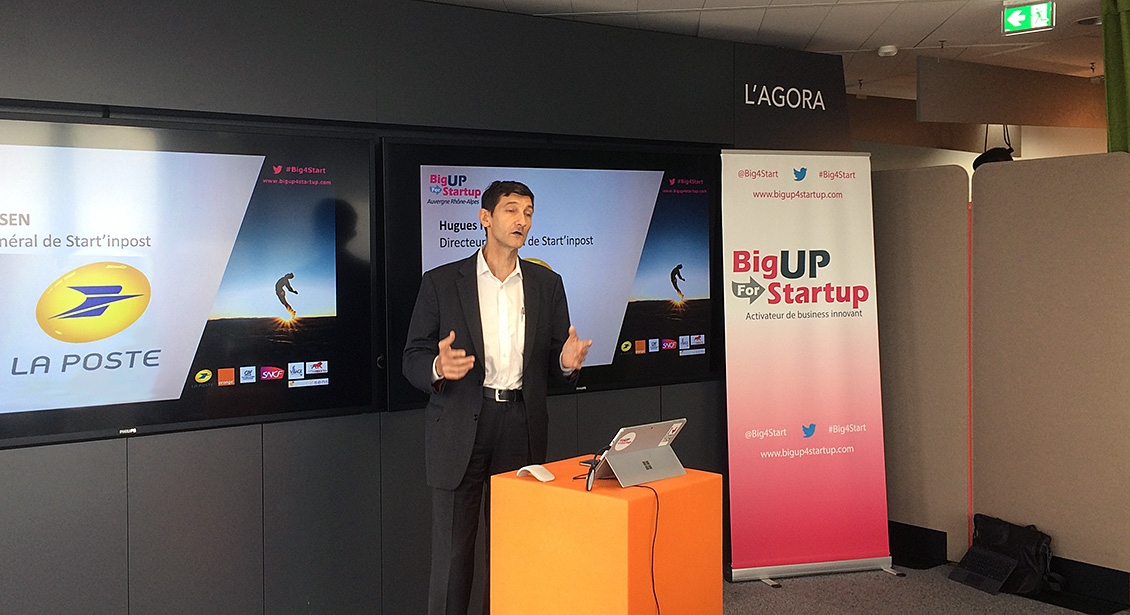 Start'inPost is an acceleration programme for start-ups that have already launched a product or service. Hugues Hansen, CEO of Start'inPost, says: "We select start-ups all over France, on the basis of a written application followed by an interview. As founding partners of BigUp4Startup, we are able to meet start-ups in France and join forces with other leading groups or local intermediate-sized firms. Demo Day will take place in Lyon on 15 November". The areas covered by start-ups are many and varied: from finance-insurance to digital technology, via innovative logistics or new local services. French IoT is one of the first programmes set up to accelerate the development of connected services in association with the Group's strategic activities. For Vanessa Chocteau, Head of the French IoT programme: "Launched in 2015, the programme brings together a community of 204 innovative start-ups in the IoT, an ecosystem of over 80 digital expert partners across France. Dedicated to creating value for users, the programme combines connected objects with technical innovations and local services."
The aim of this support is to give us access to the human and financial resources necessary to finalise our innovation.
AboutGoods Company joined the Start'inPost accelerator in July 2017. Its aim was to finalise development of an innovative tool to automatically read till receipts for its subsidiary Sogec (Mediapost). René Le Caignec CEO/founder of AboutGoods Company and Chairman of French Tech In the Alps – Annecy, says: "The aim of this support is to give us access to the human and financial resources necessary to finalise this innovation, so it can then be deployed by Mediapost. The tool is designed to automatically analyse till receipts for proof of purchase or refund offers."
SameSame, a young Lyon-based start-up managed by Alexandre Boulmé joined the French IoT programme in August. SameSame develops digital solutions to help speech therapists provide better patient care. They have designed an application called Gong for patients with aphasia (an impaired ability to process language). "Thanks to the French IoT programme, we are able to provide Gong to help patients through La Poste's Digital Healthcare Centre. We are also working with the Group to see how our solution could be used to make company phone services available to aphasic people, in compliance with decree No. 2017-875 of 9 May 2017."
"Young start-ups have highly innovative ideas."
The technology developed by AboutGoods could be integrated with Mediapost's existing mobile apps, such as Quoty, for shopping lists, or Plyce, for good deals, as well as Ma French bank, the future mobile banking application of Le Groupe La Poste.
In early 2018, AboutGoods conducted a series of initial tests with highly encouraging results. It was then able to fine-tune its efficient, reliable tool for automatic reading of till receipts, following a two-year test period with companies in France and Spain. "The results of these tests were sufficiently conclusive for the first roll-out of our technology in Spain, in October 2018," says René Le Caignec.
Young start-ups have highly innovative ideas but lack the expertise of leading groups in terms of market strategy.
As part of the French IoT programme, Alexandre Boulmé and the SameSame team will be present at the CES in Las Vegas in January 2019. This will give them exceptional global exposure. "We've received close support ahead of the show, allowing us to prepare for the event and fine-tune our communication strategy. The aim is to showcase our innovation at the CES with a hard-hitting, positive pitch. The French IoT programme is also a gateway to Le Groupe La Poste. The contacts developed with the various Group departments could lead to the development of new services with and for La Poste. One example is Docapost, offering services to local authorities. Young start-ups have highly innovative ideas but lack the expertise of leading groups in terms of market strategy. When you combine the two, you can work wonders!"