Published on July 12, 2018
The chariot suiveur : a robot about town
Financial informations
Services
France
Unveiled to the public for the first time at the last Salon des Maires et des Collectivités Locales, the chariot suiveur (following trolley) sparked considerable curiosity. That exact same curiosity was seen when it was tested in city centres, moving without being pushed or towed through pedestrian streets, on pavements and across pedestrian crossings.
Loaded with sensors, capable of carrying up to 150 kg of parcels and/or letters, this autonomous trolley faithfully follows the postman or woman throughout their rounds, carefully skirting around passers-by and obstacles, stopping when they do and setting off again with them.
Initially subjected to extreme safety testing on the test bench, it was then tested in three cities over five rounds with five different mail carriers, and always in the presence of an ergonomist to advise them, observe their behaviour and note down possible improvements to the equipment.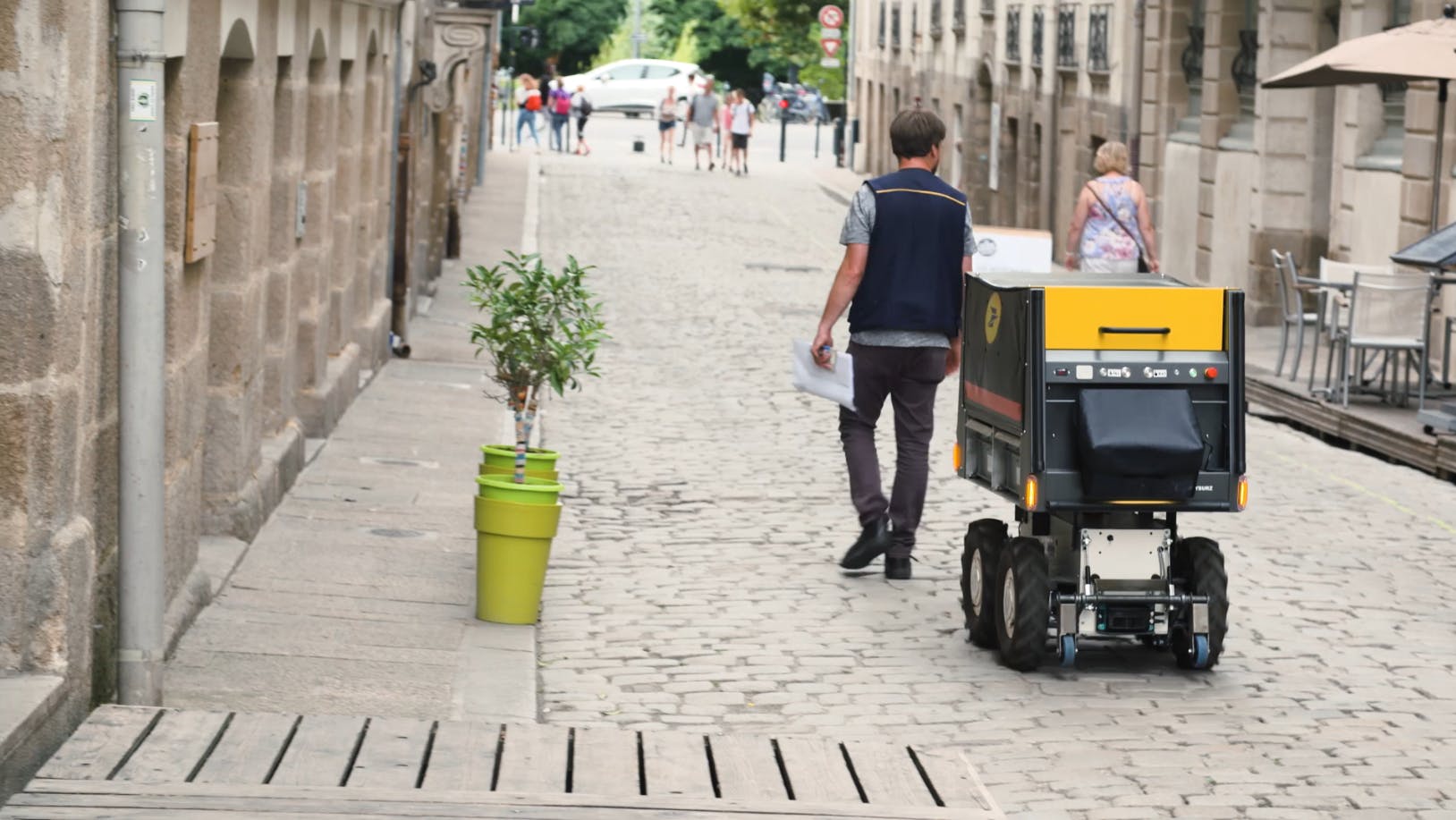 The following trolley offers countless benefits. For postmen and women, it is very easy to use, limits physical effort and means they can complete a full round in one go. For the urban environment, it is fitted with an electric battery, produces no emissions or noise pollution and, unlike an electric Kangoo, does not block the road and can move around freely on pedestrian streets. All these reasons have made La Poste consider it as a future solution for delivery in city centres (read La Poste agit pour la qualité de l'air du Grand Paris [La Poste is working to improve air quality in Greater Paris]).
The following trolley was tested twice in Nantes (44) and twice in Rueil-Malmaison (92) on a letter and parcel round. A higher-capacity version was also tested in the 4th arrondissement of Paris on a round exclusively dedicated to parcels (see photos). The video below is a report on the first test conducted in the streets of Nantes.