Published on November 28, 2021
Proximity takes centre stage in La Poste group's new advertising campaign
La Poste Groupe is once again reaching out to the general public with a new advertising campaign running from 25 October to the end of December. In a rapidly changing environment, La Poste is transforming and stepping up the diversification of its activities.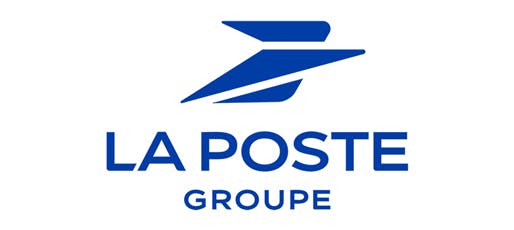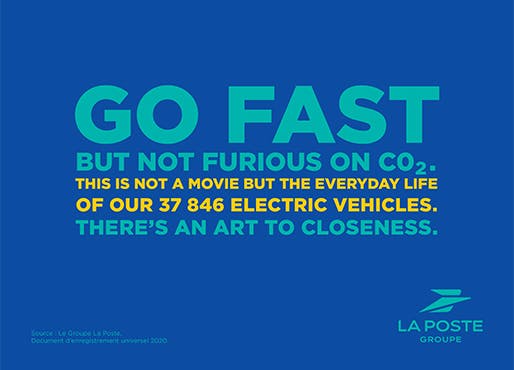 The objective of this new campaign is to express and promote the unifying value of all the group's businesses: proximity, embodied by the 250,000 postal workers.
This campaign simultaneously reveals the modern and dynamic visual identity of an international group undergoing a major transformation.
There's an art to closeness.
Le Groupe La Poste's new campaign is based on the slogan "There's an art to closeness.", which reflects the meaning of La Poste's action in all its business lines. In addition to its physical and human presence in the regions, proximity characterises the group's ability to provide useful services where its customers need them. This campaign is a reminder that proximity is not a mere stance, but a corporate strategy that is deployed in both its core businesses and its new activities.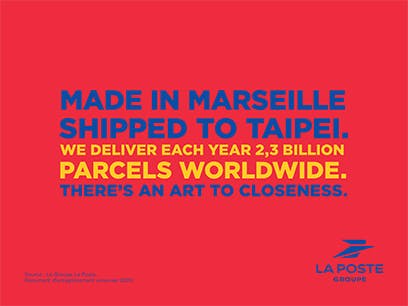 Shot on postal sites and featuring "real" postal workers, the new campaign is structured around three successive and complementary phases :
A print campaign (posters and press) that reveals, in evidence and in figures, an innovative group, working for proximity.

Two 30-second films highlighting the group's industrial clout, sometimes overlooked, and its special place in the lives of the French.

A press and billboard campaign was complemented by a campaign in post offices dedicated to celebrating the 250,000 postal workers who strive to deliver proximity services on a daily basis.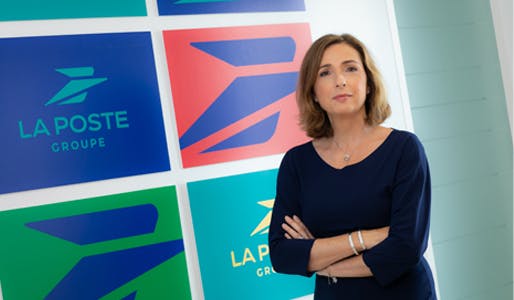 "This campaign says who we are today: a very large, powerful and innovative logistics, technology and services company in France and around the world that does everything it can to serve each and every one of the millions of people who rely on us" explains Marie-Aude Dubanchet, Head of Communications, le groupe La Poste.
The postal bird in all of its glory
The new advertising campaign also features a new visual identity. More modern and dynamic, the new symbol of the group places the La Poste brand at the centre of the campaign and shows the postal bird in all its glory. Redesigned to adapt to digital usage, the postal bird has also been given a new splash of colour, representing all the group's activities, namely international, which already accounts for 40% of the company's turnover.