Published on July 11, 2018
Portraits showcasing postal workers
New services
Lifespiration
France
Once a year, La Poste publishes a book, distributed among the Group's 253,000 employees, that shines a light on the professional commitment of its postal workers through a series of portraits.
This year, 43 of them were interviewed by a journalist and photographed by Dominique Issermann, world-renowned for her celebrity portraits. The result is a 56-page publication that combines black-and-white images with text to reproduce what, beyond their professional commitment, characterises postal workers: a sense of closeness, solidarity and, in a word, humanity, expressed not only in crisis situations like Hurricane Irma but also in everyday life, in their relationships with everyone around them.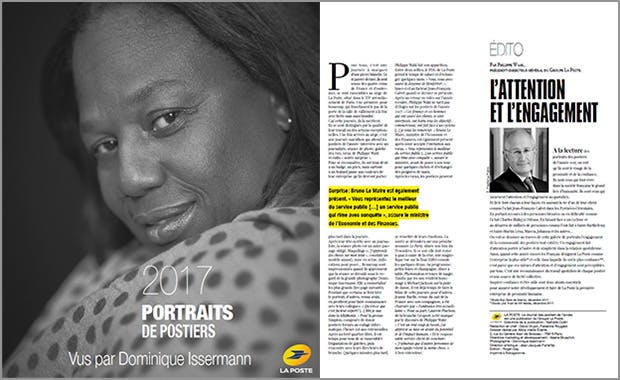 It is recognition of the daily work of each and every employee and a source of collective pride.
Philippe Wahl, Chairman and Chief Executive Officer of Le Groupe La Poste, emphasises this in the preface to the book: " [postal workers] are the face of proximity and trust. They are the ones who keep the strong human connection alive in French society. They are the ones who embody care and commitment on a daily basis. And they each do it in their own way, by saving the life of their customer like Jean-François Calvet did in the Pyrénées-Orientales. By bringing aid to those who are injured or in need, like Charles Blahyj did in Orléans. By facing a cyclone and the distress of thousands of people like Léna, Marcia, Johanna and the others did in Saint-Barthélemy and Saint-Martin… Through this gallery of portraits, we see the commitment from the entire postal worker community take shape before our very eyes. A commitment involving caring for others and simplicity in everyday relationships. So, this year when the people of France once again name La Poste the most useful company* and the one they trust the most**, it will be because these values of care and commitment are clear for everyone to see. It is recognition of the daily work of each and every employee and a source of collective pride. Inspiring confidence and being useful are two crucial assets to ensure our growth and make La Poste the leading company in close human contact."
Below are the making-of the book and a live preview of the pages inside.
Coulisses des portraits de postiers, par D. Issermann
____________________
* Étude Ifop-Terre de Sienne, décembre 2017
** Étude Link Trust de KR Media, décembre 2017