Published on July 30, 2018
Perros-Guirec/Ploumanac'h : exclusive pre-release of a new stamp
Mail and parcels
Lifespiration
Bretagne
A new stamp illustrating Ploumanac'h lighthouse will have an exclusive pre-release on 22 and 23 June 2018 and is sure to appeal to stamp-collectors, fans of the Pink Granite Coast or even just walkers !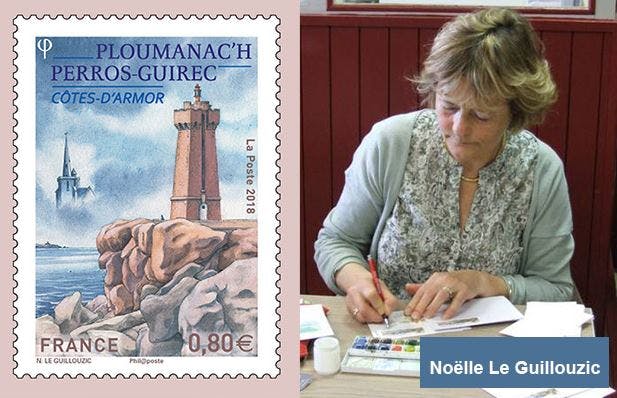 A remarkable site
Ploumanac'h is a coastal resort on the Côtes d'Armor, part of the commune of Perros-Guirec. It is famous for its Pink Granite Coast, a formation of imposing rocks 300 million years old, stretching along nearly 62 acres of coastline.  In 2015, the hamlet was named "France's favourite village" following a competition organised by France 2.
The image
Having been illustrated previously in 2008, 2009 and 2010, Ploumanac'h lighthouse is to be honoured again, with an issue of 900,000 stamps. The foreground of the stamp features the ink granite rocks and lighthouse of Mean Ruz (meaning red rocks in Breton) in Ploumanac'h.  In the background are the clock tower of Notre-Dame-de-la-Clarté and the Sept-Îles nature reserve.
A illustrator from the Côtes d'Armor
Noëlle Le Guillouzic, an illustrator and watercolourist from the Côtes d'Armor, was selected to produce the drawing. Her brief was to include on the stamp the Ploumanac'h lighthouse, La Clarté chapel and the Sept-Îles.  It was no mean feat to include the three sites on a stamp measuring 30mm x 40.85mm !
In practice
For a first day-of-issue cover, go to the Maison des Traouiero, 76 Rue Gabriel Vicaire, Perros-Guirec, on Friday 22 and Saturday 23 June 2018, from 10am to 6pm.
The illustrator, Noëlle Le Gouillouzic will be there to sign stamp-collecting documents.
The stamp will go on sale on 25 June 2018.
Legal information :
Creation and etching : Noëlle Le Guillouzic Printing : photogravure Stamp format : 30.85mm x 40.85mm Face value : €0.80 Issue : 900,018 copies  Credits : creation by Noëlle le Guillouzic