Published on October 15, 2018
Le Groupe La Poste as a partner for rural communities
Territorial development
Agenda
Le Groupe La Poste took part in the National Conference of the French Rural Mayors' Association (AMRF) on 21 and 22 September in Saint-Léger-les-Mélèzes (Hautes-Alpes). Among those present were Jacques Mézard, Minister of Territorial Cohesion, and Élisabeth Borne, Minister for Transport attached to the Ministre d'État, Minister for the Ecological and Inclusive Transition.
Florian: a postman ambassador at the stand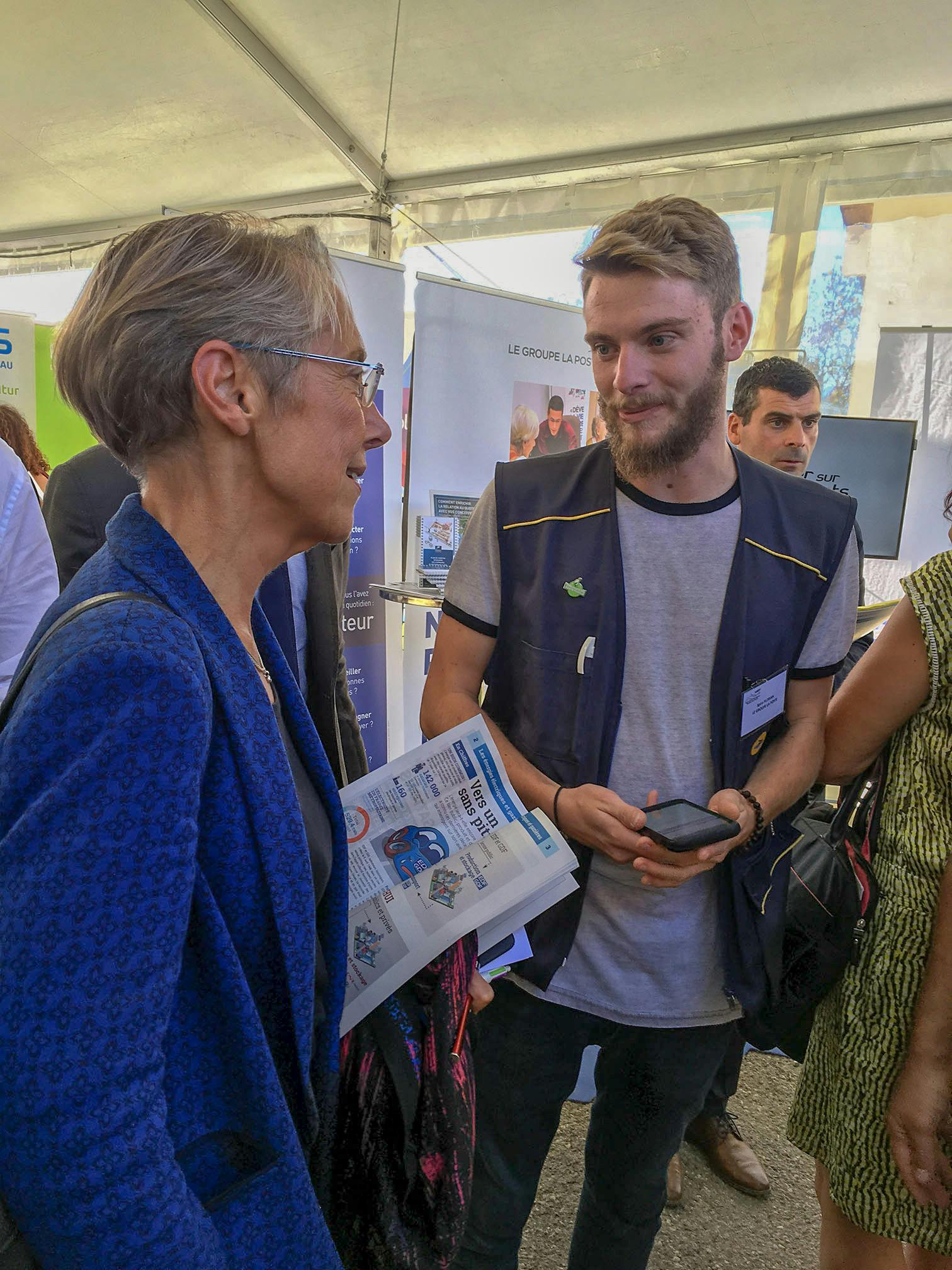 This conference, held with some 400 participants invited by the AMRF, was Florian Spira's first opportunity to play his role as a postman ambassador. Speaking in front of elected officials and mayors from local communities, some of whom he recognised, Florian presented the changes in his profession: "The new services remain relatively unknown among elected officials. My role is to present their advantages when it comes to making the everyday lives of their fellow citizens easier, such as Watch Over My Parents, Proxi Shopping, home meal delivery, Geoptis or street numbering."
She confided in me that La Poste is a model for innovation and excellence because it is constantly adapting to the new demands of its customers by broadening its activities
Florian Spira
postman ambassador
Florian felt a certain pride when Minister Élisabeth Borne came by the stand: "She confided in me that La Poste is a model for innovation and excellence because it is constantly adapting to the new demands of its customers by broadening its activities, and that its employees do a great job. Comments like that are reassuring and encouraging for the future. They confirm that the evolution of the jobs and duties of postmen and women is headed in the right direction."
Localeo: showcasing Docapost's CRM solution
At Le Groupe La Poste's stand, elected officials discovered Docapost's Citizen Relationship Management (CRM) solution, which offers a town's residents a website where they can carry out various administrative formalities online. The AMRF has also just signed a partnership with La Poste for the rollout with its members of 'Campagnol' websites and Docapost's Citizen Relationship Management platform, Localeo.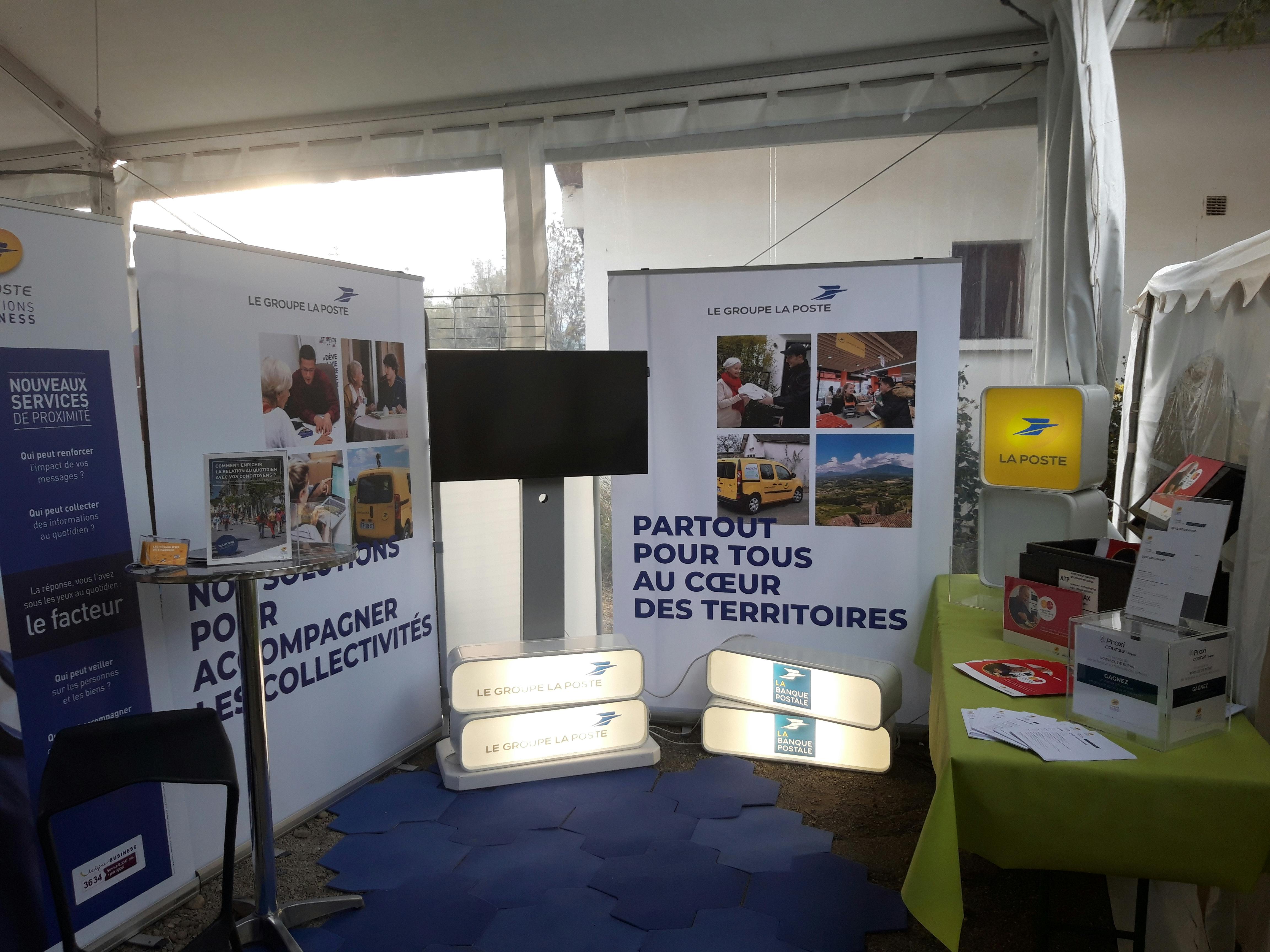 This rollout will focus firstly on the websites of some 800 subscribing rural communities. The AMRF and Le Groupe La Poste will then work on enhancing this offer by incorporating innovations to make it a genuine multichannel package of services. To this end, the Group, beyond the solution's digital input, will be able to highlight the value of its physical network and daily contact with its postmen and women, all connected, to offer citizens the most suitable channels for their needs and expand the base of services offered: childcare, assistance for the elderly, culture, etc.
Funding for rural communities under the watchful eye of La Banque Postale
La Banque Postale took advantage of this conference to present its latest study on funding for towns with fewer than 3,500 inhabitants. Jorge Bras, Director of Local Financing for the Business and Local Development Department (DEDT), summed up the key findings: "This economics report highlights two key characteristics of rural communities: they spend less on operating costs and more on investment."
Led by Philippe Baeteman, a market researcher at La Banque Postale, it provides a better understanding of the risks and how to take into account the specific characteristics of rural communities when it comes to planning funding. "Half of the contracts we sign in the local authorities market concern a town with fewer than 5,000 inhabitants. We know these areas very well, and this study showcases our expertise," Jorge continued. This report will now accompany La Banque Postale's teams in a tour of France's rural communities.
French Rural Mayors' Association (AMRF)
The AMRF brings together, informs and represents the mayors of towns with fewer than 3,500 inhabitants all over France. The association is committed at both the local and the national level to defending and promoting the specific issues of rural life. Created in 1971, the AMRF gathers some 8,000 rural mayors into a network of departmental associations, acting with total independence from political powers and parties.