Published on July 15, 2019
Launch of the "Live at home" service in Les Landes
New services
Agenda
Nouvelle Aquitaine
The department of Les Landes and La Poste have created the XL Autonomie company which will implement the "Live at home" delegated public service to help with the inclusion and support of vulnerable people in Les Landes.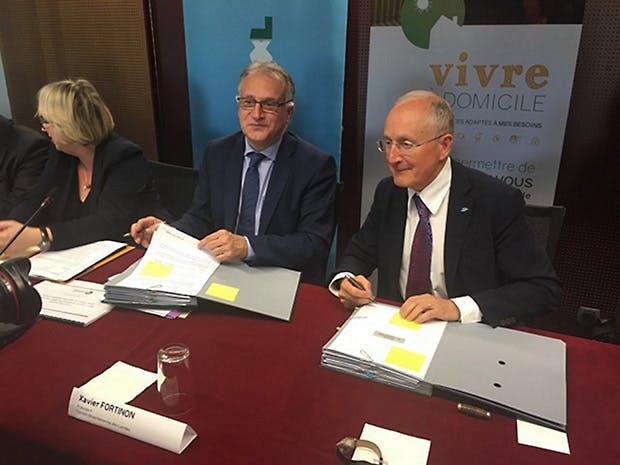 The creation of this company follows a successful experiment, as part of a research and development agreement signed in November 2016, involving setting up a personalised monitoring scheme for frail elderly people.
XL Autonomie was officially launched on 29 March 2019 and has single-transaction public/private company status (SEMOP), being owned in equal parts by the Department of Les Landes and by La Poste.
Preventing loss of independence and promoting home support
Several years ago, the Les Landes departmental council initiated a support for vulnerable people policy based on social innovation. In June 2016, Philippe Wahl, Chairman and Chief Executive Officer of Le Groupe La Poste and Henri Emmanuelli, then chairman of the Les Landes departmental council, signed a research and development agreement entitled "Ageing well in Les Landes", the aim of which was to trial a package of digital and human services, tailored to the needs of the elderly, to help them develop their independence at home.
La Poste is not just about letters and cannot be just about letters. We have decided to transform La Poste and be useful to a multitude of people everywhere in the region.
Philippe Wahl
CEO at Le Groupe La Poste
This agreement meant a trial could be run involving 43 elderly people from Les Landes (average age: 75) of a package of services combining new technology (digital tablet, automatic night lighting, digital cognitive games, switchboard helpline or remote monitoring with activity sensors), human services (social contact visit by the mail carrier, delivery of medication and cultural goods) and personalised human support (from a mail carrier assistant with gerontology training).
The assessment of the scheme performed by the Cabinet Médialis shows positive results:
92% think that the solutions offered improve their quality of life

100% find it useful to be able to have regular conversations with the mail carrier assistant

83% are very satisfied with the technology installed in their home

77% want to maintain the services after the test
"We took a risk by launching a visionary and forward-looking experiment. This is the direction of what is becoming a new business line for La Poste", explains Philippe Wahl, CEO at Le Groupe La Poste. "Every day, postmen and postwomen go everywhere in Les Landes. The idea is to maintain this presence and enrich it not with letters but with new services, so confirming La Poste's raison d'être. A society only has value if it looks after and cares about its own."
2,500 Les Landes residents will benefit from the service
Presided over by Xavier Fortinon, chairman of the Les Landes departmental council (photographed with Philippe Wahl), and headed by Raphaël Tamponnet, Head of Development and Partnerships at La Poste, XL Autonomie's mission will be to roll out the "Live at home" public service over the whole department of Les Landes over 5 years.
2,500 people will benefit from it, whether they are elderly, disabled or affected by a chronic illness. The service is structured around identifying needs and vulnerabilities, providing a package of individualised services (with the installation of equipment and guidance in how to use it) and personalised human support to adjust the services according to life events.
"Live at home" is available in the form of a monthly flat-rate subscription of €30 inclusive of VAT [01] eligible for the tax credit for services to individuals, that is €15 inclusive of VAT/month after tax deduction.
Work will be undertaken in close collaboration with the local gerontological network to ensure that additional requests are forwarded and dealt with smoothly (services to individuals, home adaptations).
For La Poste, which provides this service, it is a historic turning point in its role of human contact and public and regional confidence, a forerunner of a new model of prevention and support at a national level.
(1): This amount already includes social security benefits provided by public funding.