Published on January 9, 2019
Laetitia, Simplon class of 2018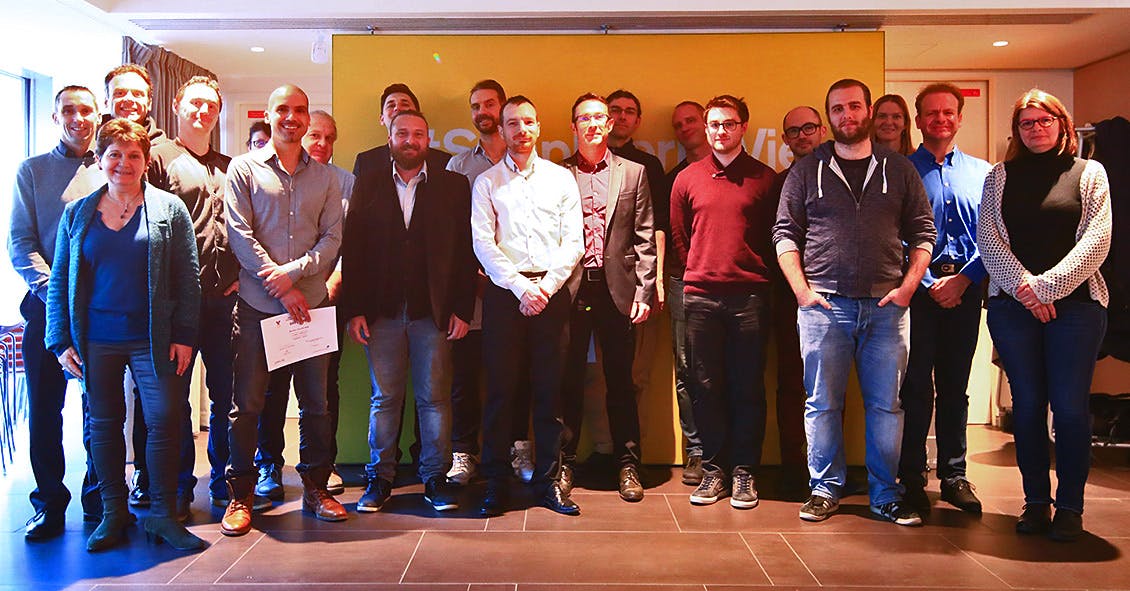 Every year, La Poste gives employees from all walks of life the opportunity to enrol at Simplon and train via a work-study programme to become IT developers. The graduation ceremony for the class of 2018 took place on 13 December. Laetitia, one of the graduates and previously a mail carrier, tells us about her decision to become an IT developer.
GLP.com : Why did you decide to enrol at Simplon?
Laetitia : Since finishing my professional baccalaureate in architectural modelling, I've aspired to re-enter the world of design. The role of mail carrier brings with it some professional satisfaction, in customer relations for example, but this is not particularly production-related. Mail carriers are not craftspeople but messengers; they rarely participate in projects with a beginning and an end. Instead, they represent a vital cog in a process that takes place on a daily basis.
The partnership between La Poste and Simplon renewed my early professional aspirations in a field that is new to me: IT. Not entirely new, actually... At my post office, I was able to use a variety of software programmes dealing with processes such as delivery against signature, complaints, shipments, and so on. I realised that I had a talent for computers on the user end, and wanted to find out more about the functions and very design of these software systems.
So I considered entering the IT industry, even if it seemed far-fetched at the time. La Poste gave me this opportunity with Simplon. I wasn't entirely confident, but I told myself I had to go and try it out. And it worked, luckily for me!
Had you done any IT development previously?
No – like most people I was familiar with computer systems as a user, not as a developer. I learned about the technology and everything that goes on behind the scenes later, thanks to the Simplon training... and lots of personal investment! I actually became interested in the field when I learned that I could enrol at this institution. I did some research to gain an idea of the computer languages used in the applications that we see today. I developed an interest in self-training, which is essential and constantly required in this profession. I then took the three entrance tests and joined the Simplon programme. And there you go, after nine months' training I'm now qualified!
Which computer languages did you learn?
La Poste asked Simplon to train us in Java and Angular, a framework that requires good knowledge of TypeScript (similar to JavaScript), HTML and CSS. For the more practical, business-related aspect, I also had to train in C# (editor's note: pronounced "C sharp"), a programming language designed and developed by Microsoft, now available in open source.
There aren't very many women working in IT – what was the reaction of those around you?
The idea that men have more talent for IT, and technology in general, is a cliché that has no real scientific basis. We need to tell women and girls that if they choose to enter the IT field, they are as likely as men to have a successful career, as is the case with women engineers today. Throughout our training, Simplon invited us to meet children in primary schools to promote an interest in IT and to encourage vocations among girls as well as boys, without discrimination.
Personally, I've had no problems in that sense. My sister is studying mathematics and computer science applied to human and social sciences (MIASHS), and she also does some IT development, particularly with Python. For my parents, the most surprising thing wasn't that their daughter chose to study IT, but that she went from being a mail carrier to a developer. I explained to them that I wanted to go back to what's always motivated me – designing things – and they thought it seemed the logical thing to do. They supported me in my decision, as they've always done.
Which division did you join? How do you see your professional development in the future?
I'm in the digitisation section at Docapost, where I carried out my work-study programme for nine months as part of the Simplon training. Beyond the IT field, I'm expected to show a certain awareness of documentation, an area that I've become more familiar with since I joined the team. I'll then be required to carry out developments on functionalities to add or modify. This is what I'm aiming for – to become more independent to a point where I can suggest functional changes myself, which I will then implement.