Published on May 21, 2019
La Poste to test the Renault EZ-Flex
Ecological transitions
The talks
France
Visitors to the fourth Vivatech gathering can discover the EZ-Flex experimental urban utility vehicle at Renault's stand. Another of the vehicles, in yellow, will be present at La Poste's stand! Why? Because it is postmen, the main users of this kind of vehicle, who will carry out the testing in real conditions.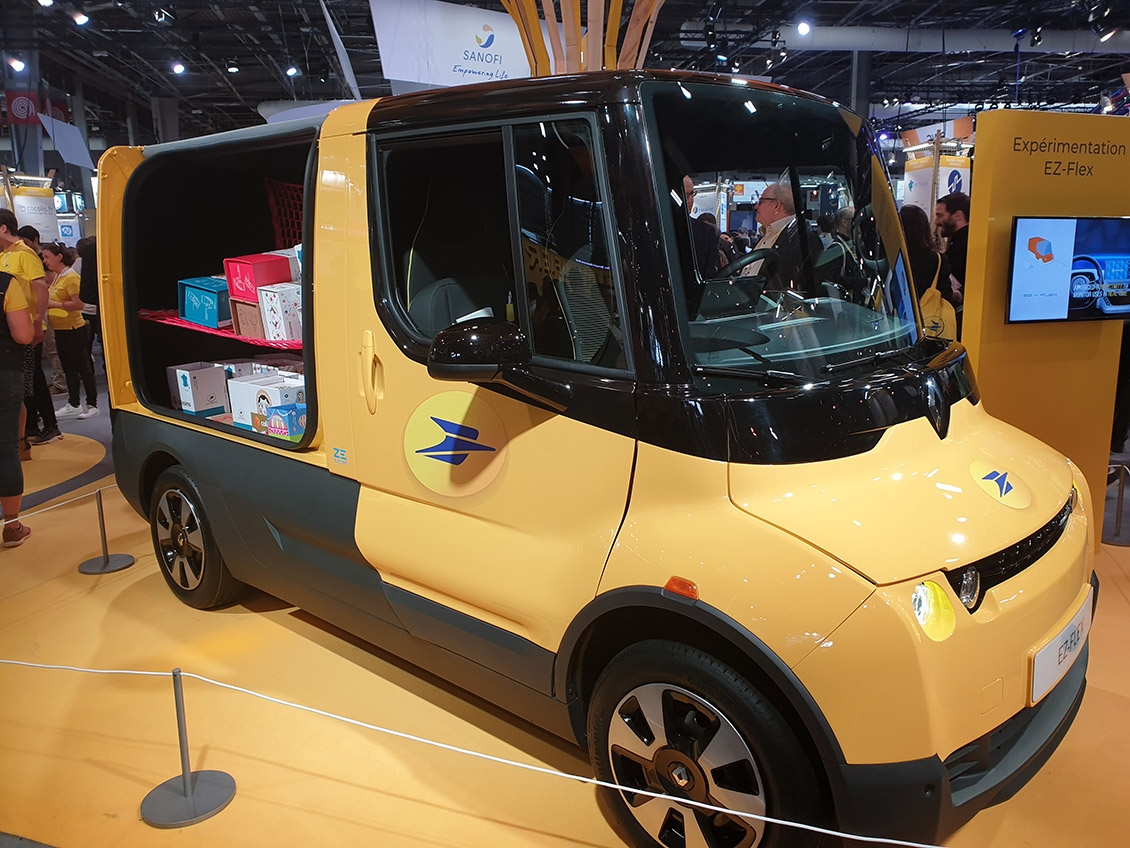 EZ-Flex: the future of urban delivery?
The EZ-Flex is a utility vehicle specially designed for clean deliveries in an urban environment: a 100% electric engine (150 km autonomy), and compact dimensions (L x W x H: 3.86 x 1.65 x 1.88 m), with a carrying capacity of 3 m3, easy access to the driver's cab, loading and unloading via side doors (optimisation of useful space, safety during delivery), a modular loading space (pickup truck), etc.
As with the Kangoo Z.E. around a decade ago, La Poste will test this new vehicle design developed by Renault, which is still in the experimental phase.
Two years of testing in real conditions
For the purposes of the testing phase, which will take around two years, the vehicles on loan to La Poste will be connected and equipped with many sensors, allowing the collection and analysis of data on usage, route, mileage, autonomy, speed and the number of stops.
Renault's engineers will analyse the data collected, to adapt the utility vehicle so that it is optimised for the requirements of urban delivery. To complement the data, feedback will be collected from postmen, who will be invited to give their views on possible improvements.
La Poste already uses 39,696 electric vehicles, including 16,260 lightweight utility vehicles, Quads and Stabys, and 23,436 bikes and trolleys.
Postmen do their rounds in town and city centres every day. More than a hundred times a day, they park, get out of their vehicles, unload parcels, deliver them to their recipients, then get back into their vehicles to go to the next delivery destination. Trained in ecomobility, they are better qualified to test the new delivery vehicle in real conditions.
La Poste, a long-standing supporter of electric cars
"With traffic congestion in cities and the rise of e-commerce, urban deliveries are transforming. As a European leader in vans and light commercial vehicles, Groupe Renault is duty bound to continue proposing disruptive solutions. Renault EZ-FLEX, an experimental light commercial vehicle, gives us the opportunity to join forces with La Poste Group, through an innovative and collaborative approach designed to develop and anticipate future practices in urban deliveries." Denis Le Vot, Alliance Director of the Renault-Nissan Commercial Vehicles Division
"How do we support the growth of e-commerce while reducing pollution in our cities and making them more attractive? (…) To lay the groundwork for tomorrow's urban logistics, we are innovating continuously and testing new, increasingly responsible and efficient delivery modes that make life easier for our customers and delivery personnel alike. A long-standing partner of La Poste in the implementation of electric vehicle, Renault with EZ-FLEX is proposing an innovative and modular solution. Our feedback will be used to adapt light commercial vehicles to the needs of delivery staff." Philippe Dorge – Executive Vice President and Chief Operating Officer, Services-Mail-Parcels, La Poste Group
For more information, download the press release Renault EZ-FLEX and La Poste : trial for last mile deliveries.