Published on September 18, 2022
La Poste issues a set of four collector's stamps to commemorate Queen Elizabeth II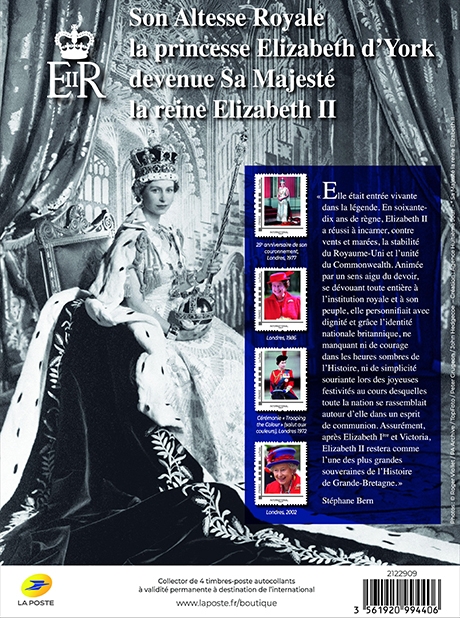 The collector's stamps are in the colours of the United Kingdom's Union Jack flag: red, white and blue.
Dressed in white for her coronation, the Queen, a skilled horsewoman, enjoyed wearing brightly coloured outfits and hats.
Like Marianne in France, Queen Elizabeth has appeared on British stamps since the beginning of her reign in 1952. The background of the collector's stamps feature the iconic profile of Queen Elizabeth II, in the typical Machin style that has been used on UK postage stamps since 1967.
Born on 21 April 1926 in London, Princess Elizabeth of York was not destined to become Queen. Crowned in 1952 following the death of her father, King George VI, Elizabeth II has lived through eventful times and crises. She was a Queen devoted to her people and a symbol of stability for her country, relentlessly pursuing a commitment to serve the Commonwealth as a whole. In June 2022, Elizabeth II celebrated her Platinum Jubilee, the first in the history of the British monarchy, setting a record for longevity and popularity.
"She was a living legend. During her 70-year reign, Elizabeth II has managed to embody, against all odds, the stability of the United Kingdom and the unity of the Commonwealth. Driven by a strong sense of duty, devoted to the royal institution and its people, she personified the British national identity with dignity and grace, lacking neither courage in the darkest hours of history nor beaming smiles for joyous festivities at which the whole nation gathered around her in a spirit of community. After Elizabeth I and Victoria, Elizabeth II will undoubtedly be remembered as one of the greatest sovereigns in British history. "
Creation: Agence Huitième Jour
Printing: offset Collector format: 148,5 x 210 mm
Stamps Format: 37 x 45 mm
Presentation: 4 stamps per collector Print run: 50 000 copies
Face value: €1.65 (per stamp) - International
Collector price: €8,50 TTC
Legal notice: Photos : © Roger Viollet / PA Archive / TopPhoto / Peter Grugeon / John Hedgecoe – Création : Agence Huitième Jour
Practical info
The collector will be sold starting September 19th 2022
- In PARIS (75) In the store "LE CARRÉ D'ENCRE", from 10AM to 7PM, 13bis rue des Mathurins, 75009 PARIS
- By subscription or by writing to Philaposte Service Clients Commercial, Z.I. Avenue Benoît Frachon, BP 10106 Boulazac, 24051 PÉRIGUEUX CEDEX 09, by telephone on +33 (0)5 53 03 19 26 and by e-mail at sav-phila.philaposte@laposte.fr
- By internet on the www.laposte.fr website or the WOPA platform https://www.wopa-plus.com