Published on February 23, 2023
La Poste Groupe 2022 results
Financial informations
France
Steady business and earnings in a highly unfavourable environment.
Strategic diversification continuing to pay of.

Meeting today under the chairmanship of Philippe Wahl, the Board of Directors of La Poste approved the group's consolidated financial statements for 2022.
The year of 2022 by Philippe Wahl, Chairman and Chief Executive Officer of La Poste Groupe
Business and earnings showed steadiness in 2022. La Poste Groupe's operating revenue increased to more than €35 billion and its earnings remained solid compared with 2021, in a challenging environment shaped by the war in Ukraine, higher energy prices, the return of inflation, and rising interest rates.
These results reflect the strength of the group's multi-business model, the relevance of our "La Poste 2030, committed for you" strategic plan, and the support of our shareholders, Caisse des Dépôts and the French State.
Our performance testifies to the daily commitment and efficiency shown by postal workers and means that we can award all our people a substantial profit-sharing bonus.
During the year, La Poste continued to fulfil its public service missions and pushed ahead with its growth and diversification strategy.
As in 2021, parcels and express deliveries accounted for more than half of La Poste Groupe's operating revenue. Mail volumes continued to decline and, in July 2022, La Poste announced a new Mail range, introduced as from January 2023. During the year, La Poste decided to invest €800 million through to 2025 to modernise its omnichannel distribution network, expand its geographic footprint and accelerate its digital transformation. Digital trust services continued to grow (Docaposte delivered revenue of € 826 million, up 8.9% year on year). The Numspot sovereign cloud project launched at the end of 2022 with Caisse des Dépôts, Dassault Systèmes and Bouygues Telecom marked a decisive step forward in European digital security. Lastly, at the end of the first half of the year, La Banque Postale raised its stake in CNP Assurances to 100%, consolidating its position as a leading bancassurer.
As the first carbon-neutral postal operator, La Poste Groupe has confirmed its commitment to the fight against climate change. It has updated its 2030 CO₂ emissions reduction target (i.e., a 42% reduction in emissions between 2020 and 2030) and has committed to reaching "net-zero" by 2040. After La Banque Postale in 2021, the emissions reduction pathway drawn up by GeoPost was validated by the SBTi in 2023. On the logistics front, La Poste is to invest €600 million through to 2025 to double the number of its electric vehicles and decarbonise middle- and long-distance transport. La Banque Postale was the first bank in Europe to commit to exiting the coal, oil and gas sectors by 2030. It became a mission-led company in February 2022, following in the footsteps of La Poste a year earlier.
La Poste Groupe is determined to continue its development and to fully embrace its role as a mission-led company.
Figures on the performance of the group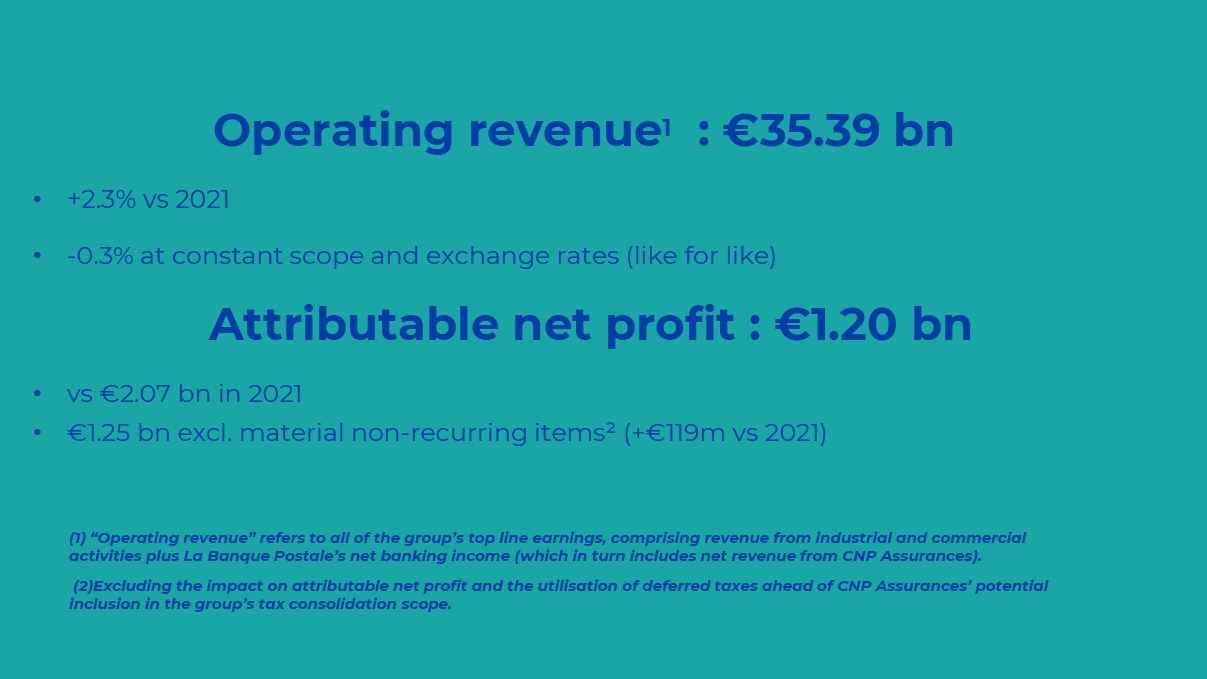 Significant events in 2022
2022 was shaped by the outbreak of war in Ukraine, higher energy prices, the return of inflation and rising interest rates.
The structural decline in Mail volumes continued (down 8% in 2022) ;

Colissimo volumes fell sharply, down 10% year on year due to a downturn in consumer spending, exacerbated by an unfavourable base effect (volumes in the first half of 2021 had been boosted by the lockdowns). GeoPost's parcel volumes fell slightly (down 1% on 2021), mainly due to the decline in the BtoC business. In all, the group delivered 2.6 billion parcels in 2022, down by a slight 3% on 2021 ;

Commercial activity at La Banque Postale remained upbeat, with stable savings deposits and outstanding loans to customers up 8% compared with end-2021.
Major advances in all aspects of the strategic plan
(1): The network currently comprises 35,500 postal retail outlets (brick-and-mortar outlets such as post offices and partners along with other access points such as business areas, pick-up points and lockers).
(2): Acquisition of Caixa Seguridade's 48.25% stake in four CNP Seguros Holding Brasil entities and of Caixa Seguridade's 24.61% stake in CNP Capitalizaçao SA (completed at the end of January 2023).
(3): Banque des Territoires, Dassault Systèmes and Bouygues Telecom.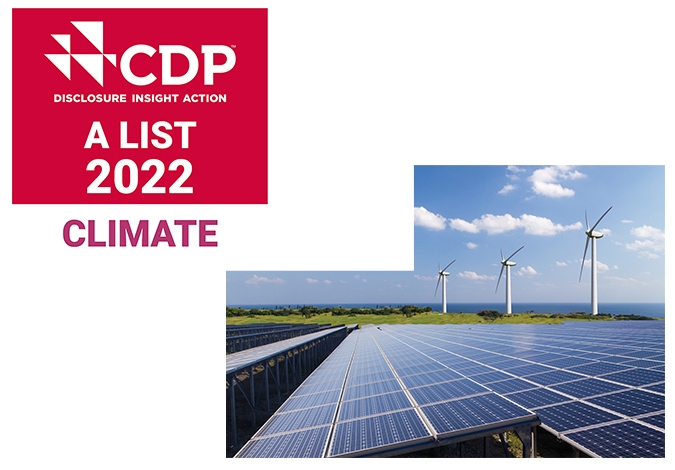 • Still ranked number one worldwide across all sectors by Moody's ESG Solutions, ranked Platinum by EcoVadis and included in the CDP's prestigious "A List" for its climate commitment ;
• Successful inaugural issue of a €1.2 billion sustainable bond by La Poste ;
• GeoPost is stepping up its efforts to combat climate change and – in a first for a logistics company – recently obtained SBTi validation of its 2040 "net zero" pathway, submitted in July 2022 ;
• La Banque Postale became a mission-led company in February 2022.
Financial ratings unchanged, with the exception of the S&P Global Ratings outlook, which moved from stable to negative as a result of France's sovereign debt downgrade in December.
Global economic growth is expected to decelerate in 2023 amid rising inflation, higher interest rates, reduced investment and disruptions caused by the war in Ukraine. The World Bank anticipates a pronounced slowdown in the world economy (1.7% growth in 2023¹). In the euro zone, growth is expected to be zero¹ or around 0.5%². Against this backdrop, the group will press ahead with its strategic plan, "La Poste 2030, committed for you", in order to successfully transition to a sustainable business model.
In 2023, La Poste will continue its transformation for the good of the whole community. La Poste will remain a socially engaged group serving global trends and addressing society's needs as it navigates the ecological, digital, regional and demographic transitions ahead.