Published on December 1, 2021
La Poste gets ready to handle the end of the year parcel rush
Mail and parcels
Panorama
France
After a record end of the year in 2020, La Poste once again expects to handle extremely high volumes of parcels this year: between 100 and 120 million Colissimo parcels in November and December 2021. Between 2 and 3 million Colissimo parcels are expected to be delivered every day, with a peak of 4 million expected mid-December.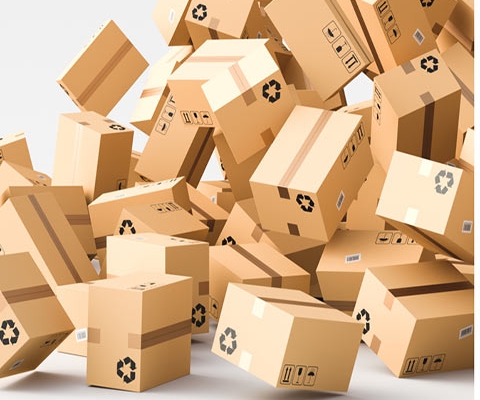 Within the group's other parcel entities in France :
La Poste Groupe's subsidiaries, Chronopost and DPD, also expect an increase in parcel volumes: - Chronopost, the French specialist in express delivery to private and business customers, is forecasting growth of 5-10% over the Peak Period compared to the rest of the year, including a peak of 1.4 million parcels in late November. - DPD France, which serves businesses and private individuals, expects volumes to be similar to last year, with volumes expected to rise from 400,000 parcels per day to more than 500,000.
DPDgroup, Europe's leading parcel delivery network, expects to deliver 370 million parcels over the Peak Period, an 8.6% increase in relation to 2020. Up to 13.6 million parcels will be delivered around the world on the peak days.
Additional human and logistical resources
To process and deliver all the parcels entrusted to La Poste, more than 100 000 postal workers (postmen/women, delivery drivers, parcel sorters, customer service representatives in post offices, etc.) will be mobilised over the peak period, supported by 6 000 seasonal workers recruited for the November-December period. 
The five ultra-modern parcel sorting hubs that were recently opened in France (La Buissière in Isère, Douvrin in Pas-de-Calais, Le Thillay in Val-d'Oise, Les Arcs sur Argens in the Var, Montereau-sur-le Jard in Seine-et-Marne) will increase Colissimo's sorting capacity by 900 000 parcels a day.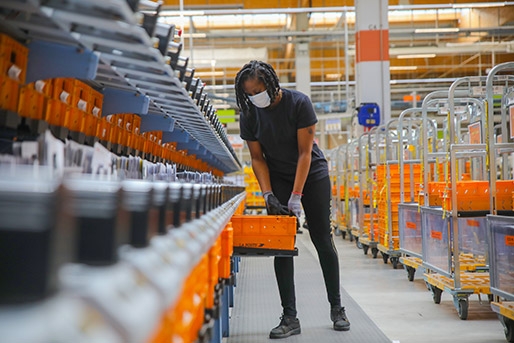 Colissimo's sorting hubs include the largest facility in France, which opened in Montereau-sur-le-Jar last April and can handle up to 40 000 parcels an hour.
In addition, to ensure the smooth shipment of all Colissimo parcels, 500 additional daily road-transport links will be set up.
It should be noted that La Poste has managed to keep the number of additional transport links at a stable level since 2019 by optimising the loads, despite the increase in parcel volumes.
Services that ensure a successful delivery
La Poste provides several services that simplify your life when sending or receiving parcels :
All year round, parcels can be collected from 17,000 La Poste outlets. In addition, Pickup - France's leading parcel pick-up-point network - provides 500 outlets in shops as well as 000 lockers in many towns across France, so you can pick up your parcels in easy-to-reach places with long opening hours.
More than 33,000 locations to collect your parcel within 5 km from your home.
The postman's second delivery attempt: 95% of Colissimo parcels are delivered at home at the first delivery attempt
The remaining 5% will benefit from a second home delivery attempt if the recipient is absent. A calling-card is left in the recipient's letterbox, so they can then go to laposte.fr or use La Poste's application to choose a new delivery day (within 6 working days) or ask for the parcel to be held in the pick-up point of their choice. If no choice is made by the recipient, a second delivery attempt will be made the next day at their home.
Sending parcels from your letterbox: to send a parcel, you can simply drop it in your personal letterbox (standard size) and the postman will pick it up. The payment of postage for the parcel is made the day before it is sent, before 11pm on laposte.fr or using the La Poste application. The Colissimo label should be printed out and then stuck on the packaging. Finally, the parcel must be deposited in the letterbox before 8am the next day.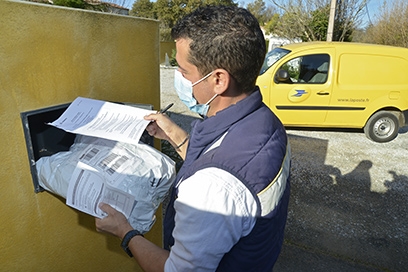 Online services on laposte.fr: parcel-franking service with the parcel-shipment assistant, more than 80 000 references in the online store for packaging, stationery and gift ideas, service for printing festive-season stamps, tracking and modifying deliveries, details of post office opening hours, etc.
A controlled environmental footprint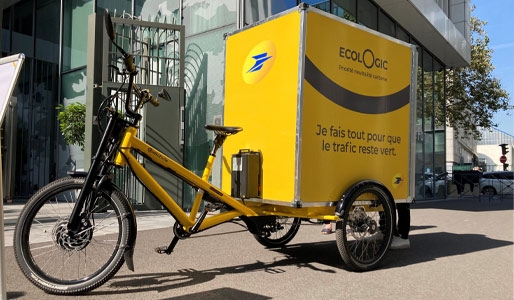 Despite the constant growth of the parcel sector, La Poste has been working to reduce its emissions and environmental footprint since 2012.
Today, several solutions contribute to reducing this footprint at every stage of the logistics and transport chain; for example :
Electric vehicles: La Poste has the largest fleet of electric vehicles in Europe with more than 37,000 vehicles;

The use of 800 swap bodies to maximise carrying capacity and to pool parcel and mail flows on certain routes

A new loading method called "bulk parcel loading" (stacking parcels in trailers without handling trolleys) Combining the use of swap bodies and "bulk parcel loading" makes it possible to carry 4 000 parcels, compared with 1 300 in a conventionally loaded semi-trailer.

The use of the first multi-flow platforms, which make it possible to increase the pooling of mail and parcel flows, and therefore reduce the number of trucks on the roads.
Finally, La Poste is supporting the development of a responsible parcel packaging sector and is working with manufacturers to develop reusable and eco-designed packaging. An example of this is La Poste's partnership with the start-up Hipli, which designs reusable packaging.