Published on November 14, 2022
La Poste and the Confédération nationale des buralistes sign a national partnership agreement
Territorial development
France
On 21 October 2022, Philippe Wahl – Chairman and Chief Executive Officer of Le Groupe La Poste and Philipe Coye - President of the Confédération des Buralistes, the professional body representing 23,500 French tobacconists, signed a four-year national partnership agreement aimed at meeting the proximity and service needs of French consumers.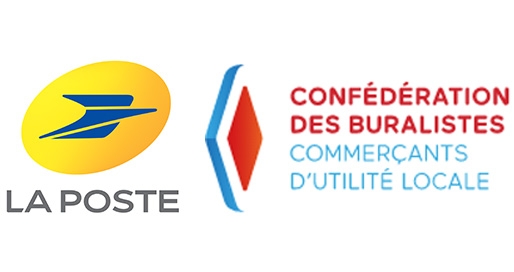 Improving the regional presence of Le Groupe La Poste and access to postal services
The agreement signed with the Confédération des buralistes provides tobacconists with the opportunity to expand their offering with a selection of key postal services such as postage, prepaid mail and parcel drop-off, and the sale of parcel packaging and prepaid envelopes. Customers will therefore have access to essential La Poste services during a larger range of opening hours.
This four-year agreement allows:
Le Groupe La Poste to improve its regional presence by drawing on the highly comprehensive network of French tobacconists and making the lives of its customers easier,

tobacconists to broaden their range of services, attract and retain their customers and increase footfall in their points of sale,

customers who shop in the network of tobacconists to access key postal services, during opening hours that are more extensive and complementary to post office hours, at the heart of the regions, in 12,000 towns and villages, in particular those with less than 3,500 residents.
This new partnership with the Confédération des buralistes is part of the "La Poste 2030, Committed For You" strategic plan whose primary objective, driven by Le Groupe La Poste's Retail Customer and Digital Services business unit, is customer satisfaction.
To address this priority, La Poste intends to expand and diversify its retail network with a target of increasing the number of points of service from 35,000 to 40,000 by 2025. The aim is to offer customers regional coverage which is more comprehensive, more accessible and better adapted to their way of life with a larger range of opening hours.
"This new partnership reinforces the historical ties between our two major local networks. We share with tobacconists the desire to adapt to changes in society's way of life, to improve our regional presence and be increasingly accessible to our customers"
"This partnership is useful in the regions, in keeping with the image of tobacconists: as retailers of local utility. By becoming a La Poste point of service, tobacconists will be able to offer additional postal services in our regions, in line with the expectations of the French population. The complementarity of our two networks, tobacconists and postal operators, therefore makes perfect sense"
The Confédération des buralistes, as part of its major Transformation Plan, is looking for partnership solutions that will help drive point of sale footfall. "Being present on a daily basis" is the raison d'être of the tobacconists' network: providing a service and social contact.
Historical ties consolidated between two local networks which are community-based and complementary
For more than 30 years, La Poste has enjoyed a close relationship with more than 18,000 tobacconists across France including 17,000 who sell stamps and 1,100 Relais Poste outlets. These "commerçants d'utilité locale" (or retailers of local utility) offer key La Poste services (purchase of stamps, franking of letters, parcels and registered mail, post drop-off including registered post, sale of parcel packaging and prepaid envelopes in the regions).
Under this new partnership agreement, new tobacconists will be invited to join this retail network and expand their range of postal products and services.