Published on July 11, 2018
Innovative post offices for two Paris airports
New services
On Trend
Île-de-France
Philippe Wahl, CEO of La Poste Group, and Augustin de Romanet, CEO of ADP (Aéroport De Paris), unveiled an innovative new type of post office on 8 March 2018 at Paris-Orly airport.
What services do people need when travelling through or working in an airport? La Poste worked closely with ADP to find an answer to that question. The result? Two new post offices at Paris Orly and Paris Charles de Gaulle airports, offering both passengers in transit and airport employees brand-new services to complement those already available from the post office¹, including postage and parcel collections.
"With the teams at La Poste and ADP coming together, we were able to bring this project to life in record time, helping to serve those who frequently come to Orly airport, whether as passengers or workers, and doing it in the best possible conditions", said Philippe Wahl during the launch event.
Boasting a wide view of the airport interior, the Paris-Orly post office impresses visitors with its modern, no-frills design, furnished in whites, greys, and a few touches of yellow, along with some beautiful transparent surfaces. The interior design is very functional, with a high central table equipped with power outlets and USB sockets, two glass rooms for holding meetings in total calm and privacy, a welcome desk, wall-mounted flatscreens, and displays with smartphone accessories. And above all, for those who thought they might have accidentally wandered into an Apple Store, there's also somewhere to sit...
Outside the post office, and therefore accessible 24/7, you'll also find a post box, a postage terminal (for letters and registered mail), a dispenser for postage products (stamps, ready-to-post items, Colissimo packaging) and an ATM (for cash withdrawals and cheque deposits).
During post office opening hours (from 08.30 to 18.00, Monday to Saturday), customer service representatives will welcome customers, guiding and advising them. Customers can also send and receive packages, a service that will be greatly appreciated by airport employees. As for passengers visiting Paris, whether for business or pleasure, they'll be able to take advantage of one of the two private spaces, rent a WiFi box (to access broadband anywhere), purchase a 4G 'tourist' smartphone package (to help them discover Paris), buy mobile phone accessories, print postcards from their personal photos², purchase La Poste-brand souvenirs, and much more.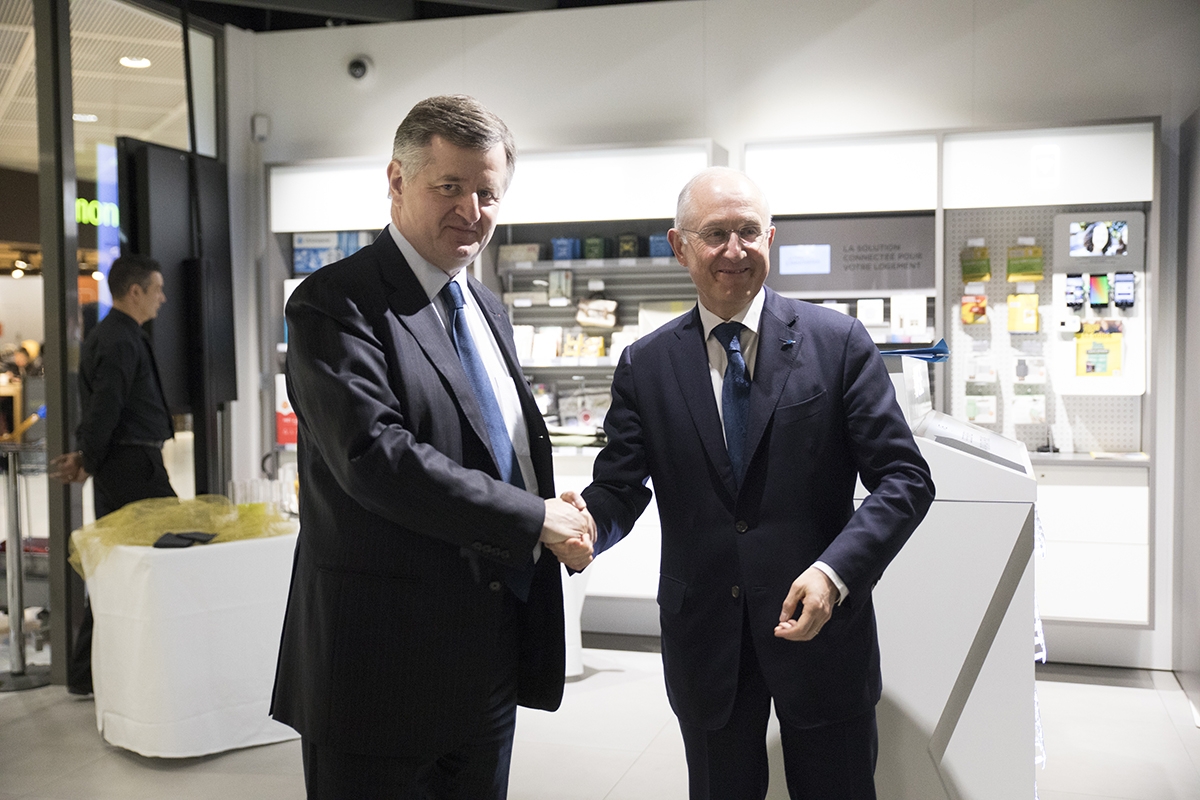 Alluding to the various formats that a post office presence can take (including public service facilities), Philippe Wahl concluded, "La Poste is reinventing itself to better serve its customers by offering them the most relevant services, at points of service specifically designed around their needs."
1 Except bank account management.
2 'Bienvenue Wifi' package, Insid'r tourist smartphone, 'The Kase' accessories and Peeksprint photo terminal.