Published on July 12, 2022
GeoPost/DPDgroup accelerates in the fight against climate change
Ecological transitions
International
In a context of rapid growth in the e-commerce and parcel delivery sectors, GeoPost/DPDgroup has today submitted both a near-term 2030  decarbonization and an ambitious long-term 2040 net-zero target for approval by the Science Based Target initiative (SBTi). This step demonstrates GeoPost/DPDgroup's ambition to lead on net-zero emissions in the European parcel delivery market.
Today, GeoPost/DPDgroup submitted a net-zero ambition to the Science Based Target initiative, marking a further step on its climate action journey.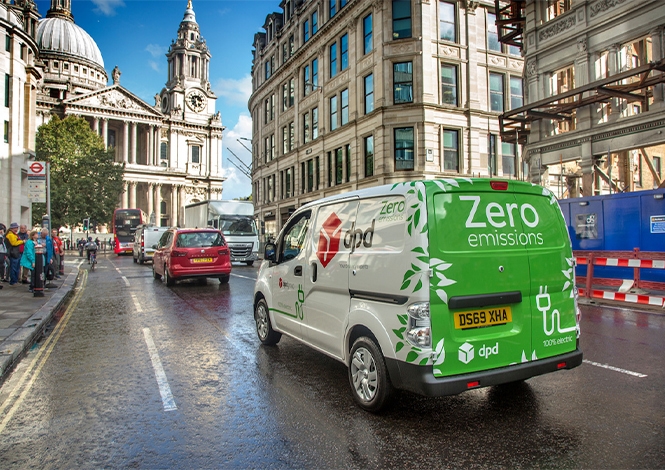 The company has submitted a near-term science-based target for 2030 in addition to its target to reach net zero emissions by 2040, 10 years ahead of the Paris Agreement, thus enhancing its overall decarbonization ambition.
GeoPost/DPDgroup reaffirms its ambition to become the international reference in sustainable delivery amid rapid business growth.
In this context, the company will contribute to limiting global temperature increases to 1.5°C by accelerating its greenhouse gas (GHG) emissions reduction plan.
To mark its leadership, the company is taking decisive action to achieve net-zero by 2040, and commits to drastically reduce its scope 1, 2 and 3:
by 43% by 2030 from a 2020 baseline

by 90% by 2040 from a 2020 baseline

the company will also neutralise all residual emissions (around 10%) through relevant offsetting projects from 2040 onwards.
We are strongly committed to energy transition, in line with our leading role in the business of e-commerce and delivery solutions. Today, we resolutely accelerate on our decarbonization pathway and commit to a more ambitious level of action. Our goal is to play a pivotal role for our customers and support them in developing an ever-more virtuous business model. It is a huge step, but I am confident we can achieve it, as our teams are fully engaged to drive change and meet the highest challenge of our times.
To achieve net-zero by 2040, the group will be focusing on :
Electrifying the first and last mile delivery fleet by increasing the share of alternative transport solutions (including electric vans, cargo bikes and delivery on foot) to 85% by 2030 (100% in 2035).

Diversifying the linehaul fleet to include alternative powertrain technologies such as biogas, biofuel, electric and hydrogen-powered trucks, as well as shifting more parcels to rail to increase the share of alternative linehaul transport solutions to 50% by 2030 (100% in 2040).

Switching to renewable energy to power logistics sites and offices and driving towards more energy efficiency, with the objective of using 70% of energy from renewable sources by 2030 (100% in 2035).

Electrifying the fleet of company cars and on-site freight¹ by increasing the share of electric vehicles to 90% by 2030 (100% in 2035).
This net zero target covers our 20 largest business units in Europe². It is aligned with the most ambitious GHG emissions reduction pathway to limit global temperature increases to 1.5°C versus preindustrial levels. GeoPost/DPDgroup expects to have its decarbonization trajectory validated by SBTi by Q1 2023. This important new milestone in GeoPost/DPDgroup's decarbonization strategy is in line with La Poste Groupe's objective to reach net-zero emissions before 2050.
Sustainability at the core of GeoPost/DPDgroup's strategy
As the largest parcel delivery network in Europe, the company has experienced strong and rapid growth in recent years. Since 2012, GeoPost/DPDgroup has continuously taking meaningful action to work towards a more sustainable future. The group has been carbon neutral since 2012 and compensates all its residual transport and buildings emissions through credible, certified renewable energy projects in Brazil, India and Indonesia.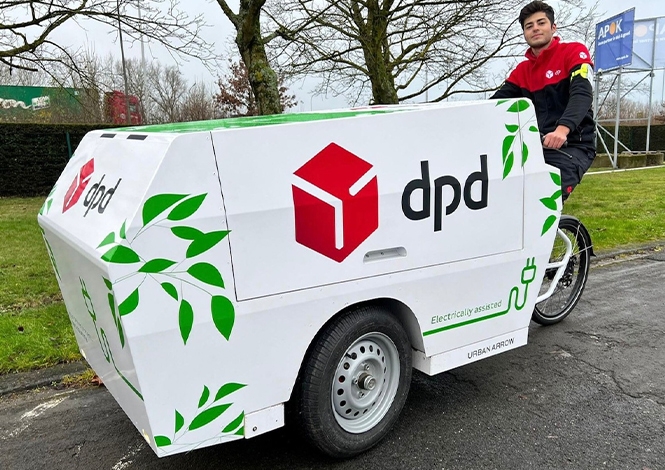 The group is well on track to deliver to 350 cities in Europe (reaching 110 million Europeans) with low-emission delivery means by 2025 – through 15,000 low-emission delivery vehicles, 6,700 charging points and 250 urban depots.
This will result in an 83% reduction of carbon emissions and a 95% reduction of air pollutants in targeted cities.
In addition, given the impact of air quality on people's health, GeoPost/DPDgroup is partnering with Pollutrack to monitor air quality in 20 European cities by the end of 2022.
(1): Forklifts and trailer shunters
(2): Business Units covered by the net-zero ambition: BRT (Italy), Chronopost (France), DPD Belgium, DPD Croatia DPD Czech Republic, DPD Estonia, DPD France DPD Germany, DPD Hungary, DPD Ireland, DPD Latvia, DPD Lithuania, DPD Netherlands, DPD Poland, DPD Portugal, DPD Slovakia, DPD Slovenia, DPD Switzerland, DPD UK, SEUR (Spain).
About GeoPost/DPDgroup
DPDgroup is one of the world leading parcel delivery networks. With 120,000 delivery experts operating in nearly 50 countries, and a network of 70,000 Pickup points, we deliver 8.4 million parcels worldwide each day – 2.1 billion parcels per year – through the brands DPD, Chronopost, SEUR, BRT and Jadlog.