Published on November 7, 2019
DPD France launches a parcel delivery line using drones in Isère
Innovation
The talks
France
DPD France is launching a regular commercial line to deliver parcels using drones. DPDgroup launched the first line of this kind in 2016, in Var. This second line will make deliveries from a mobile take-off pad in the delivery vehicle.
DPD France is authorised to make parcel deliveries by drone, on a regular commercial line in Isère, connecting Fontanil-Cornillon to the village of Mont-Saint-Martin in a return journey time of 8 minutes.
In 2 minutes and 20 seconds, this video shows a drone delivery from take-off to landing, with information on each stage of the process.
DPD France innovates with the "Delivery Assistant"
In December 2016, the French Civil Aviation Authority (DGAC) authorised DPDgroup, the international express delivery subsidiary of Le Groupe La Poste, to deliver parcels by drone on a regular commercial line in Var, between Saint Maximin-la-Sainte-Baume and Pourrières. This first line has shown the utility of drone technology for parcel delivery in isolated areas.
For this new commercial line, DPD France is innovating with the "Delivery Assistant" solution: a mobile pad that allows drones to take off and land safely, directly from the side door of the vehicle. This means the drone can be used during a normal delivery round by lorry.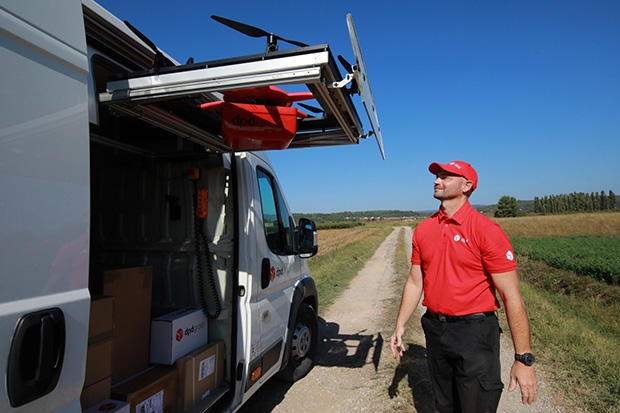 During their rounds, if the delivery driver has parcels for customers in Mont-Saint-Martin, they can park their vehicle in a dedicated space in Fontanil-Cornillon, in order to carry out the operations safely. Once the drone is in place, it requests authorisation to take off from an operator qualified by the Aviation Safety Agency, who then monitors the journey to ensure it goes smoothly.
When the parcels arrive in Mont-Saint-Martin, the drone leaves them at a secure, fixed receiving terminal near to the town hall, where several parcels can be received and stored.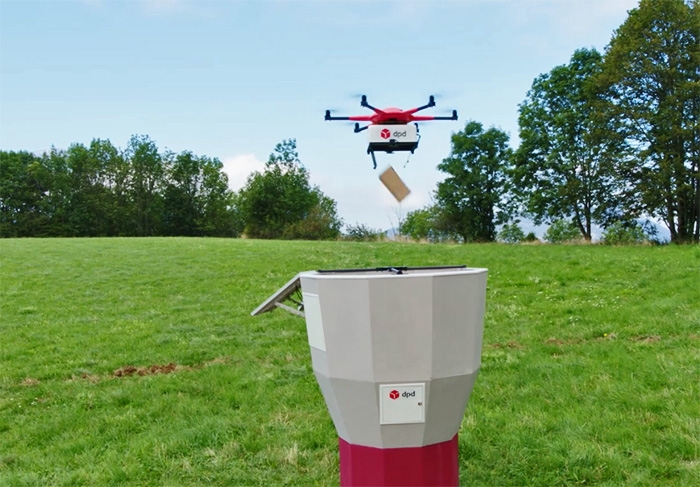 A delivery receipt is sent by SMS/email to a town hall employee, who can take delivery of the parcel as they would via a mailbox, then deliver it personally to the end-customer.
Once the parcel has been delivered, the drone returns to the lorry and the delivery driver can continue their round. The drone navigates from the mobile take-off pad to the fixed terminal and back, without the delivery person needing to control it at any point.
8 minutes by drone compared to 30 minutes by car
Normally, the delivery driver needs to drive 20 km, on a round trip taking approximately 30 minutes to get to and from Mont-Saint-Martin. With this new drone delivery line, delivery vehicles do not need to take the mountain road, which reduces the distance that the parcel travels to around 3 km, taking 8 minutes for the drone to fly to its destination and back.
The benefits of drones in mountainous areas
Drone delivery in the mountains offers many advantages. For delivery staff, it not only saves time, but also reduces risk, since they do not have to drive along difficult or dangerous mountain roads, particularly during winter. For customers, it guarantees that they will receive their parcels, even when precipitation makes the road impassable.
Finally, since the drones are powered using electricity, they emit no CO2, which is an additional benefit in this protected natural environment.