Published on July 20, 2018
DEPAR programme: Joint interview with Philippe Wahl and Jean-Pierre Gorges
Ecological transitions
People
Centre-Val de Loire
As of November, the city of Chartres and La Poste are offering a free household energy diagnosis service. This unique partnership is within the mandate of the city of Chartres, which includes housing renovation, under the French energy transition law. A presentation by Jean-Pierre Gorges, President of Chartres Métropole, and Philippe Wahl, Chairman and Chief Executive Officer of Le Groupe La Poste.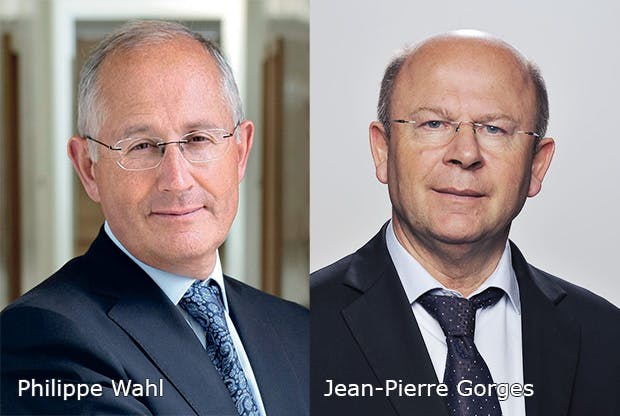 Votre Agglo : How do you perceive issues related to energy transition?
Philippe Wahl : The French government has made energy transition a national priority and this has a strong impact on our business: delivery of mail and parcels, real estate, and the deployment of digital services all require significant amounts of energy. Consequently, La Poste has been committed to reducing its carbon footprint (electric vehicles, 100%-renewable electricity for buildings, etc.) over the last ten years. Energy transition is part of our DNA: our aim is to develop a responsible economy for the good of all, incorporating social utility and entry into profitable markets offering future potential for the company.
Jean-Pierre Gorges : This transition, which should lead to significant and sustainable energy savings, is currently one of our key issues. This issue is all the more challenging when, in order to achieve our goal, we must reverse decades of bad habits and adapt, renovate or completely redesign existing buildings. In order for everyone to adopt this aim as their own, it is essential that it be communicated at levels closest to citizens: cities and intercommunity organisations.
VA : How do you respond to these new challenges and what do you propose as a plan of action?
PW : The French law on energy transition for green growth was implemented in 2016. Le Groupe La Poste has made arrangements to comply with the obligations and be a trailblazer for this change. We have acquired expertise and developed solutions such as the energy renovation of existing housing. As a major issue in the fight against global warming, it is now essential for communities to increase the pace of work to upgrade the energy efficiency of housing. As a large public company that promotes the interests of all, La Poste is using its expertise to help regions.
JPG : If we look at the construction industry for example, energy savings are achieved through better insulation and heating performance. This means new building regulations, in addition to significant renovation work on old buildings. Chartres is already working on these two areas with its local housing plan and urban policy planning. This is aimed at the entire municipal area rather than individual districts, so that the region will undergo balanced development. This also includes housing renovation and construction plans, as well as the creation of public facilities for services, leisure or sport… all of which are served by the most energy-efficient transport methods. We are fully committed to this process, demonstrated by the fact that we have created our own regional modernisation and equipment tools: our locally-based "satellite" companies build, develop, deploy transport, sanitise, supply energy and fluids of all kinds, etc. This is how we have chosen to develop our region, with full control over our strategies and schedules.
VA : Could you tell us about the DEPAR service and the objectives it has been assigned?
PW : La Poste is encouraging public authorities to rely on its proximity, the confidence capital of its mail carriers and connections, in order to gain direct access to the lowest-income households and raise awareness of energy renovation. The objective of the DEPAR [energy diagnosis to support renovation] programme is to encourage individuals to carry out renovation work to improve the energy efficiency of their housing. This approach is based on the intervention of mail carriers and an energy diagnostician. This government-approved programme relies on the Energy Savings Certificate (ESC) scheme and is co-funded by energy companies as part of their obligations.
JPG : This unique system demonstrates how important proximity is in relation to all activities in life. Whether this is at our service counters or during visits to users' homes, public service providers must be able to get involved and take all the specific aspects of requirements into account. We are going to further strengthen this proximity in spring, when we launch a new service dedicated to housing renovation: our energy renovation platform. This platform will represent a unique access point where users can obtain information about housing renovation assistance, file applications for grants to cover renovation projects, and find local businesses, operating under a contract with us, to facilitate the planning and financing of this work. This new tool, aimed at residents of Chartres, will enhance the already substantial service offering of our single point of contact and, at year-end, our administrative hub. We will provide further details about this service upon its launch.