Published on April 13, 2021
Strategic priority 2: Strengthening our presence and being closer to you
Strategic priority 2: To be ever more PRESENT, thanks to the combined power of the group's physical, digital and human networks, at the service of customers and development.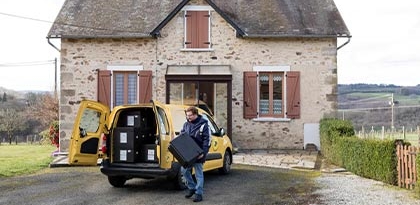 Although it already has close relations with local authorities and all French citizens, La Poste wishes to consolidate its regional presence. It has made the strategic choice to build a strong and coordinated physical presence, and has set itself the objective of increasing the number of access points with at least one postal service from 32,000 points today to 40,000 by 2025.
This reinforced presence -through post offices, village postal agencies, retail outlets, pickup points, business centres, parcel lockers and parcel pickup drive-throughs -will be made even more visible since the various sites will be united under a common "La Poste" brand identity.
La Poste aims to increasingly contribute to the economic and social development of regions by developing new synergies with the Banque des Territoires and Caisse des Dépôts.
La Poste is also adapting its distribution network to respond to new needs by strengthening partnerships, lowering costs, promoting digital services for simple operations that do not require advice or assistance, thus enabling postal workers to devote more time to customer relations.
As a local network, La Poste will also continue to develop the services provided by postmen/postwomen to senior citizens, or support services for energy-related renovations. La Poste therefore aims for its postmen/postwomen to carry out 150 million new service operations (other than mail and parcel delivery) per year in 2030, compared with 27 million at present.
Among the tangible actions planned to consolidate its presence and proximity, La Poste will be providing its "L'appel Facteur" (the postman call) service (via which people can exchange online or through voicemail with their postman/woman) as of 2021. As of 2022, it will then be possible to arrange a home appointment with the postman/woman (available 6 days a week) within 24 hours, in order to have them to carry out essential post-office services.