Published on June 22, 2023
La Poste Groupe publishes its first Integrated Annual Report
La Poste Groupe has published its Integrated Annual Report for the 2022 financial year, which is the first time the group has published this type of annual report. The report provides a comprehensive, interconnected overview of the Group's business activities, presenting its commitments and strategic objectives, its financial and non-financial results, as well as the key events of 2022.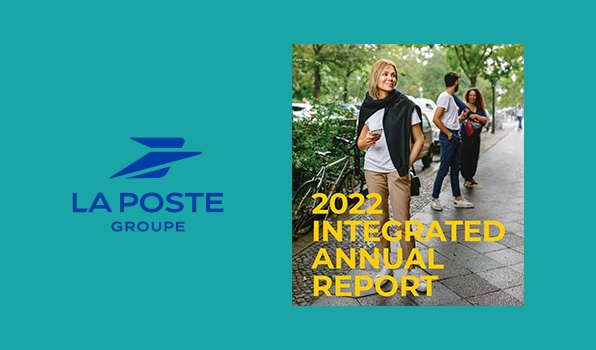 In 2022, La Poste Groupe continued its transformation. New local services, responsible bancassurance offers, trusted digital solutions, health-care services, investment in decarbonising transport and in modernising its distribution network, etc. Many initiatives were deployed across all the group's business lines.
Having taken on the status of a mission-led company (Entreprise à mission) since 2021, La Poste has placed the demographic, environmental, regional and digital transitions at the heart of its strategy, and made social commitment the cornerstone of its business model. La Poste Groupe's first Integrated Annual Report provides tangible evidence of the group's value creation.
This first Integrated Annual Report is based on the Value Reporting Foundation's framework. It was prepared jointly by the group's Communications Department, Social Commitment Department and Financial Communications Department. Its content was co-developed with the input of the Strategy Department, the Human Resources Department and the Communications Departments of La Poste Groupe's business lines and subsidiaries.
La Poste Groupe publishes its first Integrated Annual Report
La Poste Groupe 2022 Integrated Annual Report: