Published on February 9, 2023
La Poste Group and the CMA CGM Group sign a memorandum of understanding
A memorandum of understanding was signed in Paris on February 7, 2023, by Philippe Wahl, Chairman and Chief Executive Officer of La Poste, Rodolphe Saadé, Chairman and Chief Executive Officer of the CMA CGM Group, Yves Delmas, Chief Executive Officer of Geopost and Mathieu Friedberg, Chief Executive Officer of CEVA Logistics.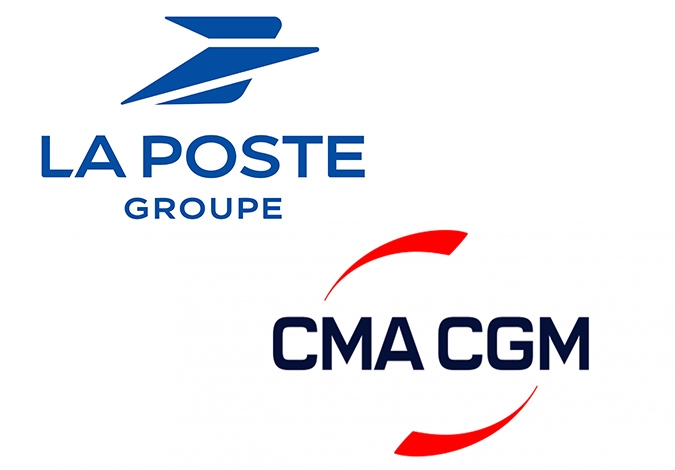 The memorandum of understanding concerns establishing a closer business relationship between the La Poste subsidiary GeoPost and CEVA Logistics, a subsidiary of the CMA CGM Group, by capitalizing on their respective expertise, services and areas of operation in parcel delivery, transportation and storage.
Agreement between two leading names offering high-quality services
I am delighted that two leading French groups are strengthening their relationship through this operational collaboration between CEVA and GeoPost. GeoPost will contribute by means of its last-mile delivery network in Europe.The planned collaboration in circular economy and urban logistics services fits in with La Poste Group's commitment to decarbonization and sustainable development in France and Europe.
The CMA CGM Group and the La Poste Group have developed industry-leading expertise in logistics and transportation through their respective subsidiaries CEVA Logistics and GeoPost.
GeoPost is one of the leading names in Europe in parcel delivery to businesses and individuals, with an extensive European parcel delivery network. It delivered 2.1 billion parcels worldwide in 2021 thanks to its network of over 1,200 hubs and depots, more than 86,000 vehicles and more than 120,000 delivery experts around the world. With 1,300 sites and operations in 170 countries, CEVA Logistics offers contract logistics, freight forwarding and medium- and long-haul road transportation services around the world.
Sustainable logistics solutions
In order to improve the quality and competitiveness of services provided for their respective customers, the agreement also includes looking to develop new circular economy and urban logistics services in France and Europe. The two companies will investigate ways of reducing the carbon impact of their customers' deliveries, including low-carbon urban deliveries.
The CMA CGM Group is aiming to reach net zero by 2050. Deliveries from La Poste Group have been carbon neutral since 2012; it measures each parcel's carbon footprint and aims to reduce it as much as possible and offset any remaining emissions, all with a view to cutting its carbon emissions per parcel by 30% between 2013 and 2025.
I am very pleased with this partnership with La Poste that allows two French leaders to combine their expertise in order to strengthen each other. La Poste will be able to rely on our international network as well as on the expertise of our subsidiary CEVA Logistics in certain key businesses, just as we will be able to rely on theirs. This partnership will allow us to extend our service offering for our respective customers.