Published on September 17, 2018
Great success for the charity collection
Ecological transitions
Lifespiration
Île-de-France
Employees collected two thousand toys and 12 tonnes of books for European Sustainable Development Week. They were given to two of La Poste's partner organisations at a ceremony on 9 July in Bobigny.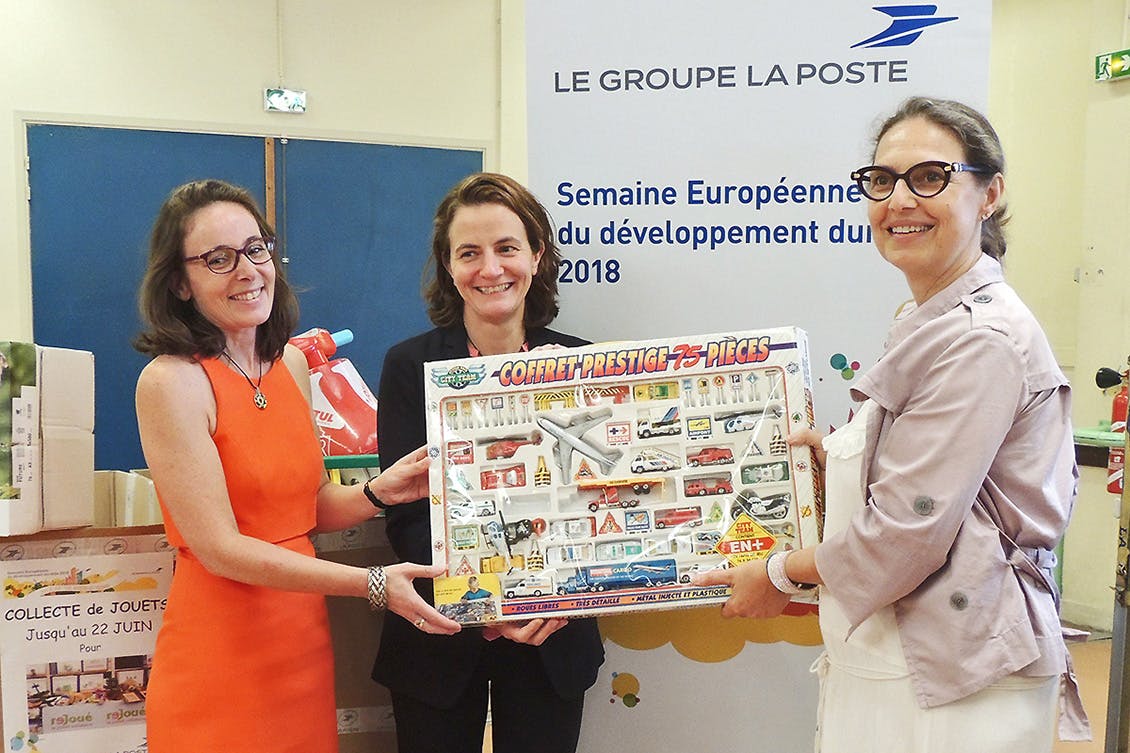 La Poste employees show their solidarity. On 9 July in Bobigny, the items collected by La Poste employees during a charity drive were officially presented to Olivia Lilette, Partnership and Fundraising Manager at Libraries Without Borders, and Raphaëlle Voss, Director of the Rejoué organisation. From 30 May to 5 June, during European Sustainable Development Week, La Poste held a collection of books, games, CDs, and DVDs in partnership with these two organisations. Nearly 32,000 employees took the opportunity to show their commitment to corporate social responsibility (CSR) by jumping into action. Two thousand toys and 12 tonnes of books (35,000 titles) were collected. This generous gesture of solidarity boosts the circular economy and gives the collected toys and books a second lease of life, all while protecting the environment.
Showing solidarity
This was the first time La Poste had organised a major collection drive with its employees; it gave them the opportunity to show solidarity with those in need by recycling and re-using cultural goods. "Thanks to its logistics expertise, La Poste was able to organise the whole initiative, all the way from collection to redistribution", emphasised Muriel Barneoud, Director of Corporate Social Responsibility at La Poste. The collected donations were stored at every site that participated in the initiative. Then, the toys were shipped and stored prior to redistribution in Bobigny, and the books in Buc. The books that didn't meet LWB's needs were recycled via Nouvelle Attitude, a subsidiary of Le Groupe La Poste".
Toys were refurbished then resold
Collected items were turned over to two partner organisations: Libraries Without Borders (books) and Rejoué (toys). La Poste chose them for their approach that combines recycling, social integration via work, and solidarity, which aligns with the Group's social responsibility strategy. The collected books will enrich libraries aiming to further education and promote cultural diversity. The toys will be refurbished and then resold at prices everyone can afford.
Olivia Lilette of Libraries Without Borders and Raphaëlle Voss of Rejoué warmly thanked Le Groupe La Poste. They said they were "delighted with this result", and also with the "360-degree partnership that is developing". They finished by saying "Thank you for everything you've brought us".