Published on February 15, 2022
Chronopost invests €20 million in its "Chronopost Healthcare" division
Chronopost's healthcare division created last year and bringing together all the company's healthcare expertise—is offering a new temperature-controlled service for the transport of medical products(1) throughout metropolitan France(2).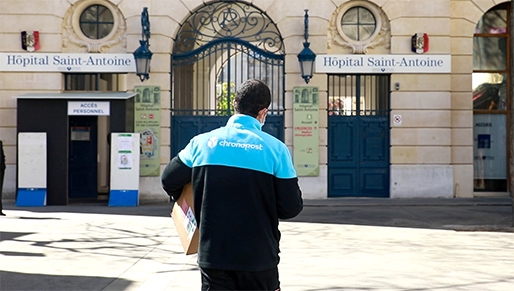 This initiative by Chronopost, the French leader in the express delivery of parcels weighing less than 30 kg, is part of le groupe La Poste's more global approach, which has been working in the healthcare sector for several years.
Chronopost Healthcare consolidates its expertise in temperature-controlled services
Chronopost was already the French market leader for the express transport of healthcare products at ambient temperature (medicines, medical devices), being Certipharm certified since 2010. The company had also developed expertise in the transportation of temperature-controlled parcels through BioLogistic (acquired in 2016 and merged with Chronopost in 2020), which is recognised in the medical biology market.
This explains why, to date, nearly 25 million healthcare parcels are handled by Chronopost Healthcare each year—20% of which are temperature-controlled. More than 10 million doses of COVID-19 vaccines have been delivered by the Healthcare Division.
In response to the pharmaceutical industry's rapidly growing need for temperature-controlled transport, particularly due to the rapid increase in the proportion of heat-sensitive medicines (+17% between 2015 and 2019) - for example certain cancer treatments - and to more stringent regulations reminding us that appropriate transport must be taken into account to guarantee the integrity of the products transported, Chronopost Healthcare has developed its capacities in the temperature-controlled market by transforming its model.
We can now handle all healthcare parcel shipments, including temperature-controlled shipments, with no volume limit throughout metropolitan France and at an affordable price thanks to the economies of scale achieved with Chronopost's powerful transport network.
€20 million to roll out its infrastructure nationwide
Chronopost Healthcare has set up a nationwide infrastructure and transport network dedicated to healthcare, consisting of:
2 hubs already in service with facilities dedicated to healthcare (Orléans, Aulnay-sous-Bois), and 2 hubs entirely dedicated to healthcare which will open in a few months (one near Paris, the other near Lyon);

500 temperature-controlled vehicles and 1,500 refrigerated containers that can be loaded onto trucks, making it possible to carry out 2,000 daily rounds as well as long-distance inter-regional routes;

72 Chronopost sites equipped with the latest generation of cold rooms dedicated to healthcare products and guaranteeing several temperature ranges (-20°C; +2°/+8°C; +15°/+25°C);

1 COFRAC-certified metrology laboratory located in Aulnay-sous-Bois (two other laboratories are being built). These laboratories manage the calibration of all our probes, i.e. they check that the temperatures they measure are accurate. They also map the installations (cold rooms, vehicles, etc.) to ensure that, for a given temperature set point, the values measured comply with the thresholds set by the customer at any point in the installation.     
Chronopost Healthcare has also acquired human resources to meet the challenges:
Recruitment of a Doctor of Pharmacy, 3 metrologists (to reinforce the 2 metrologists already present), 5 managers in charge of temperature-controlled matters (not including 7 additional recruitments planned for this type of position over 2022).

Internal mobility of people trained in the requirements of the health sector: quality managers, field managers, regional managers, operational and supervisory staff on health sites.

A customer service department (based in Poitiers) and a supervision team (located in Angers) for temperature-controlled matters dedicated to healthcare customers are also part of the Chronopost Healthcare service. In the event of a temperature alert, the customer and the delivery person are immediately contacted. Thanks to real-time monitoring, parcels are stopped if the temperature is not maintained, guaranteeing a high level of security for flows. 
€10 million was spent on the means of transport; a further €10 million was spent on infrastructure and metrology, an essential tool for monitoring temperatures. Guillaume Grand-Ravel, Pharmacist at Chronopost Healthcare, says: "All these measures enable us to guarantee our customers that their products remain intact during transport." 
A global service for healthcare professionals
Pharmaceutical and healthcare professionals (pharmacies, hospitals, clinics, wholesaler-distributors), who previously used Chronopost mainly for ambient temperature shipments (medicines, medical equipment), will now be able to use the same contact person to ship high-volume temperature-controlled products nationwide.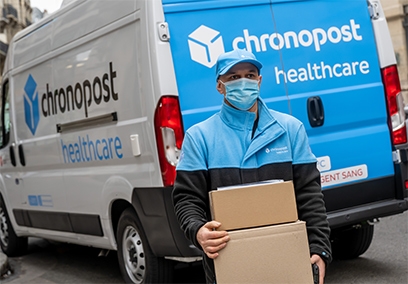 This service will also benefit medical biology professionals (laboratories), who previously used the services of Biologistic (acquired by Chronopost in 2016) for dedicated rounds, with no volume limit. Chronopost Healthcare also offers customised services via its subsidiary 360° services, which is renowned for its urgent delivery services for vital products (organs).
Chronopost Healthcare's ambition is to support professionals in implementing good distribution practices and to offer reliable and competitive transport solutions that meet the highest standards of the profession.
By 2025, Chronopost plans to become the leader in the transport of temperature-controlled healthcare products with a target of 7.5 million deliveries per year for the pharmaceutical industry. This ambition is in line with the strategy of Le Groupe La Poste, which has invested in healthcare by developing services for everyone throughout the country: in home healthcare (delivery of medicines, installation of medical equipment, remote monitoring of patients on their return from hospital). It is also the leading host of health data with more than 38 million pharmaceutical records.
(1): Heat-sensitive medicines, blood samples and biological samples.
(2): Monaco included and Corsica in 48 hours. Excluding coastal islands not accessible by road.