Published on July 31, 2018
A new look for the Toulouse Capitole post office
Territorial development
The talks
Occitanie
La Poste, the largest local network, is committed to continuous innovation and aims to improve its customer experience, particularly for professionals. The Toulouse Capitole post office has therefore been completely redesigned to expand its range of services and make its customers' lives easier.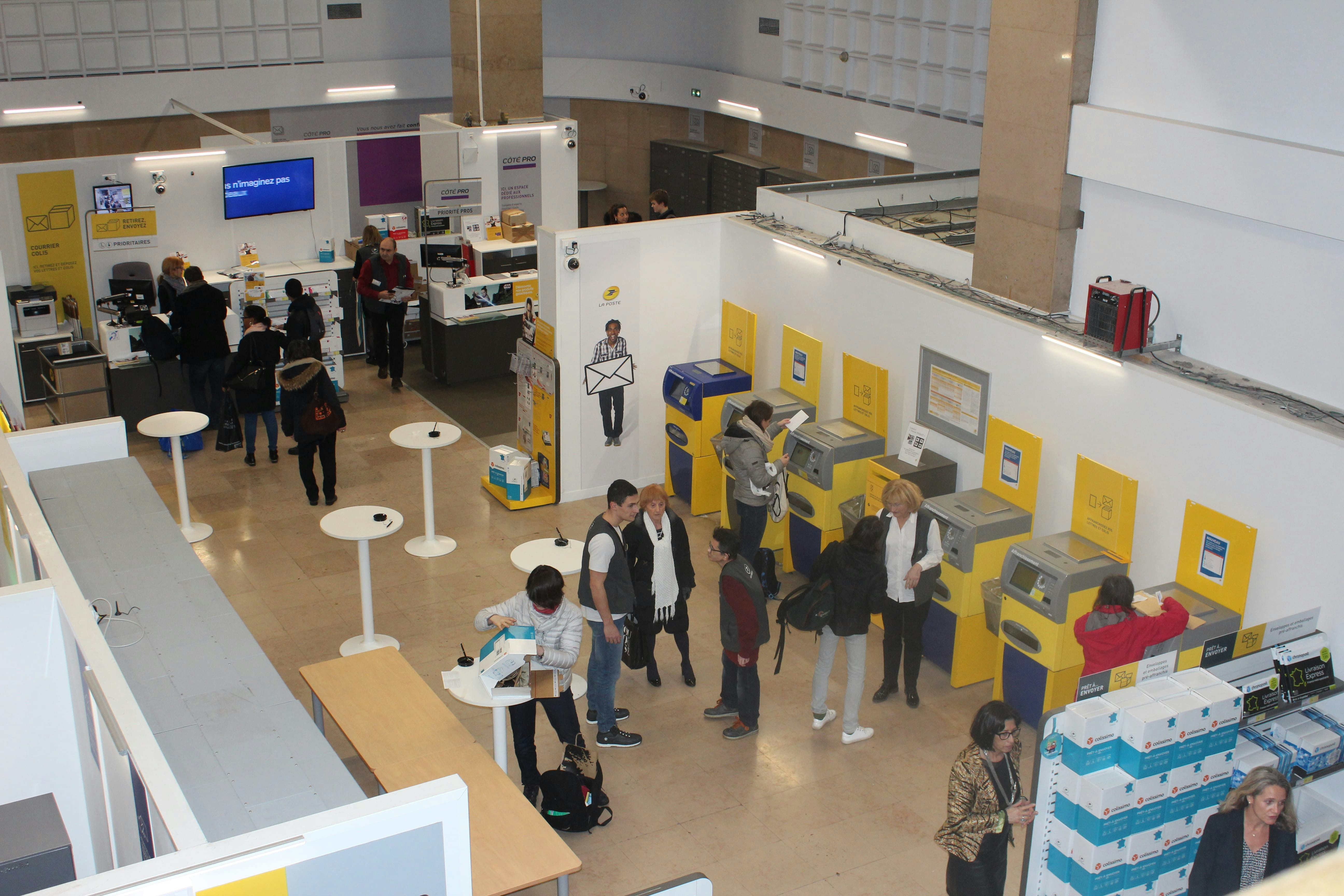 Making its customers' lives easier with more services:
At a cost of more than €500,000, the Toulouse Capitole post office underwent extensive modernisation work over 11 weeks this summer.
Already been guided once they enter the post office, customers are now filtered to different areas of the branch according to their needs.
The customer area of the branch is entirely open-space:
four islands for general use allow customers to carry out their operations (drop-off of parcels and registered letters, rapid purchase of self-service items, sending/receipt of money orders or other financial transactions);

a total of 10 machines are installed for postage of letters and parcels;

two ATMs, in addition to the existing ones, allowing customers to make rapid and autonomous withdrawals and deposits easily and securely. Banking advice has been improved with, in addition to the two islands, the creation of an additional office;

Customer advisors are now equipped with "smartéos" which, in addition to mobility within the sales area, allow drop-off of parcels and letters, sale of products, verification of the authenticity of ID documents, digital capture of a proxy agreement, etc. They offer new services, in addition to postal and mobile telephony services, such as Ardoiz (an innovative and accessible touch pad which is easy for seniors to use) and "Veiller sur mes parents" ("Watch Over My Parents"). 
Making customers' lives easier with personalised and innovative services:
In order to best meet the needs of its small and very small business customers, La Poste is rolling out personalised and innovative services at the Toulouse Capitole post office.
With seven banking advisors, this new configuration welcomes Grégoire Moine, La Banque Postale professional customer manager. His goal is to help customers grow their businesses.
A Professional customer area, dedicated to Mail and Parcel services, has also been created. This space offers over 60 sq. m reserved entirely for them. In it, customers will find a range of personalised and targeted products and services, from postboxes to letter postage, to prepaid envelopes, Chronopost, stamps, parcel packaging, etc.
La Poste wants to strengthen its relationship and improve the experience it offers its professional customers by providing, in addition to traditional services, genuine advice and information on various Service, Mail and Parcel solutions. In addition to an island to carry out their day-to-day operations, professionals benefit from the expertise of Amandine Lagarde Muniz, Professional Customer Advisor.
By bringing all of the services of the Toulouse Capitole post office together in a single place, La Poste aims to simplify the lives of its private and professional customers, by providing them with the expertise of dedicated advisors.   
Key figures for the Toulouse Capitole post office
 ●  3rd largest post office in France, with 1,600 customers welcomed daily  ●  14 customer advisors,  ● 7 banking advisors including 1 professional customer manager for La Banque Postale,  ●  1 professional customer advisor for Letter and Parcel services,  ●  More than €500,000 invested in the site's modernisation.