Published on October 10, 2020
Updated on August 4, 2021
Being the country's leading company focused on human proximity means taking on a very special responsibility : social commitment.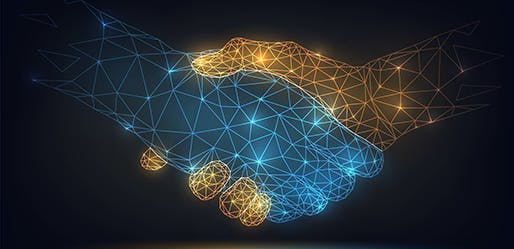 To create a better world for tomorrow, we incorporate corporate social responsibility into every action we take because it lies at the core of our missions and aligns with the aspirations of citizens and our customers. That is our heritage, our pride and a necessary condition for the future success of La Poste.
This responsible positioning translates into three areas in which the entire Group must work and create change to serve all of society :
Developing social and regional cohesion

Encouraging the rise of ethical and responsible digital technology

Accelerating ecological transitions
La Poste has decided to take action. Its 249,000 employees are working across the country every day so that everyone can enjoy a unified, sustainable and more human world in this increasingly digital environment.
Developing social and regional cohesion
Trends vary widely among regions and we are adapting to them as closely as possible. As catalysts of social cohesion for decades thanks to our network of post offices and the daily rounds of our mail carriers, we are reinventing how social bonds are created in the 21st century by developing new services that help people live well in their region, wherever that may be.
From public service centres to pick-up orders, the forms of postal coverage we now offer are accessible, appropriate and free... but certainly not fixed. As demographics shift and new needs arise, our services will change to continue to align better with all people's usages. But the values that drive us – trust, openness, fairness, solidarity – will never change. That is our way of embodying the public service mission to contribute to regional planning entrusted to us by the French government.
We work closely with elected officials and local authorities to create new balances and reduce disparities between regions.
To anticipate the needs of tomorrow, we are making use of all of our expertise and working closely with elected officials and local authorities to create new balances and reduce disparities between regions. La Poste purchasing accounts for 100,000 jobs across the country, and 81% of La Poste suppliers were SMEs in 2017. The €26mn we have spent in the disabled and sheltered sector and on social integration help those with marginal access to jobs to find work. We also work with partners, non-profits, businesses in the social and solidarity economy and start-ups to meet society's new needs. The Group has developed appropriate solutions for the elderly in this area – local services, home visits and digital mediation by mail carriers – and lets young people (or the young at heart) take the written part of their driving license exam quickly and close to home.
Through these efforts, we foster regional cohesion and ensure our services are universally accessible so that everybody in France can enjoy the same level of support, chance to express themselves and quality of service no matter where they live.
Promoting ethical, responsible digital technology
For many of us, going even a single a day without any digital interaction would be inconceivable. In 2019, 77% of the French population owned a smartphone, and the quantity of digital data being shared continues to increase at lightning speed: the overall increase is expected to be tenfold between 2014 and 2029.
But what about those left behind in the digital transition, or those for whom things are moving too fast ?
La Poste now offers digital access to its services to supplement in-person access and provides its employees with tools that make their work easier, such as the smartphones that all mail carriers now have. In this way, La Poste has become a true catalyst of the digital transition and developed numerous services and solutions for its customers. In 2019, over 697 million euros in revenue generated by the Group's digital business unit are tied to providing support through this digital transition.
Our Data Charter guarantees our customers responsible, secure management of their data, which are only used to serve their best interests.
This means that businesses, professionals, local authorities and private individuals are benefiting from the expertise developed through our innovations. All of these efforts are carried out with a social, civic-minded focus. Our ethical, accessible, responsible vision of digital technology translates into our Data Charter adopted in 2016. It guarantees our customers responsible, secure management of their data, which are only used to serve their best interests. Since 2014, the employee pledge has been broadened to cover proper handling of the digital data they access.
Our goal is to offer our customers a combination of the human and the digital so that everyone can feel confident in the digital world. That also requires ensuring that nobody feels left out or has trouble accessing services. La Banque Postale has developed an inclusive banking plan based on digital technology that operates in 500 post offices/public service centres. Our account managers support vulnerable individuals on a daily basis as they work through online processes. Partners are also on hand to identify difficulties that arise in these procedures and to guide anyone who needs it towards the appropriate support.
Accelerating ecological transitions
Enhancing our performance while accelerating the transition to a sustainable, responsible model is a recurring theme for the whole Group as we roll out our innovations. Because we advocate a transition to a cleaner, more sustainable world, we believe the energy and ecological transition is vital to meeting the environmental challenge.
That is why we are implementing a plan to measure, offset and significantly cut our greenhouse gas emissions by 2025 in line with the Paris Agreement goals. La Poste is committed to an aggressive plan to use electric vehicles and renovate buildings to make them more energy-efficient. Our years of commitment to this issue have already prompted a 21% cut in our emissions since 2013. Renewable energy now powers our electric vehicles and all the buildings managed by Poste Immo (the Group's real estate subsidiary).
Today, all our mail, parcel, express and digital services are 100% carbon-neutral
That is also why we have taken the road of eco-mobility by acquiring the world's largest fleets of zero- or low-emission vehicles. This is one way of meeting the challenges of e-commerce while protecting the environment. because they are fully offset. This is true for both La Poste's business activities and those of its subsidiaries like GeoPost (Chronopost, DPD).
Meanwhile, we are committed to producing and consuming differently. Faced with over 800 million tonnes of waste produced each year in France, we believe our work and our service offers can contribute to proper resource use.
To bring about this change, we are committed to promoting the circular economy via our Recygo offer. This is a reverse logistics solution that asks our customers to collect office paper and waste. Through numerous actions - responsible supply, waste recycling and re-use - we are surrounding ourselves with an ecosystem of partners that advance the ecological transition.
Corporate social responsibility: commitments for La Poste, solutions for its customers
Download our societal commitment e-book
pdf - 3.1MB
The three main strategies of our social commitment :