Ecological transition, energy and climate
priority areas in the Group's strategy
Published on November 30, 2020
Every year, humanity consumes the equivalent of 1.7 planets to meet its natural resource needs. Stop! Le Groupe La Poste has made the support of ecological transitions a priority in its strategy. It is keen to bring about a major change on a large scale: that of the world.
Le Groupe La Poste is taking action in the fields of energy, mobility and resources to support ecological transitions and speed up the evolution of its practices and those of its customers.
Making changes to reduce energy consumption
To promote better control of energy waste, Le Groupe La Poste offers private individuals and business customers solutions to ensure that their buildings operate economically.
Action Habitat supports local authorities in their policy of energy renovation of housing.
The companies benefit from the energy management solutions for tertiary parks developed by SOBRE, the result of a collaboration between the Poste Immo subsidiary, the Caisse des Dépôts and EGIS, a design and engineering office in the construction field.
Individuals wishing to optimise their home's energy costs can count on the specialised expertise of postal workers: identifying and raising awareness of energy renovation work, helping to qualify needs, assisting in the definition of projects, monitoring results, etc. The postal workers, who intervene at the first stages of the energy optimisation process, have already helped to raise awareness among more than 30,000 households throughout the country.
Through a carbon measurement, reduction and offsetting programme, Le Groupe La Poste closely monitors its own greenhouse gas emissions. Since 2013, it has reduced them by 14% and is defining a new trajectory for 2025, in line with the objectives set by the Paris Agreement. In order to accelerate the energy transition of all its business lines, the entire fleet managed by its subsidiary Poste Immo is now powered by 100% renewable electricity.
Le Groupe La Poste, a natural partner for the sustainable mobility of people and goods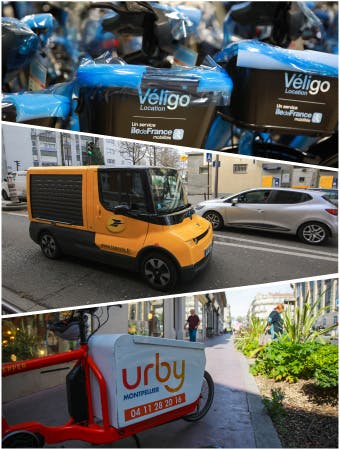 For more than 15 years, La Poste has been committed to reducing its carbon footprint, particularly in the area of the mobility of people and goods. The Group is constantly innovating to enable individuals, businesses and local authorities to move towards a more responsible model.